Welcome Center
Howard County Welcome Center Headquarters For Howard County Tourism & Promotion
Here you can …
Meet the fun, friendly Tourism Team with local insights
Pick-up the Official Howard County Visitor + Resident guide, regional maps and travel brochures
Check-out historical, cultural and recreational displays
Rest and recharge in the comfortable lounge area
Enjoy ever-changing photography art and craft exhibits
Take home souvenirs by local artists and authors …
All in lovingly renovated historic Post Office from 1939 with its vintage fixtures and charming furnishings, must-see New Deal era murals and the original walk-in safe now complete with brass P.O. Boxes filled with chances for guests to WIN PRIZES!
A little bit more information …
The Patapsco Heritage Greenway's River Valley History Panels are an attraction in themselves that both travelers and locals will find very informative. These panels give an accurate picture of the valley from the time when only the Susquehannock and Piscataway Indian tribes were here hunting and fishing up to and including the years when industry was king along the river. Over 20 mills could be found along the Patapsco with more dotting the tributaries leading into it.
The oil paintings on the west and east walls of the Howard County Welcome Center were painted in 1942 by Petro Paul De Anna, an artist commissioned by the federal government as part of President Franklin D. Roosevelt's New Deal. From 1934 to 1943, the New Deal murals and sculpture seen in Post Offices were produced under the Treasury Department's Section of Painting and Sculpture, later called the Section of Fine Arts. Unlike the Works Progress Administration/Federal Art Project, with which it often is confused, this program was not directed toward providing economic relief. Instead, the art placed in Post Offices was intended to help boost the morale of people suffering the effects of the Great Depression with art. Through a partnership with the Ellicott City Partnership and the Ellicott City Restoration Foundation, a full restoration took place in early 2016.
The oversized vegetables on the front lawn are a part of the Howard County Arts Council's annual show ArtSites that brings outdoor sculpture to Howard County.  Jan Kirsh's Aubergine will transition to Jan Kirsh's Patricia's Carrots in August 2016.
Welcome Center At Historic Savage Mill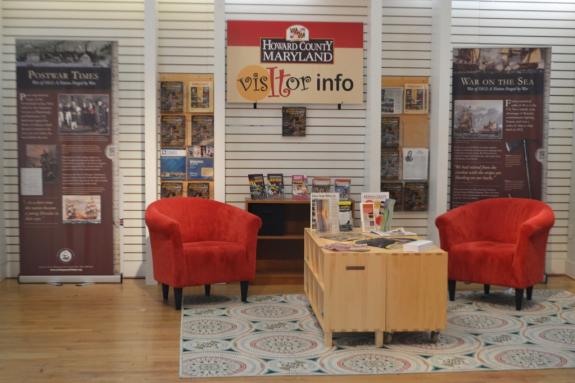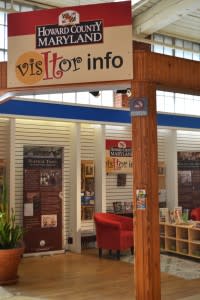 Take a break from shopping and relax in our Welcome Center located in Historic Savage Mill.  You'll find everything you need for exploring the parks, trails and attractions throughout Howard County.  For personalized recommendations please visit or call the Howard County Welcome Center in Historic Ellicott City.
Historic Savage Mill, an 18th century textile mill on the National Register of Historic Places, produced canvas that supplied sailors and soldiers for nearly 150 years. Now, fully restored, the Mill offers visitors great shopping, dining, art galleries, outdoor adventures and more, all within a beautiful, historical setting.
Find Us:
Howard County Tourism, Inc.8267 Main StreetEllicott City, MD 21043410-313-1900 (Phone)800-288-TRIP (8747)410-313-1902 (Fax) www.visithowardcounty.com
IN ELLICOTT CITY:
Monday-Thursday 10-5
Friday-Saturday (no ghost tours) 10-5
Friday-Saturday (when ghost tours are running) 10-8:30
Sunday & Holidays 12-5
(Holidays include New Years Day, Memorial Day, 4th of July and Labor Day)
The Ellicott City Welcome Center is closed on Thanksgiving Day and Christmas Day.
IN SAVAGE MILL
The Visitor Information Lounge located in Historic Savage Mill is a self serve facility and is open whenever the Mill is open. Click here for Mill hours.
Savage Mill - New Weave Building
8600 Foundry Street
Savage MD, 20763
301-498-HoCo (4020)