Farmers Market's:
MapleLawn Farmers Market
EC MarketPlace 
Special Events:
September 23nd Through October 7th: Farm City Celebration 
Sept 23: Fall Equinox Twilight Hike with Campfire S'mores and More
Walk through the meadow and along the stream to the woodland campfire ring. Listen to the birds singing at dusk. Gather around the crackling fire and hear legend-stories about the Equinox, sing old-time songs, roast marshmallows, and enjoy s'mores. Hike back in time to watch the sunset over horizon –exactly due west – and hear other interesting astronomical facts about the Fall Equinox.
Sept 29 & 30: Fall Coloring & Craft Activity Weekend 
To celebrate our PUMPKIN PATCH, we will have fun coloring and craft activities for the kids. Join in the fun and see what great pictures and crafts you can create. Come get your pumpkins, play in our Enchanted Pine Tree Forest MAZE, enjoy face painting and all our great RIDES! GEM MINING, too. Enjoy CJ's Pit Beef, delicious baked treats from Touche Touchet and fresh local cider.
Sept 29: Fall Season Begins Sharp Farm/ Iron Bridge Horses 
Iron Bridge Hounds & Horses come to visit about 11AM. A spectacular sight of horses, riders, hunt master, & lots of happy hound's ride to our farm! Stay around & take a free hayride to pick your own pumpkin & go through the educational corn maze. 
Sept 29: Hops & Harvest Festival 
This event takes place across two sessions and features unlimited tastings of Maryland-produced beer, wine, and spirits.The Brewers Association of Maryland is proud to partner with CoFestCo on the Hops & Harvest event and we are thrilled to showcase Maryland breweries in the heart of Howard County
Sept 30: WPOC Weekend in the Country at Merriweather Post Pavilion
w/Brantley Gilbert, Sam Hunt, Parmalee, LOCASH, Kelsea Ballerini, Cam and Maren Morris.
Oct 4: 4th Annual Community Fall Festival 
The Festival will take place at the Church of the Resurrection, and will feature many activities including entertainment, kid's games, face painting, scarecrow making, moon bounce, crafts, silent auction, second hand treasures, beer/wine garden, baked goods, and delicious food. 
Oct 6-7:  Teddy Bear Farm Visit
Bring teddy bears! Free hayrides for all children who bring a Teddy Bear.  Join in the Teddy Bear Contest at 1 PM and 3 PM Saturday and Sunday.  Folk singing with TONY MCGUFFIN Noon to 4 PM both days.  DINOSAURS and GEM MINING, too.
Oct 7: Howard County Conservancy Fall Festival
It's harvest time: ideal for the annual, old fashioned Fall Festival at the Conservancy! Watch blacksmiths hammering iron in their shop, listen to blue grass music and explore the historic three-century-old farm. Visit our pygmy goats, the chickens, Onyx the snake and Ranger the barred owl. There'll be children's crafts and pumpkin decorating, pony rides, and hay rides. Browse the craftsmen's stations to admire chair caning, basket weaving, gourd decorating and more. Admire the alpaca family and the gorgeous knit and woven products made from their soft, super-warm wool. Leap the hay bales. Stock up on grass-fed beef and pork and the finest fall vegetables and fruit at the farm stand. Food and beverages available to purchase.  $10/CAR
Oct 7: Oktoberfest! by Harper's Choice Community Association 
Get ready for the first annual Oktoberfest presented by Harper's Choice Community Association. Featuring Craft beer, Hard Cider an Distillery Samples. 
Oct 10: Mini Farmers Day at Sharp Farm 
Calling all mini-farmers to come join us for a fun day on the farm. Wear your work clothes as you will be, feeding the chickens, feeding the goats and cows, brush the donkey's, Hop aboard the hay wagon for a fun hayride around our farm, then go out to the field to harvest your own pumpkin, go to another field to harvest an ear of popcorn to take home, and lastly after all your work enjoy going thru the mini corn maze!
Oct 13 & 14: Pumpkins, Rides, Maze,and more! 
To celebrate opening our PUMPKIN PATCH, we will have fun coloring and craft activities for the kids.  Join in the fun and see what great pictures and crafts you can create. Enchanted Forest Castle, Gem Mining, and Geode Cracking, too.
Oct 20:  Harvest at the Hill festival 
Manor Hill Farm will be hosting the Harvest at the Hill Festival on their 54-acre working farm in Ellicott City, Maryland. Manor Hill Brewing will be providing beer for the even.
Oct 21: Pumpkin Painting Class at Sharp Farm 
1pm-3pm Pumpkin Painting Class Get your messiest clothes on and join us for a full pumpkin experience! We will begin with a hayride around the farm, ending at the pumpkin patch where everyone will pick their own sugar pumpkin to paint.
Oct 21: Taste of Howard County 
Join us for Merriment in Masquerade at the 33rd annual Taste of Howard County, featuring delicious tastings from 20 Howard County restaurants, a live and silent auction, raffle, and merriment with friends and community members. 
Oct 21: The Made MarketPlace: Elkridge 
Made Marketplace: Elkridge – A Maryland Artisan Market and Festival that will take place at the historic Elkridge Furnace Inn on the Garden House grounds along the picturesque Patapsco River, at the corner of Race and Furnace Roads.
Corn Maze & Mini Maze at Sharp's Farm
Every autumn, we cut our 7+ acre corn field, transforming it into a family friendly educational maze. We always choose a farming/agriculture theme with the purpose of enlightening families about a particular subject while having a great time together!
Saturdays & Sundays in October: Hayrides at Larriland Farm
On Saturdays and Sundays in October, we offer hayrides during the day (9:30am – 4:30pm) . This is a tractor drawn 20 minute wagon ride over the farm, ford a stream and through the woods which are decorated for Halloween. These hayrides are open to everyone. A fee per person is charged. No reservation is required. Wagons run continuously from 9:30am to 4:30pm Saturdays and Sundays. http://www.pickyourown.com/fall-festival/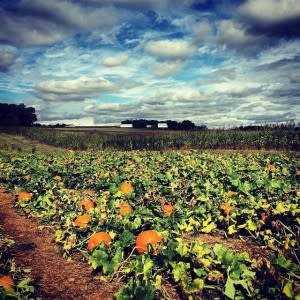 Pumpkin Hayrides at Larriland Farm
We offer a pumpkin hayride on weekdays in October. This wagon ride fords the stream, goes through the woods and includes a stop at the pumpkin field where everyone selects their favorite pumpkin. Then go through the straw maze on foot and try to find the way back out. Perfect for school groups, brownies and cub scouts. Reservations required. This hayride is designed for groups of 20 or more. For families or small groups, consider the Saturday/Sunday Hayrides described above. Call the Hayride Hotline 410-489-7034 or REGISTER ONLINE.
Evening Hayrides at Larriland Farm.
Enjoy a long ride over the farm, ford the stream and through the woods with a tractor and wagon. The ride can be followed by a campfire for your story telling and singing. Only well organized and chaperoned groups accepted. Reservations required. Just right for birthdays, scout outings, etc. Call the Hayride Hotline 410-489-7034 or REGISTER ONLINE.
Straw Maze at Larriland Farm
The Straw Maze, built with over 1000 bales of straw, is a delightful place to get lost. The Straw Maze is open every day the farm is open in October.
*Pumpkin patch photo courtesy of Amanda Bowers Shumate.