Howard County is known for their farms and farm to table restaurants. From visiting The Enchanted Forest in Clark's Elioak Farm to having dinner at Elkridge Furnace Inn, there's no wrong way to celebrate farming in HoCo!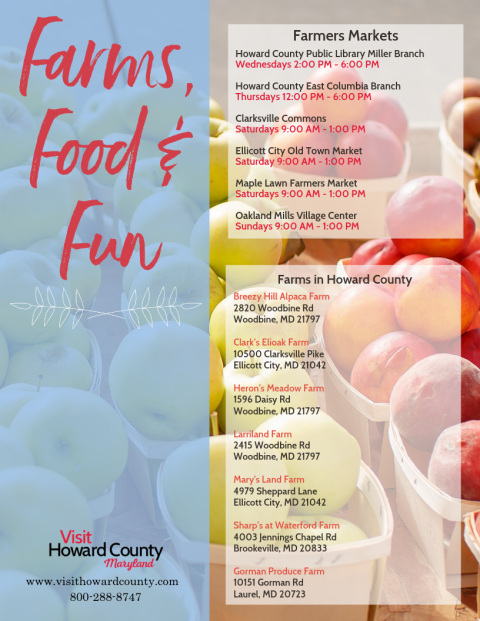 Farms & Farmers Markets
Shopping at local farms and farmers markets is a great way to support local farmers and artisans. Fresh local produce, handmade jewelry and accessories, baked goods, cheese, pet products, and spirits are just a few of the many wonderful things offered at farmers markets in Howard County.
Breezy Hill Alpaca Farm breeds and raises prize-winning alpacas. Clark's Elioak Farm is a family farm and the home of the attractions from The Enchanted Forest theme park. You'll also find a petting farm, hayrides, pony rides, and gem mining! Larriland is a pick-your-own destination, perfect for the whole family. Experience a hands-on educational farm tour at Sharp's at Waterford Farm. Sharp's has critter catching events throughout the summer, highlighting the wildlife at Cattail Creek. Mary's Land Farm, potentially the largest permaculture set up on the east coast, has walk-in tours every Saturday. Special field trips and tours are available by reservation. Heron's Meadow Farm is Maryland's first tea farm. It is home to BLTeas, LLC, and MudPi Studios. 
Larriland Farm, Gorman Farm, Clark's Elioak Farm, Breezy Hill Alpaca Farm, and Heron's Meadow Farm all have farm stands or country markets offering a wide variety of produce, crafts, and more!  
Farm Festivals
The Hops and Harvest Festival will be taking place on October 5th. This event bri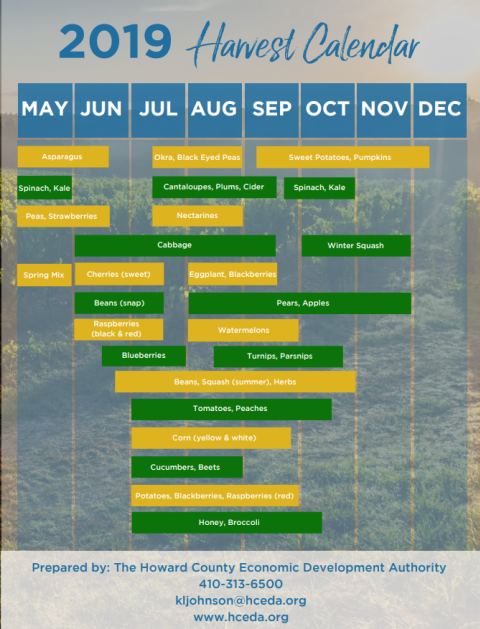 ngs over 75 breweries, wineries, distilleries, farmers, and artisans to the Columbia Lakefront for a day of eating, drinking, fun and games and more. Click here for info
The Howard County Fair, which celebrates its 74th year, takes places from August 3-10. Livestock and agricultural events will take place all week, including a 4-H Livestock sale. Food, rides, a beer garden, vendors, and live music make this seminal event a can't-miss festival for the summer. 
On Saturday, October 19, 2019, Manor Hill Farm will be hosting the Harvest at the Hill Festival on their 54-acre working farm in Ellicott City, Maryland. Manor Hill Brewing will be providing beer for the event. Highlights include live music, farm tours, local food and farmers markets. 
The Maryland Alpaca and Fleece Festival will be held on November 9 & 10 at the Howard County Fairgrounds. This fun-filled weekend features alpaca garments and household items, alpaca raising seminars, and pen sales of Haucaya and Suri Alpacas. 
Farm City 2019
Farm-City aims to provide opportunities for interaction between urban citizens and farmers in Howard County. This celebration highlights our farm-city interdependence and promotes understanding and appreciation between people on either side of the imaginary boundary separating town from country.
Farm-City Celebration provides 16 days of fun-filled activities to help bridge the gap between city and farm life.  From September 23rd – October 8th, come out to visit local farms, public libraries, and farmers markets to enjoy family friendly activities and food from the Howard County farming community.
Click here to get a full schedule of farm city events. 
Farm to Table
Visiting the farms or farmers markets isn't the only way to support local farmers. There is an abundance of farm to table restaurants in Howard County that offer delicious meals from the best local ingredients.
AIDA Bistro & Wine Bar

Alexandra's American Fusion

Baldwin Station

Elkridge Furnace Inn

Food Plenty

Iron Bridge Wine Co.

Manor Hill Tavern

Ranazul

Tersiguel's

The Turn House

White Oak Tavern

many more...