We're Ready For You When You Are
As the official destination marketing organization for Howard County, Visit Howard County's utmost priority is the safety and comfort of our visitors and residents. We're ready for you, when you are. Howard County is currently in Phase 3 of the Maryland Strong: Roadmap to Recovery Reopening Plan. There are state guidelines in place for attractions, restaurants, and retail, while our hotels are making every effort to follow high standards for cleaning and safety. Right now we have great offerings for visitors and residents. Visit our homepage to find lodging, dining, and things to do. For more inspiration, view our Visitors Guide online. 
Howard County Welcome Center: 
In compliance with state and county actions, the Howard County Welcome Center is CLOSED. During this time, the Visit Howard County staff is telecommuting. Visit Howard County staff members available via email and phone, please see https://www.visithowardcounty.com/about/tourism-council/meet-the-team/ for up to date contact information.
Face Coverings:
All Marylanders and visitors to the state over the age of five are required to wear face coverings in the public spaces of all businesses across the state. Face coverings will also be required in outdoor public areas, whenever it is not possible to maintain physical distancing.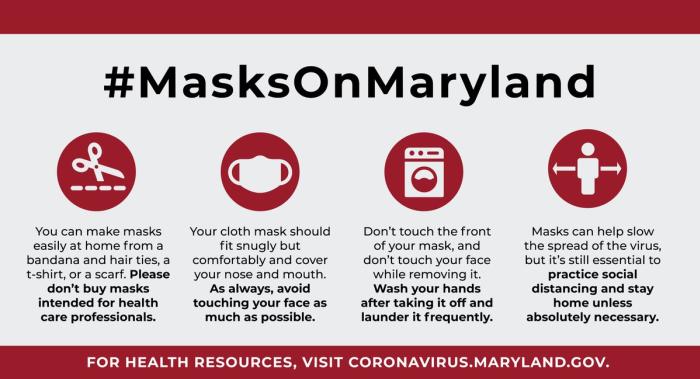 Travel Updates: COVID-19 (Coronavirus)
For an up to date list of what's open and not open in Howard County go to https://www.howardcountymd.gov/Portals/0/ReOpen_WhatsOpenandClosed_Rework_Update_3tiers_FinalWeb.jpg?ver=2020-06-10-185054-590
For the latest information on the respiratory illness COVID-19, including links to key resources go to The Maryland Department of Health / COVID-19
For the latest information on Howard County Government, COVID-19 actions go to https://www.howardcountymd.gov/Home
For the latest information on Maryland, COVID-19 actions go to https://governor.maryland.gov/coronavirus/
Businesses Resources:
Resources for Howard County Businesses may be found here.  
Resources for Maryland businesses may be found here.
COVID-19 Financial Relief Wizard may be found here. 
Ways to Help:
There are many ways to help including purchasing gift cards, direct gifts and donations to individuals and businesses. No act is too small. Here are a few links to help get started: