Film Festival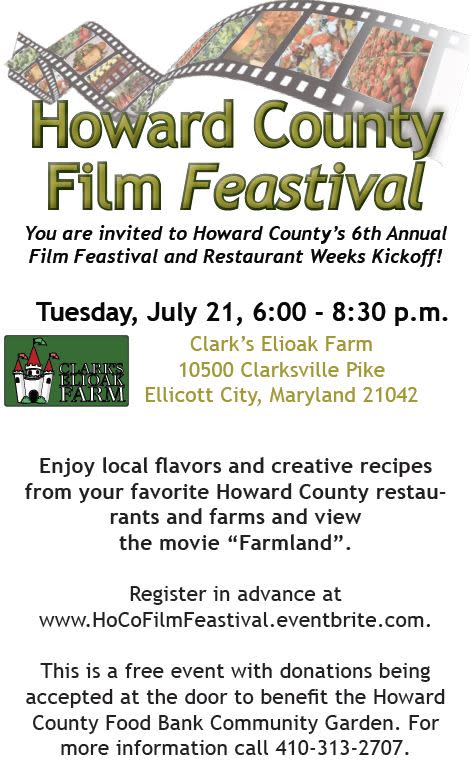 Enjoy local flavors and creative recipes from your favorite Howard County restaurants and farms. Restaurants will be serving up samples from their Farm-2-Table Restaurant Weeks menus and farmers will have fresh-from- the-field produce for purchase along with meats, cheeses and more! Visit fun educational exhibits and stay for a feature film that explores the benefits of eating local and the farm to fork movement.
FEATURED FILM(S)
FARMLAND a film by James Moll
MOST AMERICANS HAVE NEVER STEPPED FOOT ON A FARM OR RANCH OR EVEN TALKED TO THE PEOPLE WHO GROW AND RAISE THE FOOD WE EAT. FARMLAND WILL TAKE AN INTIMATE LOOK AT THE LIVES OF FARMERS AND RANCHERS IN THEIR '20S, ALL OF WHOM ARE NOW RESPONSIBLE FOR RUNNING THEIR FARMING BUSINESS.
THROUGH THIS FILM FROM AWARD-WINNING DIRECTOR, JAMES MOLL, YOU'LL STEP INSIDE THE WORLD OF FARMING FOR A FIRST-HAND GLIMPSE INTO THE LIVES OF YOUNG FARMERS AND RANCHERS. LEARN ABOUT THEIR HIGH-RISK/HIGH-REWARD JOBS AND PASSION FOR A WAY OF LIFE THAT HAS BEEN PASSED DOWN FROM GENERATION TO GENERATION, YET CONTINUES TO EVOLVE.
DIRECTOR JAMES MOLL TRAVELED ACROSS THE COUNTRY MEETING YOUNG FARMERS AND RANCHERS. WATCH THE TRAILER TO CATCH A GLIMPSE OF STORIES SHARED DURING HIS INTERVIEWS.
Learn More
PARTICIPATING RESTAURANTS
EXHIBITORS
Howard County Bee Keepers
Howard County 4-H Dayton Club
Howard County Extension
Howard County Soil Conversation
MasterGardeners/Watershed
Red Shedman Hopyard & Farm Brewery 
FARMS
Farmer Boy Pickles
Nutting Acres Farm
TO REGISTER:
Click Here or Call 410-313-2707
An optional donation at the door will go toward efforts by the Howard County Food Bank to help families in need.
Media Advisory
Other Recommended Films (enjoy on your own)
The Maryland Harvest
"The Maryland Harvest" is a documentary about Maryland farms and farmers and the chefs who love them. Hosted by Al Spoler and produced by Houpla, Inc., "The Maryland Harvest" takes us on a gastronomic tour of farms throughout the state with talented chefs such as Charleston's Cindy Wolf, Spike Gjerde of Woodberry Kitchen, David McCallum of the Tilghman Island Inn and Rob Plant of Blue Wind Gourmet. www.themarylandharvest.com
Know Your Roots: Eat Local
A short documentary film on the benefits of eating "local" food. Filmed and produced in Boston, MA by Sara DeForest and Scott Silverman.
LOCAL – A Short Documentary
Christian Remde explores how in the past ten years, the organic food industry has become big business and how consumers have been left wondering exactly what the word "Organic" means.