Enjoy the Arts al Fresco in Howard County, Maryland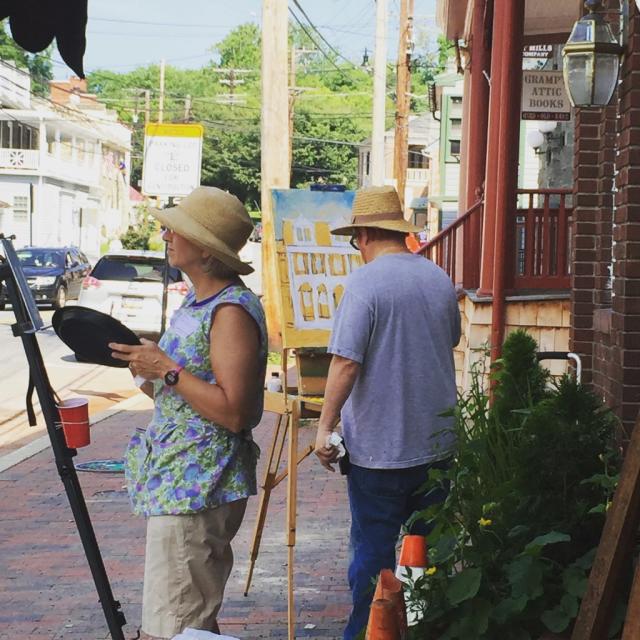 Outdoor opportunities to enjoy the arts of every kind- from sculpture & painting to concerts & festivals, Howard County, Maryland has it all!
---
Howard County Tourism & Promotion is happy to welcome the warmer months with the following opportunities to enjoy the arts al fresco! The term 'al fresco' is defined as outdoors, in the open air… exactly where you'll want to be this summer! Enjoy outdoor sculpture, attend art festivals and relax under the stars at local concerts. Whatever your preference, you can see it al fresco in Howard County.
THE VISUAL ARTS
ARTsites 2015 is a temporary public art exhibit – a collection of outdoor sculptures – that will remain on view from August 15, 2015 through July 2016. The 2016 sculptures will be on display starting in August 2016. Names of past displays, including Triangle Tango, Big Red, and Aerial Delineation only hint at the potential creativity. More information, including their artists and locations, can be found at www.hocoarts.org Click here to download the ARTsites brochure.
The Sculpture Garden at Merriweather Post Pavilion and the Lakefront in Columbia are also great places to enjoy sculpture al fresco. www.merriweathermusic.com, www.columbiaassociation.org
Each year in July, the scenic vistas and bohemian charm of Ellicott City serve as muse to regional artists for a weekend art event – the aptly named Paint It: Ellicott City, A Juried Plein Air Paint-out. 40+ artists will take over the town! While those completing for cash prizes are juried, the public can join in on the fun as well. Set up your easel and paint away, or simply enjoy the sights! July 8-11, 2016. www.visithowardcounty.com/arts-culture/paint-it-ellicott-city
THE PERFORMING ARTS
In June and July, one can enjoy Shakespeare under the stars at the historic ruins of the Patapsco Female Institute. This year, see Romeo & Juliet and The Three Musketeers. Chesapeake Shakespeare certainly creates a theatre experience like no other! www.chesapeakeshakespeare.com
OUTDOOR CONCERTS & MOVIES
See your favorite stars under the stars at Merriweather Post Pavilion all summer long. Bring a blanket and relax on the lawn! www.merriweathermusic.com
Grab a blanket or lawn chair, bring the family, have a picnic and enjoy the sounds of summer at Howard County Recreation and Parks' Sunset Serenades and Traveling Bands summer concerts June – August. Sunset Serenades can be heard Wednesdays from 7-8:30pm at Centennial Park. Traveling Bands (and free ice cream) can be enjoyed at various parks. Visit www.howardcountymd.gov/summerconcerts.htm for dates and locations.
In Old Ellicott City, enjoy Folky Fridays and Concerts on the Courtyard on Saturdays at Tongue Row.www.visitellicottcity.com/events/
The Wine Bin hosts outdoor summer movies on Saturday nights June – September! The Bin offers a wine tasting before each movie and has coolers of ice to chill your beer and wine. Fresh popped popcorn will also be available.www.winebinec.com
The Lakefront Summer Festival lasts all summer long at Lake Kittamaqundi in Columbia and features free outdoor concerts, movies and dancing! www.columbiaassociation.org
FESTIVALS
May – The first full weekend in May every year, head out to the Howard County Fairgrounds for a FREE weekend of family fun and fiber arts at the Sheep and Wool Festival! Live animals, crafts and supplies, entertainment and more.www.sheepandwool.org
July – Join us for the Fourth of July Festival & Fireworks at the Lakefront in Columbia for family fun and (you guessed it) fireworks! www.howardcountymd.gov/july4th.htm
July – The Howard County Film 'Feastival' kicks off Summer Restaurant Weeks. Enjoy local flavors and creative recipes from your favorite Howard County restaurants and farms. Restaurants will be serving up samples of their Farm-2-Table menus and farmers will have fresh-from-the-field produce for purchase along with meats, cheeses and more! View a film promoting real, local food.www.visithowardcounty.com/film-feastival
Seasonally – The Columbia Festival of the Arts presents a weekend-long celebration of the arts in a broad spectrum of art forms and cultures, encouraging interaction among artists and audiences, and featuring local and national artists.http://columbiafestival.org/
OUTDOOR DINING
Hungry? The following restaurants offer outdoor dining:
Aida Bistro & Wine Bar in Columbia
Alexandra's American Fusion at Turf Valley in Ellicott City
Baldwin's Station in Sykesville
Bistro Blanc in Glenelg
Coho Grill at Hobbit's Glen Golf Course in Columbia
Flavors of India in Columbia
Kelsey's Restaurant in Ellicott City
LeeLynn's Dining Room & Lounge in Ellicott City
Petit Louis on the Lake in Columbia
Rams Head Tavern at Historic Savage Mill
River House Pizza Co. in Historic Ellicott City
Sushi Sono in Columbia
The Elkridge Furnace Inn
The Kings Contrivance Restaurant
Town Grill at Lisbon Citgo Auto Center
Victoria Gastro Pub in Columbia
Waterside Restaurant at the Sheraton Columbia Town Center Hotel
*Photo of outdoor concert courtesy of Howard County Recreation and Parks