Whether it's from a boat, a pier, or on the shoreline, fishing is relaxing, serene, and a perfect way to spend the day. We have a number of lakes and waterways across HoCo, perfect for anglers of all ages and skill levels.
Centennial Lake contains an abundance of largemouth bass. Bass up to 6 1/2 pounds have been collected during population surveys. Rainbow trout have also been stocked into Centennial Lake since 1992 as part of the State's put-and-take trout program. Howard County Rec and Parks offers a plethora of fishing classes, tournaments, and events at Centennial Lake. Let's Go Fishing, a beginner fishing class great for the whole family, and Nite Bite Fishing, an after hours fishing event. For more info on Centennial Lake and the events offered click here.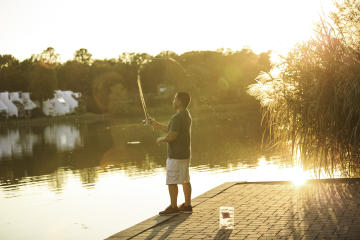 The Triadelphia Reservoir and the Rocky Gorge Reservoir located in western Howard County are part of the Patuxent watershed. Fishing, boating, hiking, horseback riding, picnicking and hiking are all available at designated areas spread over 6000 acres. Information on fees, directions, and regulations can be found here. 
The Lakefront in Columbia sits on Lake Kittamaqundi, a man made 27-acre reservoir created in 1966.  Pier fishing is available, with mainly bluegill, a few crappie, and pumpkinseed occupying the Lake. 
Fishing is welcomed in many areas of Patapsco State Park. The river itself is low in gradient, shallow and rocky with scattered deep pools and sandy runs. The many boulders provide pocket water that provide excellent habitat for the stocked trout and smallmouth bass. The large, slow pools are also attractive to trout, bass and sunfish.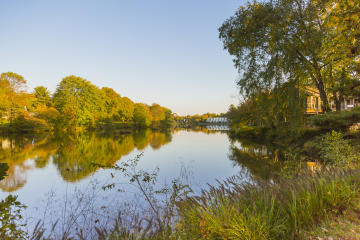 Wilde Lake is a great fishing spot located in the heart of Columbia. All fishing in the park is catch and release. Click here for information on Wilde Lake's fishing and boating regulations.
Beat the 4th of July crowds and spend a relaxing day taking advantage of Maryland's Free Fishing Day. This annual event, taking place July 4th,  allows everyone the chance to test their fishing skills or reinvigorate their love of fishing without needing a license, trout stamp or registration. Information on Free Fishing Day can be found here.