A Glimpse of Columbia 
Welcome to the enchanting neighborhood of Columbia, Maryland! Nestled amidst natural beauty and modern sophistication, Columbia offers an idyllic escape for travelers seeking a truly unforgettable experience.
Recognized as one of the country's finest communities, Columbia has been named the best place to live in Maryland and the 6th most desirable community in the nation by Money Magazine 2022. Attributing the success of the area to exceptional safety, availability of activities, economic growth and development, and multicultural population, Money Magazine calls Columbia, "Howard County's piece de resistance."
Creator and developer James W. Rouse designed Columbia as a thriving model city where all residents would have easy access to shops, schools, and open space. Today, the area is known for its sidewalks throughout the city, making it easy to walk or bike from work to school and to home. 
Columbia's Lakefront 
Immerse yourself in the serenity of Lake Kittamaqundi, a tranquil oasis that serves as the centerpiece of our community. As you stroll along its peaceful paved paths, you'll be captivated by the harmonious symphony of bird species that inhabit the area. From graceful herons to colorful songbirds, nature lovers and birdwatching enthusiasts will find their spirits lifted by the abundance of avian life.
As you walk the paved paths that wind through the entire city, prepare to be awestruck by the architectural masterpiece that is "Bridge Columbia." This remarkable pedestrian bridge is a visual delight, featuring a mesmerizing spiraling geodesic tube that gracefully wraps around its structure. As you traverse the bridge, take a moment to appreciate the seamless fusion of art and engineering, showcasing Columbia's commitment to innovation and creativity.
Indulge in the epitome of luxury at the Merriweather Lakehouse Hotel, a jewel in the Marriott Autograph Collection. You'll find a wide range of suitable accommodations throughout the city of Columbia.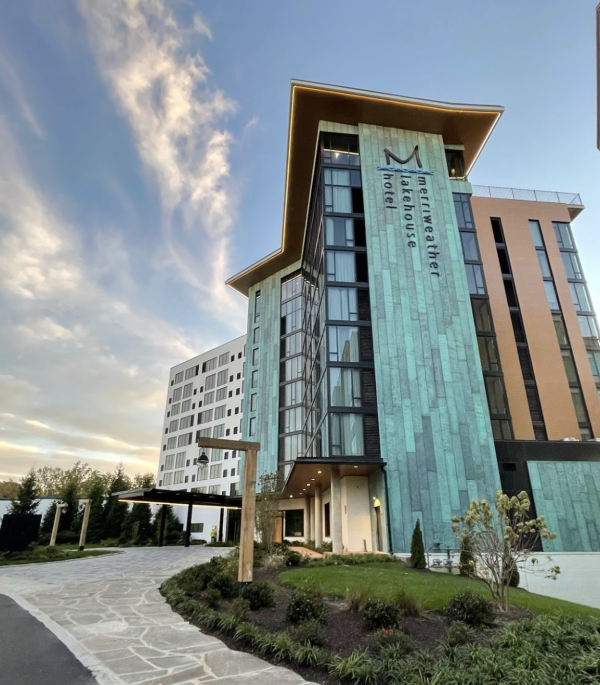 Merriweather Lakehouse, an Autograph Collection Marriott Hotel
Embark on a journey through Columbia by starting at the Lakefront, where nature's serenity meets architectural brilliance and luxury knows no bounds. With its tranquil lake, mesmerizing bridge, and the Merriweather Lakehouse Hotel, this neighborhood invites you to create lasting memories in a destination unlike any other. Welcome to Columbia, where every moment is an extraordinary experience.
Entertainment
In Destination Downtown Columbia, you can prepare to immerse yourself in a vibrant entertainment and culinary scene that will make your getaway truly unforgettable. Let's explore the thrilling new Merriweather District, where a world of excitement awaits. Discover the dynamic Color Burst Park, a hub of activity for visitors of all ages. From invigorating free exercise classes and sensational summer concerts to delightful winter ice skating, there's always something happening to captivate your senses.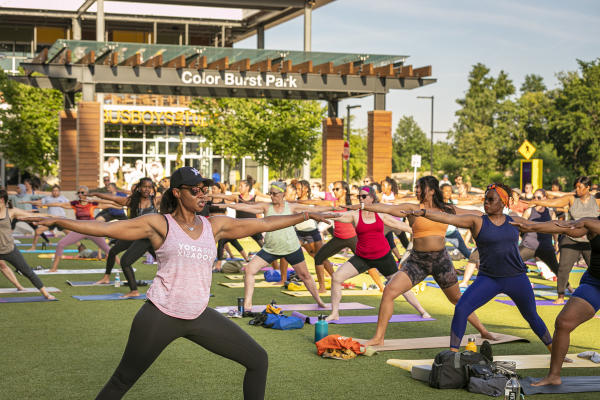 Color Burst Park
Adjacent to the Merriweather District, you'll find the beloved Toby's Dinner Theater. a cherished local entertainment venue. Indulge in an all-you-can-eat buffet and savor endless bowls of ice cream while being entertained by the talented performers. Founded by Toby Orenstein, who was brought in by Jim Rouse from New York to enrich Howard County with theater, Toby's Dinner Theater has made a significant artistic impact on the area and is a must-visit destination.
In the heart of Columbia's thriving music and entertainment scene stands the iconic Merriweather Post Pavilion, designed by the acclaimed architect Frank Gehry. For over four decades, this legendary venue has hosted music legends and continues to be a beacon for unforgettable live performances. Nearby, at Merriweather Park at Symphony Woods, the Chrysalis Amphitheater offers a delightful array of community and family-friendly events, showcasing the vibrant spirit of the city.
Shopping
Nestled in the Town Center village of Columbia, The Mall in Columbia awaits with a shopper's paradise featuring over 200 captivating shops and delectable restaurants. This premier destination caters to every style and taste, ensuring an unparalleled retail experience for visitors of all ages. Among the mall's highlights are three prominent anchor stores, including the renowned Nordstrom, JC Penney, and Macy's, offering an extensive selection of fashion-forward apparel and accessories.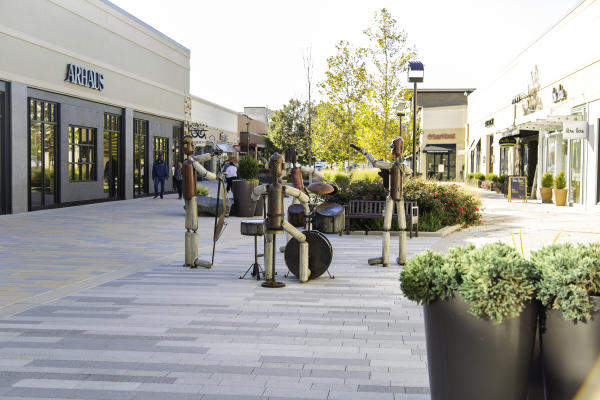 The Mall in Columbia Plaza 
But the shopping extravaganza doesn't stop there. Prepare to indulge in the latest athleisure trends at Lululemon, discover fashionable finds at H&M and Anthropologie, explore the chic offerings at Cotton On, and experience the perfect blend of style and performance at Athleta. Whether you're seeking the latest fashion trends, exquisite jewelry, home decor, or unique gifts, The Mall in Columbia is a treasure trove of possibilities. Take your time to explore the diverse range of stores, uncover hidden gems, and enjoy a delightful culinary journey at the mall's enticing selection of restaurants. Immerse yourself in a world of shopping and dining bliss at The Mall in Columbia, where fashion, style, and delectable flavors intertwine to create an unparalleled experience that will leave you with lasting memories.
Cuisine
Columbia, Maryland, is a culinary haven that tantalizes taste buds with a diverse array of flavors from around the world. The city's vibrant dining scene caters to every palate, offering a delightful fusion of international cuisines and local culinary creations.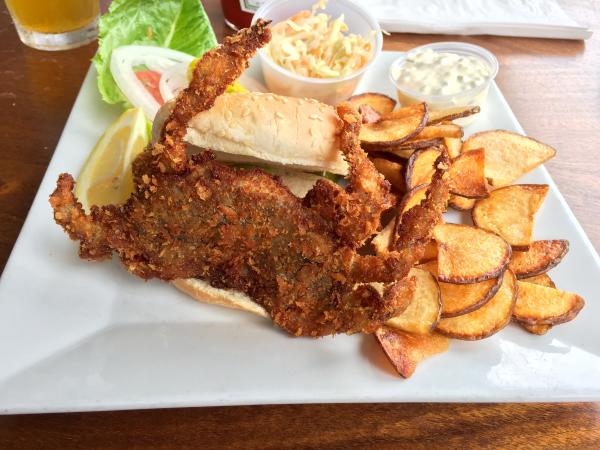 Soft Shell Crab
From upscale restaurants to cozy cafes and bustling food markets, Columbia invites visitors to embark on a culinary journey like no other. Sample authentic Italian pasta dishes, savor the bold spices of Indian curries, or indulge in fresh seafood delicacies. For those seeking a taste of home, local eateries serve up classic American favorites with a unique twist. With its eclectic mix of dining options, Columbia promises a gastronomic adventure that will leave visitors craving more.
Staying Active
The Columbia Association is the beating heart of the vibrant community of Columbia, Maryland. This organization is dedicated to enhancing the quality of life for residents by providing an extensive range of recreational, cultural, and community services. From state-of-the-art fitness centers and swimming pools to picturesque parks, sports facilities, and engaging programs for people of all ages, the Columbia Association fosters a strong sense of community and promotes a healthy and active lifestyle. Through its commitment to enriching the lives of residents, the Columbia Association plays a vital role in making Columbia a welcoming and inclusive place to live, work, and play.