Welcome to Meetings Matter in Howard County! We were thrilled to have invited everyone to this exciting Open House Expo, where members from various industries came together to connect, collaborate, and forge meaningful relationships. The event was hosted at the exquisite Collective Offshore / Encore venue, providing the perfect backdrop for a day of networking and inspiration.
As attendees arrived, they were greeted with a vibrant atmosphere buzzing with anticipation. First, the mix and mingle session allowed professionals to engage in lively conversations and make valuable connections. Excitement filled the air as participants eagerly explored the venue, taking advantage of the numerous opportunities to meet new people.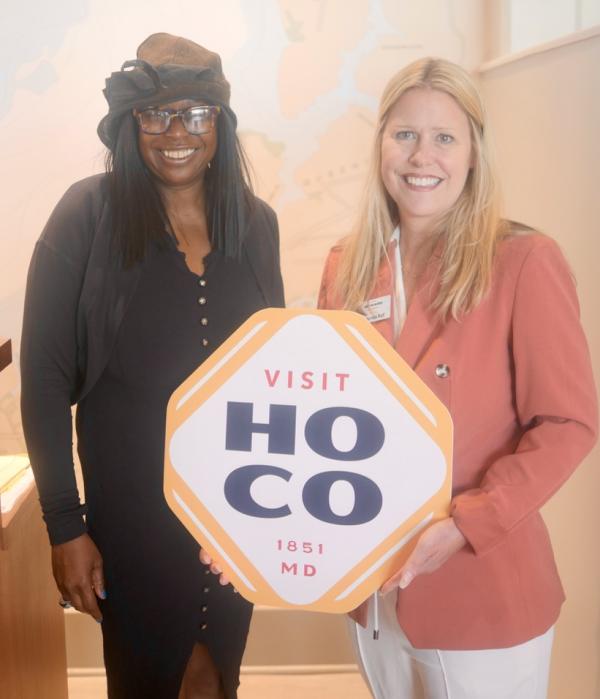 Denee Barr of Denee Barr Multimedia, and Executive Director Amanda Hof of Visit Howard County
Fun giveaways and swag provided by our members added an extra layer of excitement to the event. Attendees were delighted to receive these tokens of appreciation, which served as a reminder of the connections made and the potential collaborations to come. Furthermore, the delicious food served by The Collective satisfied both the palate and the soul, providing nourishment for stimulating discussions.
We extend our heartfelt thanks to the Howard County Chamber of Commerce, Howard County Economic Development Authority, and I95 Business for their invaluable outreach in making this Expo possible. Their support and partnership played a crucial role in creating a dynamic platform for networking and business growth.
The venue itself was transformed into a visual masterpiece, thanks to the exceptional decor provided by Perfectly Wrapped. Every corner of the space exuded cheerfulness, creating an environment conducive to productive interactions and fruitful conversations. Additionally, the dedicated owner of Moments Made Simple ensured that attendees experienced top-notch concierge service, making the event seamless and enjoyable.
Meetings hold immense significance for the local Howard County community by supporting small and local businesses, leading to long-lasting benefits. Since meetings attract tastemakers who shape decisions for their teams or companies, these events serves as a catalyst for driving travel and tourism into the county. This, in turn, stimulates the county's economy by bringing in new visitors who choose to stay in area hotels, indulge in dining experiences at local restaurants, and explore the offerings of neighborhood stores. Meetings not only foster connections and collaborations but also play a vital role in boosting the overall growth and prosperity of Howard County.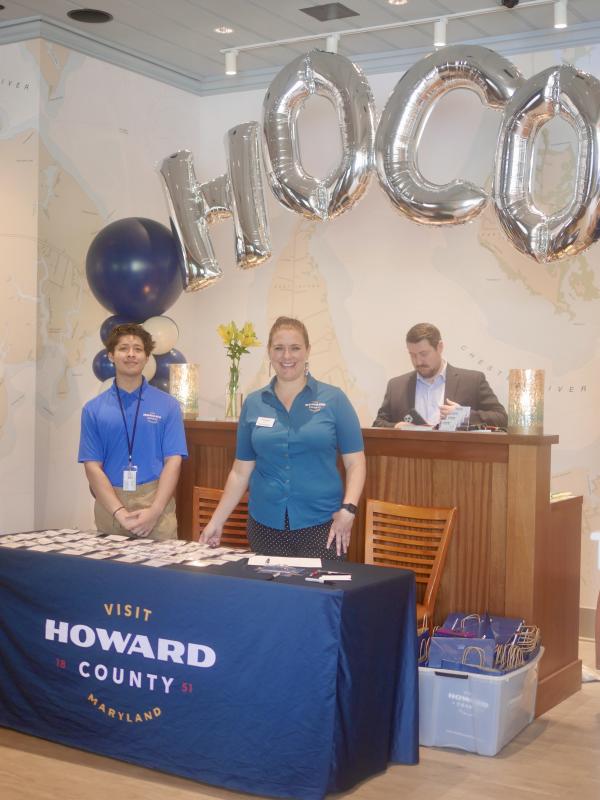 Visit Howard County staff greeted visitors at the front of the well-lit, nautical-inspired space of The Collective
Meetings matter to people because they have the power to create strong and lasting relationships through face-to-face interactions. In a world dominated by digital communication, in-person requests have been found to be 34 times more effective than emailed ones, emphasizing the importance of personal connections. Surveys have revealed that more than 8 in 10 executives prefer in-person meetings, recognizing the unique value they bring.
These meetings go beyond mere transactional exchanges; they create a shared sense of mission and purpose among individuals, fostering empathy across organizational lines. By gathering people together, meetings cultivate camaraderie, building a cohesive team that is positioned for success. According to the Oxford Economics Global Meetings Industry Day 2023 report, just one hour of face-to-face interaction is equivalent to five virtual calls, ten phone calls, or twenty emails. In-person meetings are efficient and effective in conveying information and building meaningful connections.
In a world that often prioritizes virtual communication, it is crucial to recognize and appreciate the profound impact of face-to-face meetings. They are not only opportunities to exchange information; they are catalysts for forging deeper connections, promoting understanding, and fostering a sense of shared purpose. Meetings truly matter because they are a powerful platform for personal and professional growth.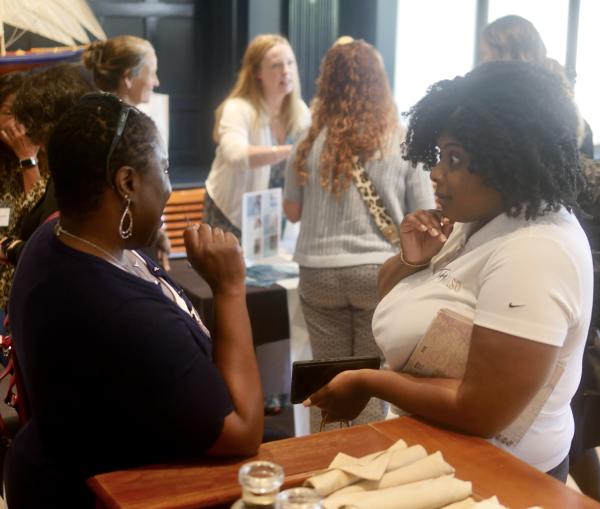 Guests delight in conversation at Meetings Matter
Meetings matter to the economy because they play a significant role in driving domestic business travel. In 2022, domestic group business travel accounted for 38% of all domestic business travel spending, highlighting the substantial financial impact of meetings. The same year, meetings and events were responsible for nearly $100 billion in travel spending in the USA, contributing to the growth of various sectors and supporting half a million American jobs.
These gatherings provide value not only to individuals and businesses, but also to communities. They stimulate local economies by creating demand for hotels, restaurants, transportation services, and other related industries. Meetings bring in visitors who spend money on accommodations, dining, shopping, and local attractions, injecting vitality into the local business landscape. Additionally, they often serve as platforms for knowledge sharing, innovation, and collaboration, fostering economic growth and driving advancements in various fields.
The economic impact of meetings extends far beyond the immediate benefits to participants. They contribute to job creation, income generation, and the overall prosperity of communities. By attracting visitors and generating travel spending, meetings serve as important drivers of economic activity and provide a significant boost to the local and national economy.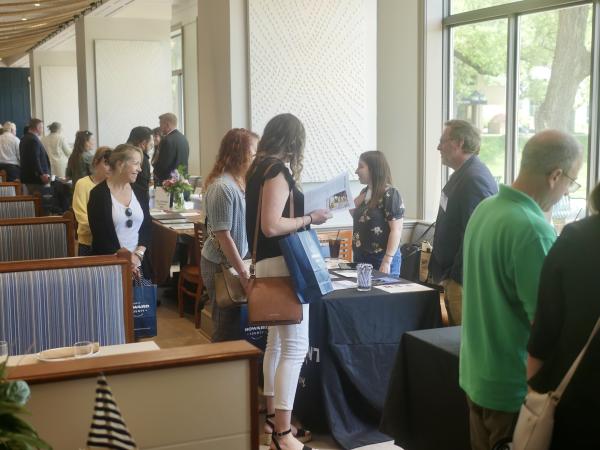 Exhibitors and guests at Meetings Matter in Howard County
Meetings matter to businesses for several reasons. According to Global Meetings Industry Day 2023, a staggering 81% of executives consider business travel essential, recognizing its pivotal role in driving success. As the world gradually returns to a thriving travel industry, meetings become invaluable for organizations seeking to build a competitive edge. These gatherings create a unique sense of intimacy, connection, and empathy that is difficult to replicate through video conferencing alone, as noted by Paul Axtell, a corporate trainer and author of the book Meetings Matter.
Beyond the interpersonal benefits, meetings also serve as education platforms for professionals. They offer opportunities for knowledge sharing, skill development, and staying abreast of industry trends. The face-to-face interactions fostered in meetings provide a rich learning environment, allowing for deep discussions, collaboration, and the exchange of ideas. In the fast-paced and ever-evolving business landscape, meetings offer a vital avenue for professionals to enhance their expertise and remain competitive.
By embracing the power of in-person meetings, businesses harness the energy and enthusiasm generated to propel their growth and success. Meetings bring together like-minded individuals, facilitate networking, and enable the formation of partnerships that can lead to innovative solutions and expanded opportunities. Ultimately, meetings matter to businesses because they provide the ideal platform for cultivating meaningful connections, fostering personal and professional growth, and driving organizations towards long-term prosperity.
Exhibitors at Meetings Matter in Howard County
The Meetings Matter expo was abuzz with excitement as 19 dynamic exhibitors showcased their offerings and engaged with the attendees. The diverse lineup included Angel Doves, spreading their angelic charm, and Circle D Farm showcasing their rustic, farm-fresh delights from their 150-acre farm that offers private parties, corporate events, and company picnics.
Renowned hospitality brands showcased their exceptional services, enticing visitors with their luxurious amenities and upscale accommodations. 
Merriweather Lakehouse Hotel offers space for groups up to 400.
The list of exhibitors continued with the captivating Mary's Land Farm, offering freshly-made treats from their 160-acre farm, which offers space for festivals, workshops, field trips, summers camps and tours. The indulgent haven of The PEARL Modern Spa & Boutique shared their offerings of 27,000 square feet of wellness studios available for event rentals and retreats.
Maryland Innovation Center provided their unique offerings of not only space but also support, training, and mentoring, while Howard County Recreation and Parks highlighted their commitment to community well-being with multiple meeting spaces, including Robinson Nature Center, which is a LEED platinum-certified nature facility.
The Periodic Table and Tino's Italian Bistro and Wine Bar enticed taste buds, while Try It Out Comedy added a touch of laughter to the mix. Venture X offered a glimpse into their innovative workspace solutions. Last but not least, Elkridge Furnace Inn added a touch of history and charm to the Expo, while sharing about the variety of private spaces they offer, accommodating sizes ranging from 10 to 220.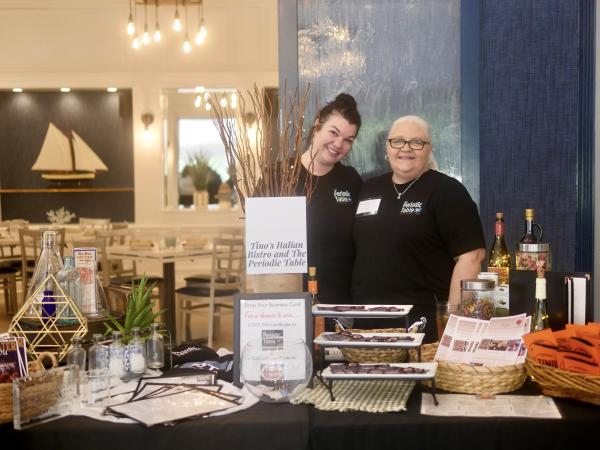 Tino's offers full-service catering with classic Italian dishes, while The Periodic Table offers group dining and catering with a fusion of American and international flavors.
With such a diverse range of exhibitors, the Meetings Matter expo offered a vibrant atmosphere where attendees could explore, connect, and discover all that these incredible businesses had to offer.
Meetings Matter in Howard County was a wonderful gathering where relationships were formed, collaborations thrived, and possibilities came to life. We are grateful to everyone who attended and contributed to the success of this event. Stay tuned for more updates and details as we look back on the remarkable moments and impactful connections made during this unforgettable Expo, and plan the next one.