Great movie showings are happening all summer long at various locations throughout Howard County. Check out the links below to for schedules and additional information.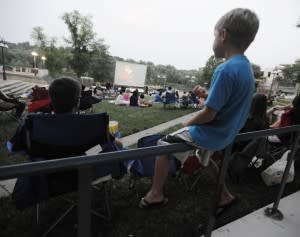 Robinson Nature Center's Summer Wednesday Full Dome Movies
Robinson features numerous movies for the family and kids in their Naturesphere. Ages vary, view the schedule of films here.
As part of the Columbia Association's Lakefront Summer Festival
Summer Lakefront movie nights are held on Mondays & Fridays until mid-August, then Fridays and Saturdays until mid-September. Movies begin at dusk (about 8:30 p.m.). All films are rated (G), (PG), or (PG13) as noted. Films are co-sponsored by the Columbia Film Society. For more information click here.
Belmont Blockbusters
Experience the beautiful setting of Belmont Manor & Historic Park with your family and friends at our outdoor movie series! Arrive early to walk the gardens and then choose a spot on the lawn before show time. Our large blowup movie screen will be set up in the formal garden area behind the Manor. Bring your own picnic, blanket or lawn chairs. Maximum attendance is 200. See the schedule here.
*Photo courtesy of the Columbia Association
Merriweather Movie Nights
Utilizing Merriweather's high-definition video screens and featuring food and beverage choices from local breweries. Merriweather Movie Nights will offer an outdoor movie experience unlike any other. You have the choice of free, general admission seating under the stars on the lawn or within certain sections of the pavilion, or for $10, you can purchase a reserved pavilion seat in a prime viewing area with access to the venue's new party deck. #MPPMovies here