Though my passion for fly fishing began in the rugged terrain of the Indian Himalayas chasing our local river fish, the Golden Mahseer (which can be caught in excess of 50 lbs), fly fishing opportunities right here in Howard County continue to inspire my overall physical, mental, and emotional wellbeing. 
My name is Misty Dhillon, I am co-owner of Transformative Travel LLC; an internationally recognized fly fishing expedition leader with over two decades of guiding experience under my "wading belt".  
In addition to becoming India's first FFI certified casting instructor, in 2011. I also served as the representative for the Himalayan region for The International Game Fish Association while guiding some of fly fishing's top experts in complex river conditions and expeditions in the Himalayas. In 2018, I relocated to Howard County and have since found some spectacular fly fishing opportunities for both beginner and seasoned anglers right here in our backyard. In this article I'd like to offer first, why one should fly fish, and secondly share my favorite fly fishing experience in Howard County.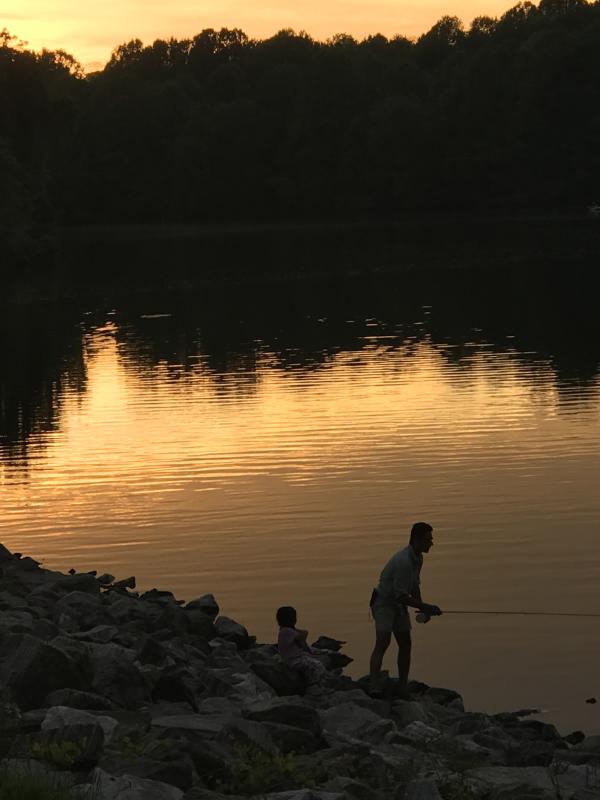 First, why fly fish? Fly fishing is a practice that connects the angler intimately to the local ecosystem. In order to pick or create a fly that will entice a fish to bite, one first must understand the native diet of the fish they seek. Depending on the species, season, and even time of day, the details of the fly a fish will feed on, varies. 
Hence this acute need for knowledge serves as an access point connecting us to the natural habitat. Also, understanding the intricate connection between all living beings gives us a larger sense of being connected to something greater than ourselves. In my experience, this is a natural antidote to feelings of depression and isolation. Besides, it is also scientifically proven that time in the outdoors relaxes our central nervous system and promotes overall well-being. Therefore, fly fishing offers an opportunity for our emotional, physical, and mental well-being. 
Additionally, spending the day fly fishing also translates into an amazing setting for bonding with loved ones. Places where one can fly fish require well-intact ecosystems. These spaces are often pristine and serene creating an ideal setting for quality time with loved ones. The peace, connection, and joy that many of my guests experience together on the water are just incredible. 
Also worth noting, fly fishing is not just a sport, but an expressive art. From the graceful cast needed to land the fly in the right spot, to picking or ideally crafting each fly intentionally. 
Fly Fishing Lessons with Transformative Travel
Fly fishing is not only focused on catching a fish but it also provides a chance to express our creativity and innate intuition when in nature. Bringing attention to a unique sense of oneness when practicing our casting technique. To cast a fly line properly, there are not only basic techniques that should be used and an attuned sense of timing; pausing when the line is loading and the perfect moment to pull forward to throw a good loop. The entire practice of fly casting is an opportunity to practice mind-body synchronicity, adding to our sense of connection, wellness, and peace. On the whole, I see fly fishing as an intentional practice and sport for one's overall well-being. 
Next, fly fishing is active and engaged. You will often notice fly anglers cover a lot of water. They are constantly scoping out new pools of water looking for the perfect conditions, and fishing smarter, not harder. Thus in fly fishing, it is equally important to stay moving as fish do get pressured and it allows you to see so much of the river valley or coastline. Again, I have always found fly fishing to be a great way to fully immerse myself in the local environment. 
Finally, fly fishing tends to do less harm to the fish. In fly fishing, often we practice "catch and release" and the use of single barbless hooks is promoted to decrease air exposure while releasing - a conservation effort to ultimately protect precious river species. While also serving far safer for fly anglers, as that fly comes around at a great speed when you load the fly rod just right. 
Hence, we catch the fish, take a picture (or not), and then release the fish back into the water. The thrill is in the chase, but ultimately we free the fish after it is caught. In other forms of fishing there are typically very large, and sometimes multiple heavy barbed hooks that may cause damage to the fish, while fly fishing, particularly with barbless hooks, allows for the fish to recover quickly. 
One of my personal favorite fly fishing opportunities offered in Howard County is found on the Patapsco River. This river valley is not only scenic but filled with rich history and relics. Hence offering non-technical fly fishing waters that are ideal for beginners and seasoned anglers alike. While beginners can catch brown, rainbow, and golden trout easily as part of a carefully managed, put-and-take fishery system. These fish are released in the river each year to encourage recreational fishing adding exciting opportunities for the sport. 
In addition, Smallmouth bass and Sunfish are two more favorites that offer thrilling experiences, particularly during summer months when top water fly fishing and sight fly fishing opportunities are in plenty. This means you see the fish, cast to them, and then watch them stalk and bite your fly! Super exciting! 
In this case, my favorite fly fishing experience of mine in Howard County is using a kayak, canoe, or SUP to float the Patapsco River from Woodstock to Ellicott City, while casting for a variety of beautiful fish. Even though water can run low, forcing you to walk around more shallow sections, this is such a fun and relaxing float that provides access to some great fly fishing water. I've taken many families and friends down this stretch and it is always a great time had by all. There are small river islands to picnic and pull out the hammocks. It's wonderful. 
Other notable places to fish are Centennial Lake, the Triadelphia Reservoir, Rocky Gorge Reservoir, Lake Kittamaqundi, Little Patuxent River, Middle Patuxent River, and Wilde Lake. Each location offers its own unique challenges and rewards, providing great fly fishing experiences at your doorstep. 
So next time you are looking for a great way to connect with the natural world, to your loved ones, or simply yourself, consider spending a day exploring the local treasures of Howard County while fly fishing. If you are looking for a passionate guide to show you the best spots, provide you with the necessary gear, and offer casting instructions, don't hesitate to reach out. 
-Misty Dhillon, Transformative Travel LLC, July 2023. www.transformativetravel.ltd 443.766.3644