September is International Underground Railroad Month, which acknowledges the significance of the Underground Railroad, and all those involved, for its contribution to the eradication of slavery in the United States and as a cornerstone for a more comprehensive civil rights movement that followed. It honors the inspiring efforts of people from around the world who have committed themselves to document, interpret, and share with the public the history of the Underground Railroad. It's a perfect time to honor some of our nation's greatest heroes.
Celebrate International Underground Railroad Month by exploring a driving or walking tour of Underground Railroad sites and discover fascinating stories about courageous freedom seekers. Take a guided tour or attend an event to honor their journeys and follow their pathways to freedom. Learn more​ here.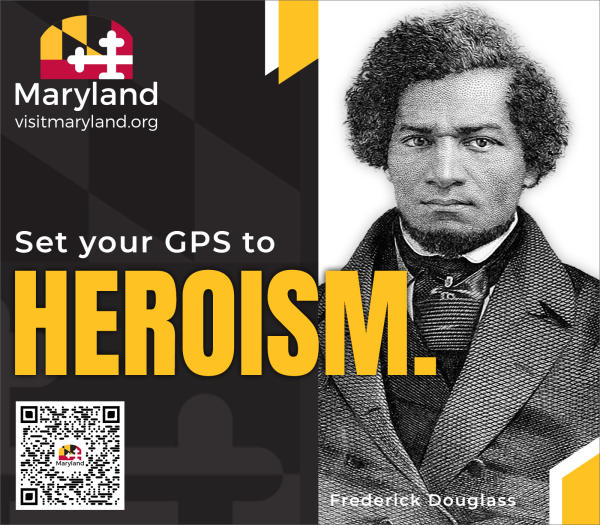 International Underground Railroad Month
Howard County's Network to Freedom and Underground Railroad Sites 
The National Park Service identifies sites on the National Underground Railroad Network to Freedom. Applications are submitted and go through a rigorous review process. We are fortunate to have five recognized sites in Howard County.
First Howard County Courthouse
The first Howard County Courthouse, located in the historic district of Ellicott City, Maryland, was a pre-existing structure rented by the Howard District Commissioners from George Ellicott in 1840 to house judicial proceedings of the new Howard District including those involving runaways and inciting insurrection. Cases related to enslaved persons that occurred in this building include those of Jacob Madden and William Williams for circulating items in print lending to create discontent among the Black population, possibly to the point of insurrection. An interpretive marker in the parking lot behind the Merryman Street Cabin describes these events, as the original building was lost in the 2018 flood.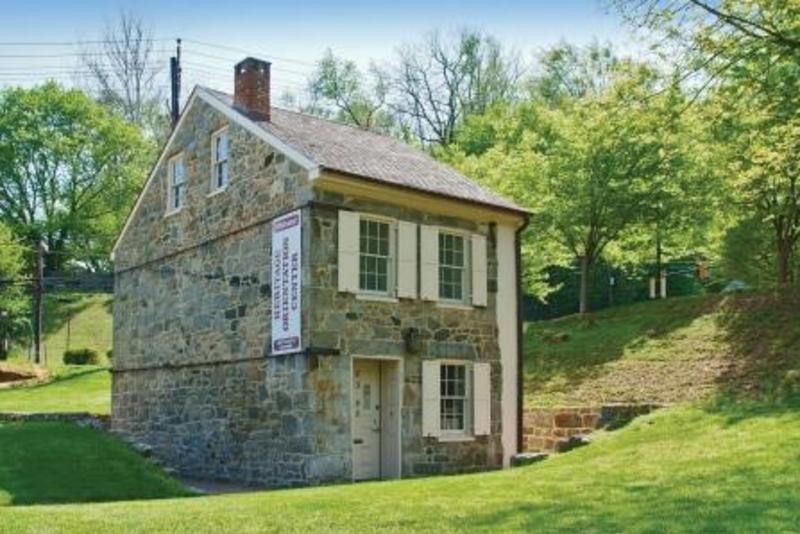 Howard County First Courthouse Site 
Ellicott Mills Drive at Main Street, Ellicott City, MD 21043
410-313-0421 
Howard County Circuit Courthouse
The 1843 Howard County Courthouse, located on Court Avenue in the Historic District of Ellicott City, was the location for judicial proceedings related to legal cases involving those charged with encouraging slaves to runaway from 1843 to the end of slavery in Maryland on November 1, 1864. Arguably, the most famous case involved the transfer of known Underground Railroad agent William L. Chaplin of New York from Montgomery County to Howard County in 1850, but there were many cases involving local free Blacks like that of Warner Cook, charged with enticing slaves to run away.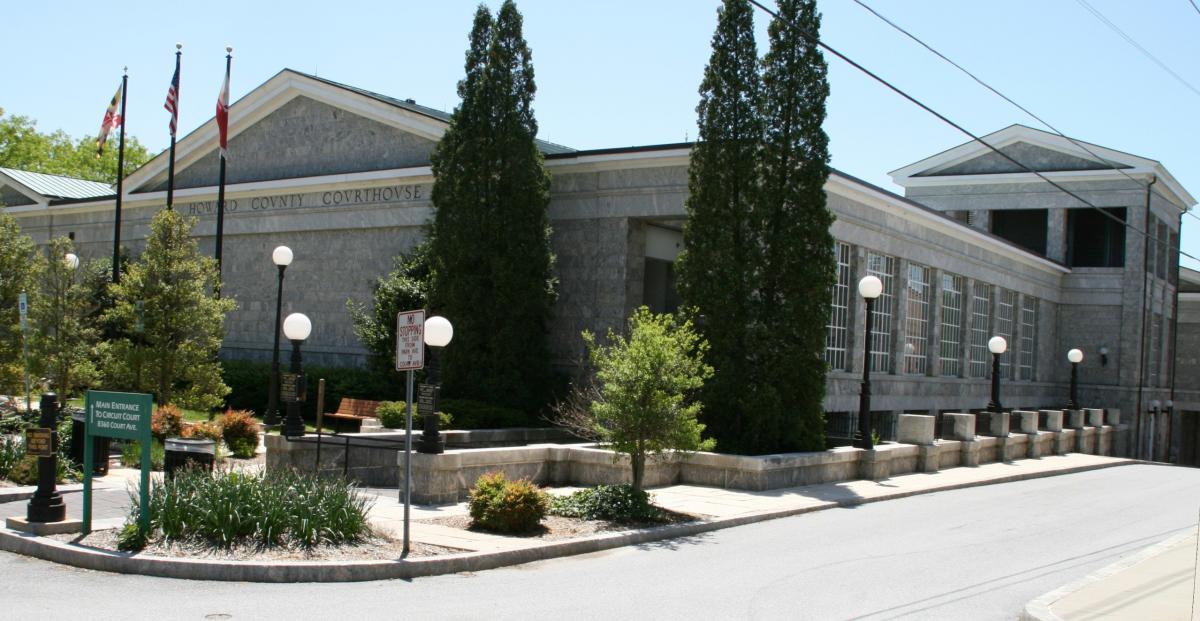 Howard County Courthouse 1843 
8360 Court Avenue Ellicott City, MD 21043 
410 313-2111 
Howard County (Emory Street) Jail
The Howard County Jail, located at 1 Emory Street, in the Historic District of Ellicott City, was the location where runaways and those charged with encouraging slaves to run away or similar charges during the age of enslavement were held from January 1852 through the end of slavery in Maryland on November 1, 1864. Among the prisoners held were runaways like Augusta Spriggs, held while ads were posted for her master in Prince George's County to claim her, or Richard Martin, held as a fugitive without a pass.
Howard County Historical Society Archives
The Howard County Historical Society in Howard County, Maryland is a private, non-profit organization dedicated to collecting, preserving, exhibiting and providing access to the county's rich history and heritage.  As a public research facility, HCHS is a repository that provides a variety of archival and research materials.  Pertaining specifically to Slave history and the Underground Railroad, the archives and manuscript collection include many original source documents, such as court cases dealing with Fugitive slaves and those who aided, abetted and enticed runaways, in addition to ledgers and records of slaveholders.

Howard County Historical Society Museum 
9421 Frederick Road Ellicott City, MD 21042 
410-480-3250
Elkridge Furnace Inn
The Elk Ridge Furnace was a major site of industrial slavery in early America. One of the largest iron furnaces during the eighteenth century, its operation was conceived by its original owner, Caleb Dorsey, a prominent tobacco plantation owner, to maximize profits using a combination of enslaved, indentured, and convict labor. Work at Elk Ridge Furnace was brutal, and punishments were severe. At least five people enslaved at the Furnace have been documented attempting to escape these violent conditions, in cases that appeared as runaway advertisements in 18th century newspapers throughout the mid-Atlantic. In several cases, individuals escaped multiple times, suffering severe punishments and persisting in pursuit of freedom.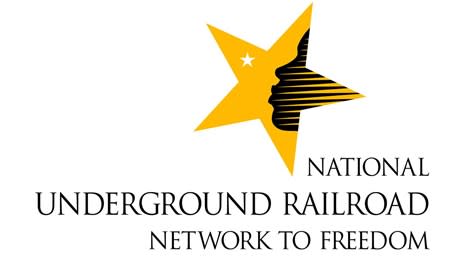 ---
Maryland State-wide Tourism for International Underground Railroad Month
Additionally, Maryland has great statewide tourism products about the Underground Railroad to assist travelers with planning their trips and to provide information along the way.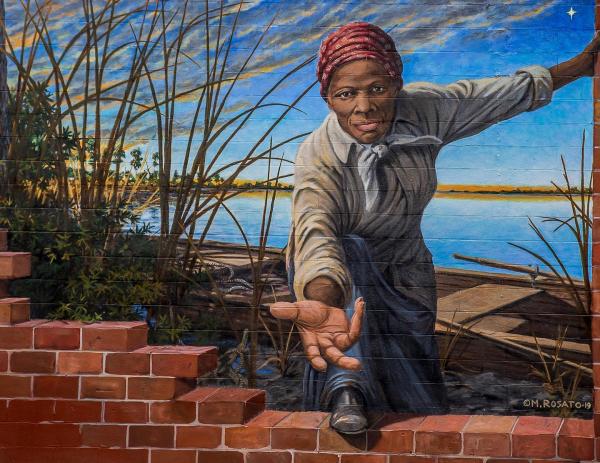 Artwork Credit:
Harriet Tubman Mural by Michael Rosato, Maryland Office of Tourism
Photo Credit: 
Nicole Caracia Photography
Maryland's Underground Railroad Network to Freedom Visitor Guide
Harriet Tubman Underground Railroad Scenic Byway Map, Guide, and Audio Guide
Frederick Douglass Driving Tour Map
---
African American Heritage Sites
The Ellicott City Colored School Restored 
8683 Frederick Rd., Ellicott City, Maryland 
410-313-0421
This schoolhouse was built in 1880 as the first school for African American students paid for with County funds. The school was open from the 1880s to 1953. The schoolhouse is now a museum and chronicles African American history in Howard County, particularly the era of segregation and the various segregated schoolhouses that existed in Howard County. Tours, programs, lectures and summer camps take place at the museum today.
Benjamin Banneker Historical Park & Museum Museum
300 Oella Ave., Catonsville, MD 21228
410-887-1081
A 142-acre site dedicated to telling the inspiring story of the life and times of Benjamin Banneker often considered the first African American man of science. The museum's exhibits chronicle Banneker's contributions as a largely self-taught mathematician, astronomer, almanac writer, surveyor, abolition advocate and naturalist during the late 1700s. Programs are focused on Banneker's life and his relationship to the land he inhabited.
African Art Museum of Maryland 
8775 Cloudleap Court, Suite 12, Columbia, MD 21045
410-740-7411
The African Art Museum of Maryland (AAMM), founded in 1980 as the first Museum in the planned community of Columbia, MD, is unique. It is one of only three museums of its kind in the USA devoted exclusively to the art of Africa. Of those three, it is the only one founded by an African American. Among other supports, it has been recognized as "one of the State's most respected cultural institutions," and in 2013 was cited as "one of the top ten places to visit in Howard County, MD."
The Howard County Center of African American Culture 
The HCCAAC has curated The Simpsonville Freetown Legacy Trail to celebrate the history of Simpsonville and commemorate the involvement of Harriet Tubman in the Underground Railroad. 

Howard County Center of African American Culture
Museum & Children's Library
5434 Vantage Point RD, Columbia, MD 21044
410-715-1921
Baltimore & Ohio Ellicott City Station Museum 
3711 Maryland Ave., Ellicott City, MD 21043
410-313-1945
Designated a National Historic Landmark in 1968, the B&O Ellicott City Station is the oldest surviving railroad station in the country playing an important role in the Civil War. Today the site interprets the story of transportation and travel through exhibits, including an augmented reality experience, education programs and living history programs. The site temporarily houses the Network to Freedom Howard County First Courthouse Site marker. 
Civil War Trail Sites
Civil War Trails® has been working with communities since 1994 to share their stories and connect visitors with small towns and big stories across a network that now spans six states. Travelers look to Trails to put them in the footsteps of the generals, soldiers, citizens, and the enslaved who found themselves in the midst of this Civil War.