Welcome to Howard County, Maryland, where autumn comes alive with vibrant colors, crisp air, and a celebration of the season with one of our most anticipated events, Hops & Harvest Festival, from 12:00 – 5:00 on Oct. 7th. Join a delightful celebration of the season's bounty and craft beer culture  held annually at the picturesque Merriweather Park,. As the leaves turn and the temperatures drop, this event brings a hub of activity for locals and tourists alike with unlimited tastings, live entertainment, and fresh local food.
Hops & Harvest Festival: A Local Tradition
As September rolls around, Howard County begins to don its autumn attire. The lush green landscapes give way to a breathtaking spectrum of reds, oranges, and yellows. It's the perfect backdrop for a season filled with outdoor activities, family outings, and, of course, beer tastings.
The Hops and Harvest Festival has become an annual tradition in Howard County, drawing locals and visitors from far and wide. Held at the picturesque Merriweather Park at Symphony Woods, this event captures the essence of fall in the mid-Atlantic region. The combination of crisp fall air, live music, local artisans, and, most importantly, craft beer, makes it an experience to remember.
Craft Beer Takes Center Stage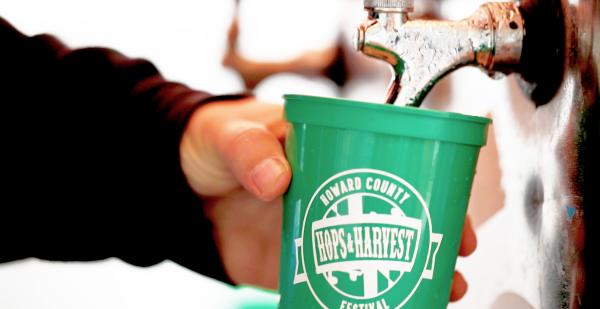 Craft Beer Culture Takes Center Stage at Hops & Harvest
Maryland is no stranger to the craft beer scene, and Howard County is at the heart of this thriving industry. At the Hops & Harvest Festival, you can sample a wide array of local brews, from hoppy IPAs to rich stouts and everything in between. Local breweries set up shop, providing a unique opportunity to chat with the brewers, learn about the brewing process, and discover new favorites. Craft beverage purveyors from all over Maryland will be in attendance, including HoCo favorites like Red Shedman, Sapwood Cellars, Manor Hill Brewing, and Black Flag Brewing Co. 
Adding to the delight are local cideries that present their handcrafted ciders, ranging from sweet and fruity to dry and tart. These refreshing options provide festival-goers with a distinct alternative, highlighting the versatility of apples in beverage creation.
Fine wines from local wineries also take their place at the event, offering attendees the opportunity to appreciate the art of winemaking. From reds to whites, attendees can explore a variety of grape varietals and indulge in the complexity of flavors that come from Maryland's own vineyards.
For those seeking an elevated experience, the festival introduces local distilleries that showcase their exquisite spirits. From small-batch bourbons to artisanal gins, attendees can savor the rich history and craftsmanship behind each carefully distilled creation.
Live Music & Entertainment
Live music adds to the festive atmosphere at the Hops & Harvest Festival. Talented musicians take the stage, creating a soundtrack that perfectly complements the fall ambiance. Some can't-miss performers include Big Rig Bender, Miss Moon, and DJ Chris Tharp. Whether you're tapping your feet to folk tunes or grooving to some rock and blues, the musical performances will keep you entertained throughout the event.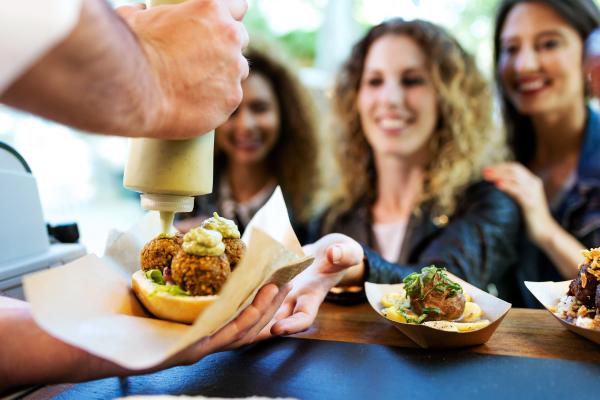 Local Delights
Delicious Local Food Offerings
The Hops & Harvest Festival is a haven not only for beverage enthusiasts but also for food connoisseurs. Embracing the bounty of local harvests, these vendors serve up a range of dishes that highlight the flavors of the region. From farm-to-table creations to globally inspired fusion dishes, the culinary offerings are carefully crafted to complement the diverse beverage options available. Get some great nosh with a diverse selection of numerous local restaurants and food trucks, including Blowfish Poke, Cousins Maine Lobster, and Cowgirl Cakery.
Family-Friendly Fun
The Hops & Harvest Festival remains committed to being family-friendly, ensuring that the event is inclusive for all. A designated kids' zone offers a variety of activities to keep young attendees engaged, including face painting, games, and arts and crafts. This family-friendly approach underscores the festival's dedication to creating an environment where families can enjoy quality time together while savoring exceptional food and drinks. Youngsters are welcome, and children 8 and under are free. Plus, they won't want to miss discovering local artisan goods from a myriad of shops, vendors, and artisans, including Krafty Kreations, Julie Gross Paintings, and The Bay Gypsy Art & Jewelry. 
See the full list at the official Hops & Harvest website here.
At its heart, the Hops & Harvest Festival embodies community, sustainability, and local pride. By showcasing local breweries, cideries, wineries, and distilleries, the event not only highlights the diverse talents of the region but also encourages attendees to support local businesses. This camaraderie boosts the local economy and reinforces the importance of collaboration within the community.
The festival's commitment to sustainability is evident through various initiatives, such as promoting the use of reusable cups to minimize waste. This eco-conscious approach aligns with the growing awareness of environmental responsibility. The Hops & Harvest Festival in Columbia, Maryland, offers more than just a sensory exploration of beverages and cuisine; it provides a holistic experience that celebrates local flavors, community bonds, and the craftsmanship behind brewing, winemaking, and distillation. As attendees delight in the diverse array of craft beers, local ciders, fine wines, and exquisite spirits, they become part of an immersive world where flavors, aromas, and connections intertwine.
With live music, engaging activities, and a family-friendly atmosphere, the festival creates memories that linger long after the last sip is taken. Through the celebration of local businesses and the embrace of sustainability, the Hops & Harvest Festival fosters a sense of unity, pride, and appreciation within the community. 
Exploring the County
While you're in Howard County for the Hops and Harvest Festival, take some time to explore the surrounding area. The county is home to beautiful parks, historic sites, and charming towns that are perfect for day trips. Whether you're hiking in Patapsco Valley State Park, learning about history at Ellicott City's Main Street, or exploring the charming shops in Historic Savage Mill, Howard County offers a wide range of attractions for every interest.
Howard County, Maryland, is a hidden gem during the fall season, and the Hops and Harvest Festival is the crown jewel of autumn celebrations. With its craft beer culture, farm-to-table delights, and family-friendly activities, this event offers something for everyone. So, mark your calendars, pack your flannel shirts, and get ready to savor the flavors of fall in Howard County.
Coming in from out of town? Want to make a weekend out of it? There are several great hotel options close to the festival location.