The new year is in full swing, so is our event calendar! February is the perfect time to choose Howard County as your winter travel destination. From Black History Month to musicals and sports events, here are our top Howard County happenings to enjoy this February.
(Photo courtesy of the Howard County Conservancy)
Feb 1 - March 19 Something Rotten (Columbia) Toby's Dinner Theatre presents Broadway's hilarious smash hit, nominated for 10 Tony awards!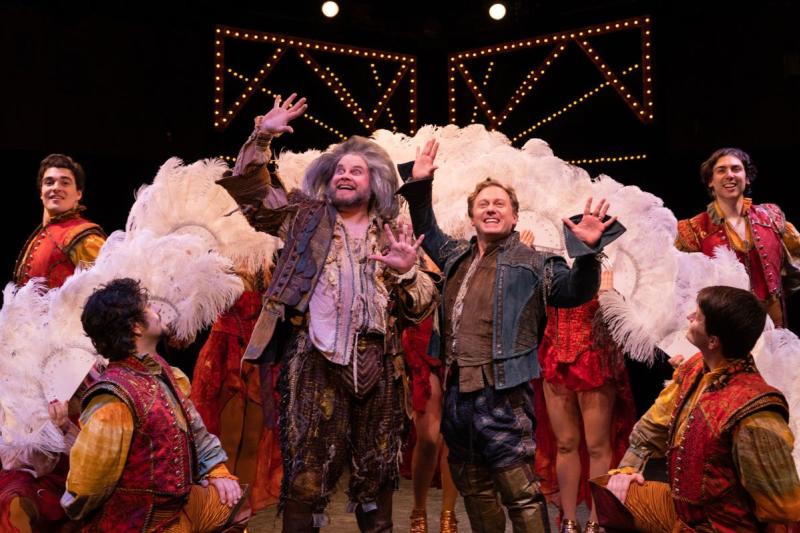 Toby's Dinner Theater presents Something Rotten. (Photo courtesy of Toby's Dinner Theater)
Set in the 1950's, brothers Nick and Nigel Bottom set out to write the world's first MUSICAL! Hailed by Time Out New York as, "the funniest musical comedy in at least 400 years." Many dates in February are still available, including Valentine's Day, but do not wait as many dates will sell out quickly.
Feb 3 - April 30 Rise Above - An Art Exhibition (Historic Ellicott City) Visit Howard County, in partnership with guest curator Marlon Powell with Art Vibez LLC, is excited to celebrate Black History Month with a new gallery featuring local artists from Howard County and beyond.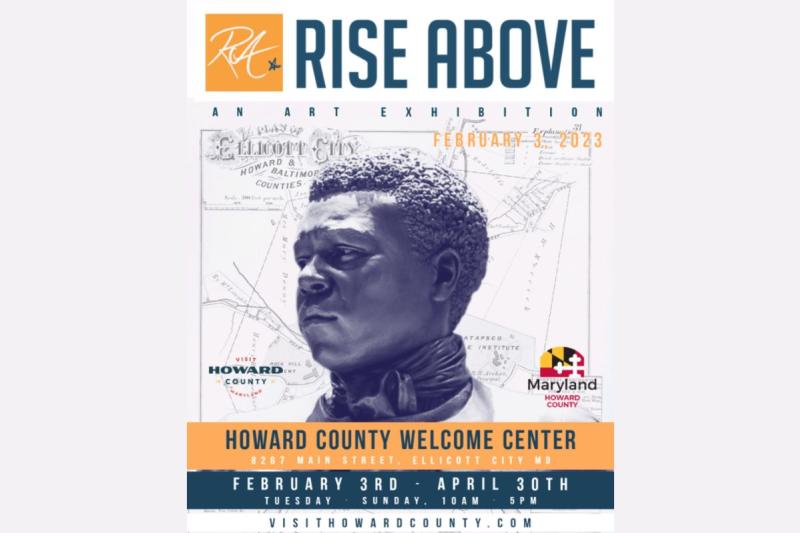 The Rise Above art exhibit will be on display in the Howard County Welcome Center from Feb 3 - April 20, 2023.
Titled "Rise Above", this exhibit will explore the resilience of Howard County's black community and its legacy of rising above racism and conflict. This exhibit will also feature one of the area's most significant historical figures, Benjamin Banneker, and it will interpret his impact on American history.  Featuring fine art in a variety of mediums, this exhibit will be on display at the Howard County Welcome Center. Open Tuesday - Sunday 10am - 5pm. Closed Mondays.
Feb 4 Orioles Fan Rally @ Wilde Lake High School (Columbia) The Birdland Caravan is back!
This February, the Oriole's Birdland Caravan is back in Howard County!
Join the Baltimore Orioles for some pre-season fun. Located in The Jim Rouse Theater for the Performing Arts, this Q&A and games with fans features DL Hall, Brandon Hyde, Grayson Rodriguez, and Nick Vespi. No ticket is required, and there is limited capacity. This event is open to fans of all ages, and it will take place at 2 p.m. Doors open at 1:30 p.m.
Feb 4  1st Saturday Children's Classes/Special Activities (Ellicott City) Love will be in the air at the Ellicott Mills Children's Museum on February 4, from 10 - Noon. Children, ages 5 - 12, will learn the history of Valentine's Day, including what it has to do with birds. They will create old-fashioned valentines, using paper, lace, ribbons, and glue, then turn their attention to making some treats to show their love to our native birds. Registration is required at hchsmd.org. There is a $5 charge for craft materials. The Museum is located in downtown Ellicott City, 3725 Park Avenue.
Feb 4 Rocks in Space (Columbia) Visit the Robinson Nature Center planetarium and watch a sky show led by an educator from 4-4:30 p.m. This event is $5 per person and for ages 5+.
Feb 9 Girls Night Out (Savage) Visit Savage Mill for an opulent February, Moulin Rouge-inspired Girls Night Out!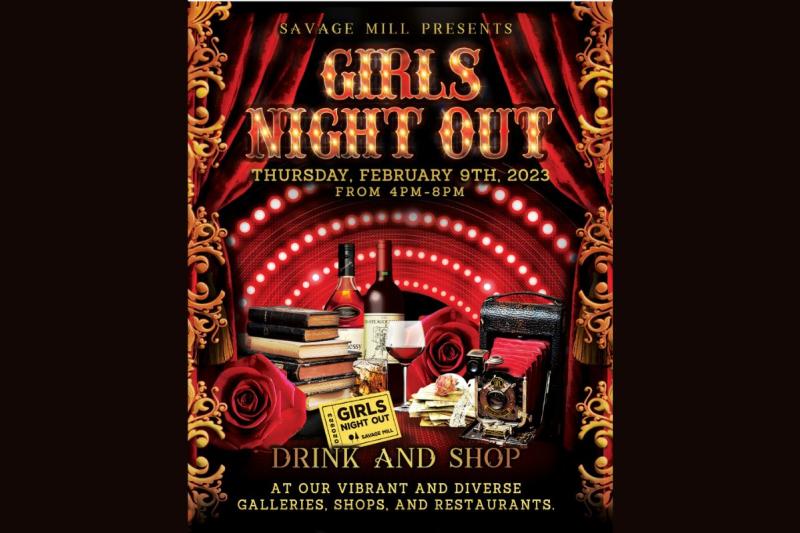 Savage Mill presents Girls Night Out.
Bring your friends, coworkers, and family to sip and shop with some free wine and get exclusive deals from their businesses. Participate in bingo for a chance to win a Fossil handbag, antique earrings, a quill and ink set, or a gift card to Roggenart! 4-8 p.m.
Feb 9-26 Rep Stage Ghost/Writer (Columbia) In the Horowitz Visual and Performing Arts Center, you can see the world premiere of a play that examines the intersections of race and gender, inviting us to explore the role of love, justice and joy in a world where the ghosts of the past have yet to be laid to rest.
The play takes place in 1920 just outside of Tulsa, when Patrick, an Irish immigrant, seeks out the services of Ms. Ruby, a mysterious Black woman from Baltimore, known to help exorcise ghosts from her clients, but the price she is asking may be too high. Meanwhile, in 2019, Charles Ross hires infamous ghost writer Rebecca Warren to help him through his writer's block, but what she invokes could be his salvation or undoing. Recommended Age: 16+
Feb 11 Valentine's Chocolate-Dipping and Wine-Sipping (Columbia) At the Robinson Nature Center, this course is a unique way to celebrate Valentine's Day! Bring a friend, your sweetheart, or treat yourself to learning the art of hand-rolling delectable chocolate truffles, while discovering more about the plant from which the chocolate is made.
You can enjoy tasting six wines from Linganore Vineyards and learning about their grapes, vineyard and sustainable practices. Leave with 10 hand-rolled truffles. Age 21+
Feb 11 Hibernation Challenge Guided Walk (Woodstock) At the Howard County Conservancy, you can join the winter wellness challenge to log miles, complete a nature Bingo card, and raise money to keep the trails open and maintained. Take part in the guided walk on February 11th to learn about hibernators with a kid-friendly activity. Great prizes! Registration required in advance.
Feb 12 Wonderland of Art Show Reception (Historic Ellicott City) At the Artists' Gallery, you can view art by over 20 gallery artists working in a wide variety of media, including paintings, etchings, ceramics, woodwork, glass, photography and wearable art. 2-5 p.m.
Feb 18 I Love Paris Tea (Elkridge) At the Elkridge Furnace Inn, you can enjoy French-inspired fare and hot tea that will make you feel like you're sitting in an intimate bistro with friends. The event will take place from 12-3 p.m. Registration required in advance.
Feb 20 - 26 CIAA 2023 Men's and Women's Basketball Tournament (Baltimore) Howard County is close to the tournament with affordable hotels and dining options! Only a drive away from the CFG Bank Arena, you can find comfortable lodging in any neighborhood. Book a secluded resort with an indoor pool and spa in Ellicott City or a hotel with convenient sidewalks near shops and dining in the heart of Columbia, ranked #1 safest city in the US according to WalletHub 2021 and #2 Happiest City in the US according to WalletHub 2022.
Feb 24 Turf Valley Resort's Annual Wedding Showcase (Ellicott City) Meet with hand-selected vendors, including DJ's and live music, event planners, florists, photobooths, video & photography, to learn about the latest wedding trends.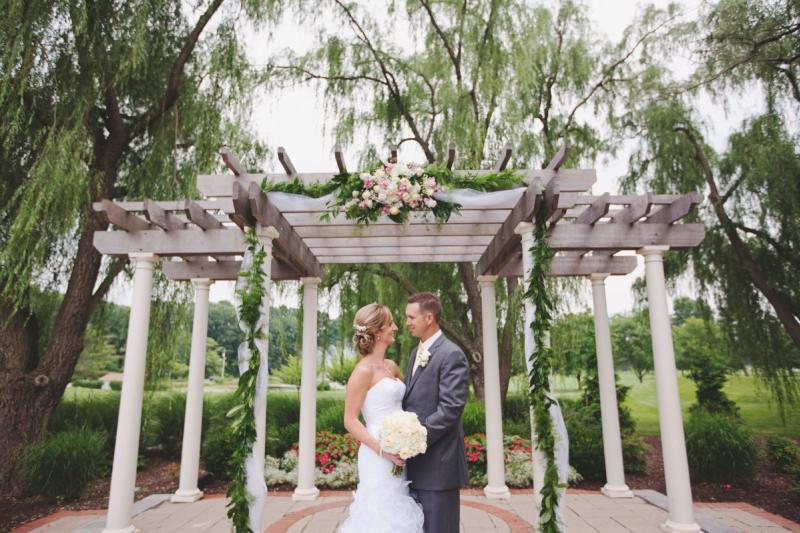 Turf Valley's Annual Wedding Extravaganza is an opportunity to meet with vendors and learn about the latest wedding trends.
Stroll the decorated ballrooms and enjoy a variety of complimentary hors d'oeuvres, beverages and themed cocktails.
Feb 25 Candlelight Concert Society's Hanzhi Wang and Steven Banks (Columbia) Located at the Horowitz Visual and Performing Arts Center, this event features Hanzhi Wang on accordion, Steven Banks on saxophone, and Xak Bjerken on piano, and it will take place at 7:30 pm.
Feb 26 - March 26 Texture by Design Art Show (Savage) At Horse Spirits Art Gallery, you can view the new art show featuring Joyce Ritter, Deborah Maklowski, Peter Kosterich, and Beth Kosterich. The opening reception is Sunday, February 26, 2023, from 1-4:00 pm.
Howard County is a must-visit destination for a getaway in the Mid-Atlantic region. As you enjoy events that celebrate art, history, and music, you'll want to book an overnight stay to make the most of your trip.