Are you looking for a popular eatery in Koreatown Maryland? If so, you're in the right place! Located on Route 40 in Ellicott City, Koreatown Maryland is home to national and international restaurant and bakery chains. Whether you are looking for dessert, street food or an upscale restaurant, you can find a place to satisfy your craving for incredible Korean cuisine.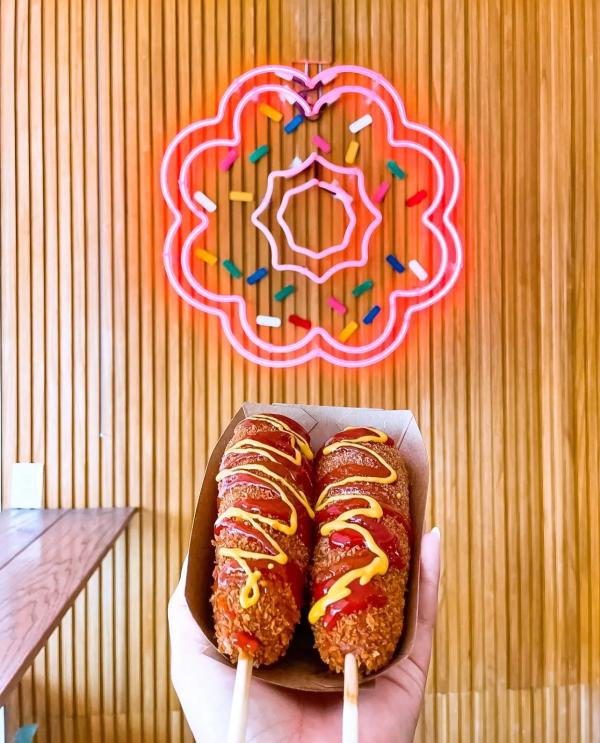 Mochinut
Mochinut has more than 20 branches across the United States with 90 more branches scheduled to open in the United States. Outside of Ellicott City, some popular locations include New York, Chicago and Los Angeles. Menu items the bakery is known for would be its Mochi Donuts, Korean Rice Flour Hot Dogs, Bubble Tea Drinks, and Soft Serve. 
Mochi Donuts are a Korean-style treat that blends elements of mochi, a Korean rice cake, with a classic American donut, which gives them a bouncy texture. You can order Mochi Donuts in a variety of bright, fun colors and flavors from Strawberry Funnel and Milk Pebble to Nutella and Churro.
Battered and deep fried corn dogs are one of the most popular street foods in Korea. Mochinut offers fun, unique varieties of Korean Rice Flour Hot Dogs, which have a crunchy exterior made from cereal, Hot Cheetos, ramen or potatoes.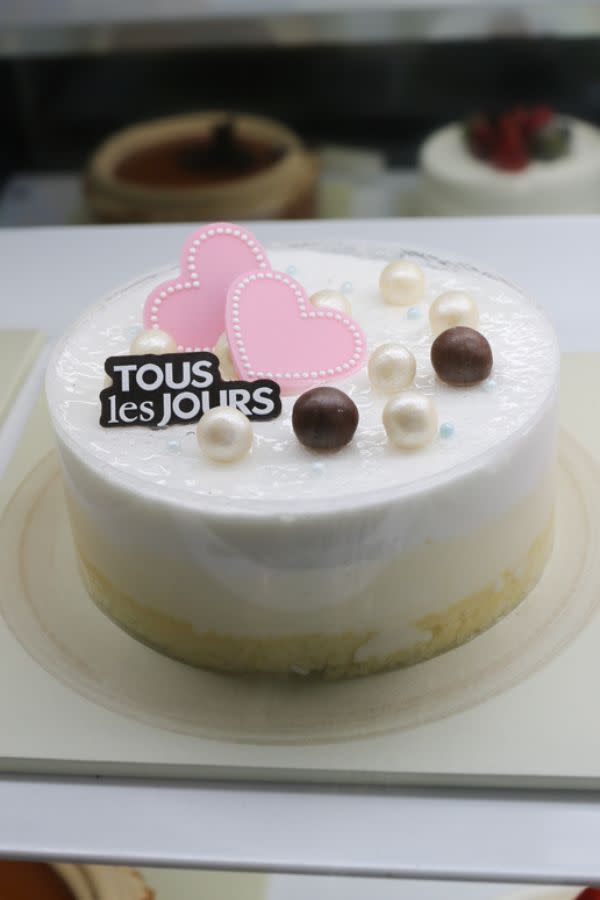 Tous les Jours
Tous les Jours is a bakery and café franchise that has more than 70 stores in the United States and more than 1,650 stores worldwide. In South Korea, where Tous les Jours was founded, it is the second largest bakery franchise. Currently, some national and international locations include Los Angeles, New York, China, Vietnam, Indonesia, the Philippines and Cambodia. 
When you visit Tous les Jours, you can choose from a selection of French-Asian-inspired baked goods made with the finest of ingredients. The name Tous les Jours means 'every day' in French, and it is a reference to the baked goods being made fresh in the store every day.
One of the most popular menu items would be the cakes, which range from Cloud Cakes and Buttercream Cakes to Mousse Cake and Kids' Cakes. You can also find a wide selection of breads, pastries and pies. The beverage menu, which has coffee, tea and smoothies, features unique flavors ranging from the Iced Ube Latte and Lavender Latte to the Apple Pie Steamer and Apple Pie Cooler.
Bonchon Chicken
Bonchon Chicken is a Dallas-based South Korean international fried chicken restaurant franchise. In 2002, the company was founded in Busan, South Korea, by Jinduk Seh, a restaurateur who wanted to share his country's favorite comfort food with the world. Bonchon means "my hometown" in Korean, and it is a nod to the company's South Korean roots. 
Four years later in 2006, the success of Bonchon in South Korea gave Mr. Sek the confidence to expand overseas with its first international location in New Jersey. Today, Bonchon has globally expanded to locations that include Australia, France, the Philippines, and Vietnam with many locations across America.
Although Bonchon Chicken has a wide menu offering Potstickers, Korean Tacos, Bulgogi, Tteokbokki, Mochi, and much, much more, it is most well-known for its chicken wing recipe. Bonchon Korean Fried Chicken is hand-battered, double fried and hand brushed with sauces that come directly from the global kitchen in South Korea.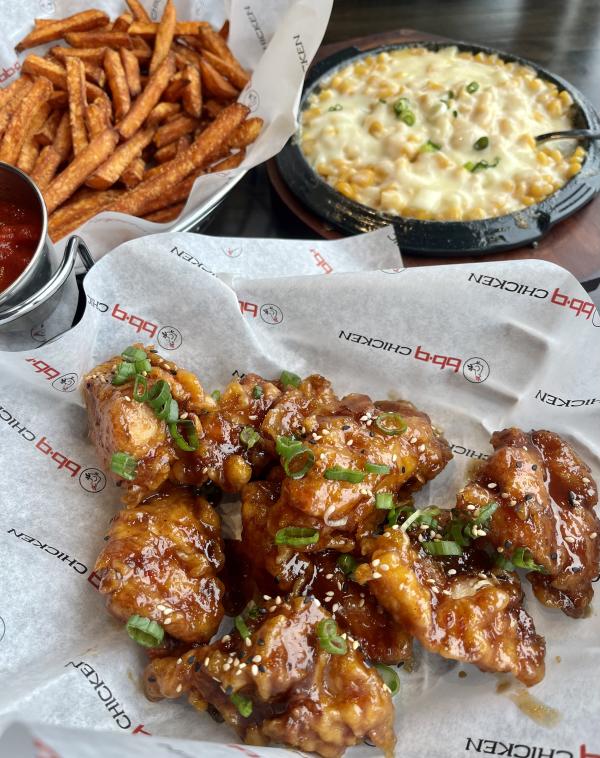 bb.q Chicken
Newly opened in Koreatown Maryland, bb.q Chicken is a chain restaurant that focuses on serving delicious, high-quality fried chicken. It's all in the name with bb.q standing for "Best of Best Quality!" 
The company was founded in 1995 by Yoon Hong-guen in Seoul, South Korea, and it now operates in thousands of stores across the globe, from America and Canada to Japan and Germany.
From Galbi to Gangnam style, each variety of fried chicken is crispy, juicy and tender. You can also find K-food side dishes of Ddeok-Bokki and Corn Cheese, which pair well with beer or soju.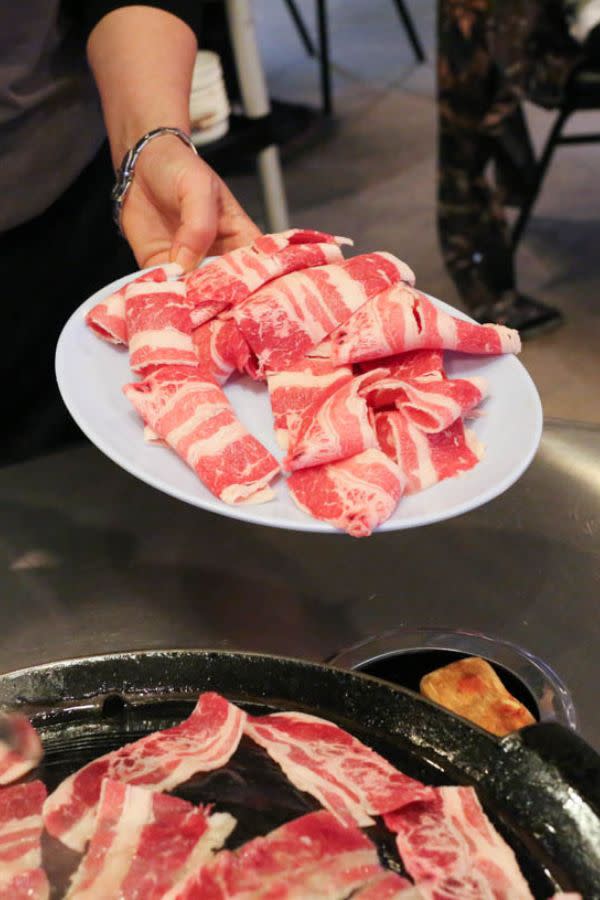 Honey Pig Restaurant
Honey Pig Restaurant was founded in 2007 by Micky Kim, who immigrated to the United States in the 1970s. Since the founding of the first Honey Pig restaurant in Annandale, Kim has spread her love for the Korean culture through food, eventually opening several more locations in Virginia, Texas, and Maryland. One of the most popular menu items is meat that is grilled directly on the table with a large hot pot. This community style of dining is perfect for date nights and gatherings of family and friends.
After the success of Honey Pig Restaurant, the company has opened new variations of their original concept. Honey Pig Hot Pot + BBQ offers an all-you-can-eat buffet-style dining experience, and Soju Haus is a Korean Pub. 
If you are looking for smaller family-owned restaurants, you can read How to Eat in Koreatown Maryland. As you plan your visit, you'll want to look through all of our Koreatown restaurant listings.
Since Koreatown Maryland has many eateries to explore, why not make it an overnight stay? You can find many places to stay, ranging from a resort or hotel to a bed and breakfast.