Since Ellicott City, Maryland is known for an excellent educational system, it is considered one of the most desirable places for Koreans to live in America. In 2021, a portion of Route 40 was officially designated as Koreatown Maryland, a culinary destination to put on your Mid-Atlantic road trip bucket list.
In the five miles spanning east and west-bound on Route 40, you can find an abundance of Korean restaurants, ranging from casual food halls to fine dining. Howard County's renowned Korean culinary scene sparks an interest in adventurous food travelers looking to try a new dish. Route 40 itself extends as far as the Mountain States to the Mid-Atlantic States, but when you arrive in the town of Ellicott City, culinarily, it is a world away.
In 2021, former Governor Larry Hogan and his wife Korean-born artist Yumi Hogan together raised the Koreatown sign on Route 40. Mention Koreatown Maryland to local Howard County residents, and you'll instantly conjure images of the well-known chains Honey Pig, Bonchon Chicken, Tous les Jours, bbq.chicken and Tiger Sugar.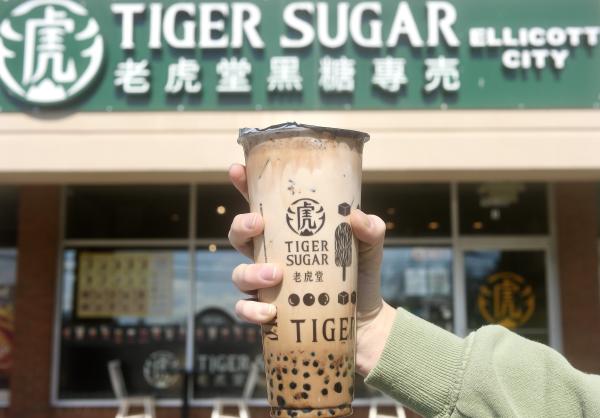 Tiger Sugar Boba Tea - The company originated in Taiwan, but boba is very popular in Korea. Tiger Sugar has set up shop both in Koreatown Los Angeles and Koreatown Maryland, and the Ellicott City branch is owned by a Korean family.
All these franchise restaurants are wonderful spots in their own right, but they only represent a small sliver of the wide, wide variety of incredible Korean cuisine that this area has. There are many, many options for boba tea, sweet Korean baked goods, kimbap (seaweed rice rolls), bulgogi (Korean BBQ), fried chicken, homestyle soup, and hot pot (a dish where the heat source is placed on the table).
However you choose to visit, whether you are looking for nightlife and karaoke or a family-friendly restaurant, you can find it in Koreatown Maryland!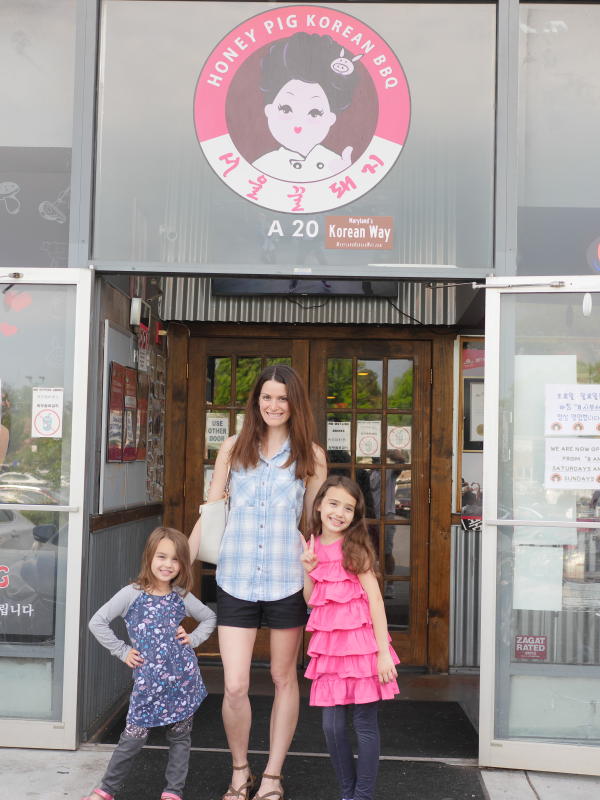 Honey Pig Korean BBQ, along with many other restaurants in Koreatown Maryland, are great spots for family-friendly dining. High chairs are available, and the casual ambiance is welcoming to visitors of all ages.
Recently, Micky Kim, the owner of Honey Pig, debuted a new all-you-can-eat Honey Pig Hot Pot + Korean BBQ location. Located on the eastern side of Koreatown closer to Baltimore County, the new restaurant has a Soju Haus next door that opens later in the evening.
Late into the evening, you can spot families dining, but as you get into the almost-morning hours, the trendier nightlife scene begins as friends clink glasses of soju together during happy hour!
Whether you visit with friends, family or solo, dining here is a wonderful opportunity to learn and practice the Korean language. You could consider learning a few Korean phrases ahead of time, but this guide on how to eat in Koreatown Maryland will help lead you through ordering. Although some of the menus have broad offerings, most restaurants tend to specialize in certain standout dishes. So if you are looking to branch out from the well-known franchises and eat the Korean foods that the local families eat, here is a full itinerary that will last anywhere from one to three days, sharing a sampling of what Koreatown Maryland has to offer. After this first visit, you'll want to come right back and dine here again.
Taking photos of the cuisine or your dining experience? Make sure to tag Visit Howard County and share #HowIHoCo for the chance to be featured on our social media.
Korean Iced Coffee: Shilla Bakery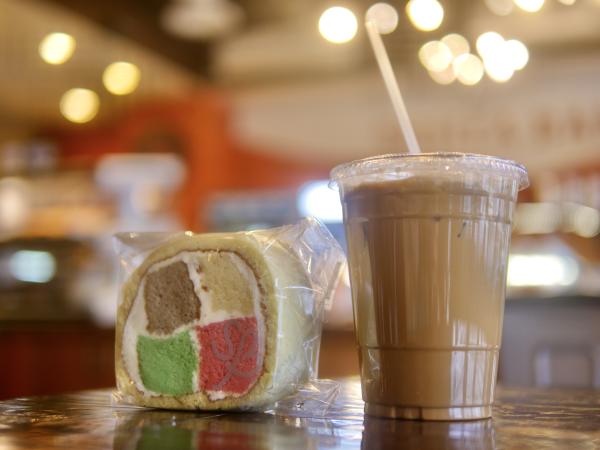 Shilla Bakery: Rainbow Rice Cake and Korean Iced Coffee
Located next to the Koreatown sign on westbound Route 40, Shilla Bakery makes Korean Iced Coffee with a shot of espresso and medium sweet heavy cream, creating a nice balance of a smooth and sweet taste with a bold flavor. It packs a punch with a pleasant amount of caffeine to begin your culinary vacation to Koreatown Maryland. Shilla Bakery is also known for its sweet breads and cakes, but snack lightly or take some to bring home as food souvenirs or gifts! You don't want to fill up before your delicious day of dining.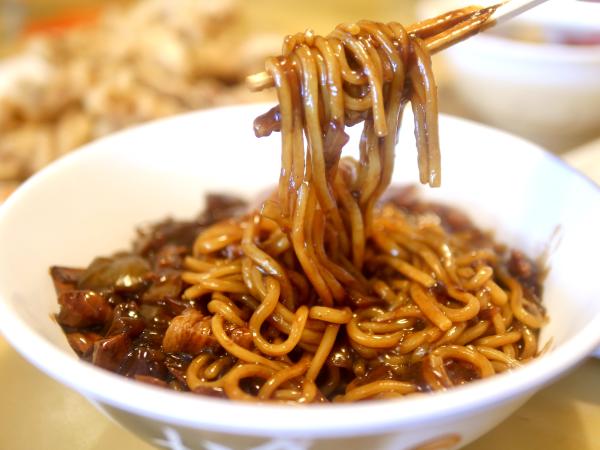 HanJoongKwan - Ja Jang Myun, a dish of noodles and pork, originated in China and was introduced to Korea by Chinese merchants in the early 1900's.
Since Korea is located in close proximity to China, and the two cultures share much in common, a style of cuisine that developed over time is a fusion between the two. Located next to the Koreatown sign on the opposite side of Route 40 from Shilla Bakery, Hangjoongkwan is one popular restaurant in Koreatown Maryland specializing in this fusion cuisine. 
At Hanjoongkwan, two menu items in particular are very popular Chinese-Korean dishes. One is the Ja Jang Myun, which is made with a comforting amount of noodles and a mild sauce. Since the noodles are so long, they are served with scissors to make them easier to eat.
Another popular dish is the Sweet Rice Pork Tangsuyuk, crispy, deep-fried pork. You can either dip the Tangsuyuk in a sweet and tangy sauce, or try a more tart dipping sauce made on-site with soy sauce, spices, and rice vinegar.
Light Korean BBQ Lettuce Wraps: Dae Jang Geum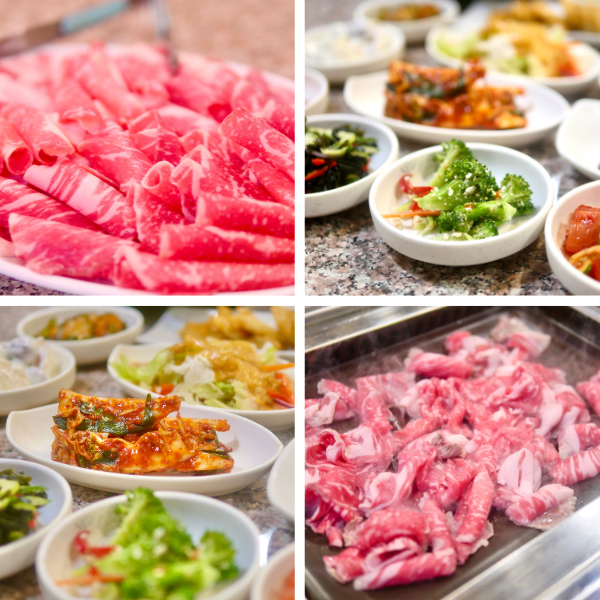 Dae Jang Geum
In the Bethany 40 shopping center on the west side of Koreatown, you will find a refreshing and light meal with Korean BBQ lettuce wraps at Dae Jang Geum. Simply request a table with a hot pot on it, and the Korean BBQ will be cooked right in front of you. Numerous plates of fresh banchan are served with a wide variety of flavors, from sweet to sour. The banchan includes a bowl of lettuce that you use to create your own wrap after the BBQ cooks. Top your lettuce wrap with any of the banchan or rice if you prefer. You can customize your lettuce wrap however you prefer. Additional sides include a soft scrambled egg and vegetable-only miso soup.
Afternoon Snack: Siroo and Juk Story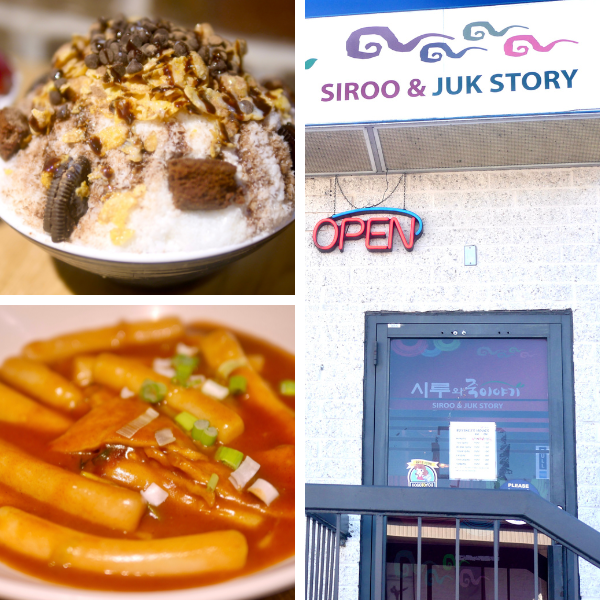 Siroo and Juk Story Chocolate Snow Ice and Ddukbokki
Also in the Bethany 40 shopping center, you will find a delightful bakery, Siroo and Juk Story. Walking inside, the casual ambiance is a delightful surprise with an inviting, food-hall style dining area. Large screens display the menu to make ordering easier, showing a very wide variety of soups, main dishes and desserts. On a stand next to where you order, there is also a nice selection of packaged food items.
Siroo and Juk Story is a favorite among locals for its freshly-made ddukbokki, a spicy rice cake dish that is a comforting Korean soul food. Make sure not to be confused by the terms bakery and cake because this hearty rice cake soup may be a spicier item than you intended to order! 
Looking for a sweet midday pick-me-up? Try the bingsoo, a snow ice that comes in delicious flavors, from chocolate piled high with indulgent toppings to a lighter strawberry snow ice! It is refreshing without being too sweet, the perfect way to brighten your afternoon.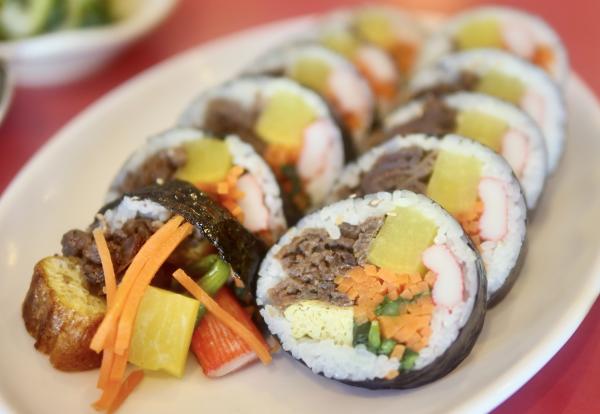 Kim Bob Na Ra - Kimbap is a Korean roll wrapped in seaweed and filled with rice, meat and vegetables.
Venture to the east-bound shopping center next to the Koreatown Sign to visit the Korean deli Kim Bob Na Ra. Inside this modest storefront, you will find a real gem with an order of kimbap made fresh as you wait! These not-too-filling rolls wrapped with seaweed look similar to Japanese sushi, but the rice used to make kimbap is mixed with sesame oil instead of rice vinegar, which makes the flavor sweeter than sushi. 
One standout item on the menu is the kimbap made with bulgogi, a Korean beef barbecue made with thin slices of delicious ribeye that is marinated in a blend of ingredients that creates a savory and sweet flavor. In kimbap, the lighter ingredients of the cooked egg and carrots create a nice balance to make this a perfect dish for a small meal.
Afternoon Soup: Shin Chon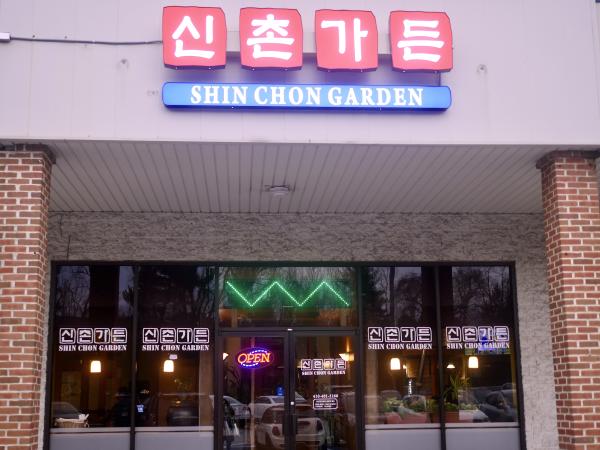 Shin Chon is a casual dining spot in the Lotte Plaza Shopping Center focusing on homestyle Korean dishes, but also offering Korean BBQ.
Driving east, you would reach the Lotte Plaza Shopping Center, which is home to many Korean businesses, from the larger chains like BBQ Chicken and Lotte Plaza Market to smaller restaurants, like Shin Chon Garden. Dining at Shin Chon Garden, you can enjoy Korean BBQ cooked at the table on turtle-shaped hot pot dishes. The restaurant's main focus is on homestyle cooking, aiming to prepare dishes in the style truly found in Korean home kitchens. For an adventurous, spicy dish, you can order the kimchi jigae, or kimchi stew, which has a nutritious focus on vegetables, protein, pork and sliced tofu in a slightly spicy broth. Served with your meal, the classic Korean-style banchan includes stir-fried anchovies that pack tons of flavor into a small dish of dry fish.
Korean Fried Chicken & Karaoke: K Pocha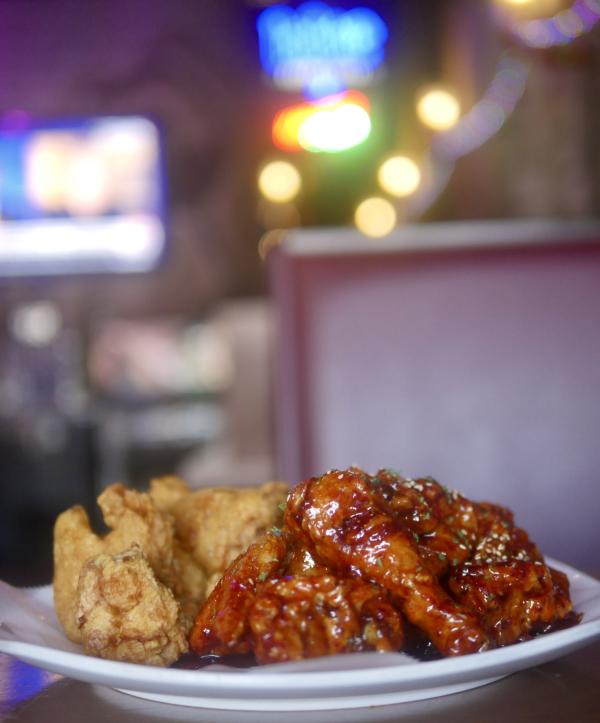 K Pocha Mixed Platter of Korean Fried Chicken
Located next to the Lotte Plaza Korean grocery store, K Pocha is a favorite within the local community for Korean fried chicken. Inside the restaurant, you would find a fun, pub-style atmosphere with a karaoke room available for larger parties. Indulge in the mixed platter that is half made with wings dipped in a sweet, tangy sauce and half made with breaded wings. As a side dish, order a hearty dish of crispy shrimp tempura and french fries.
Seafood Stew: Tian Express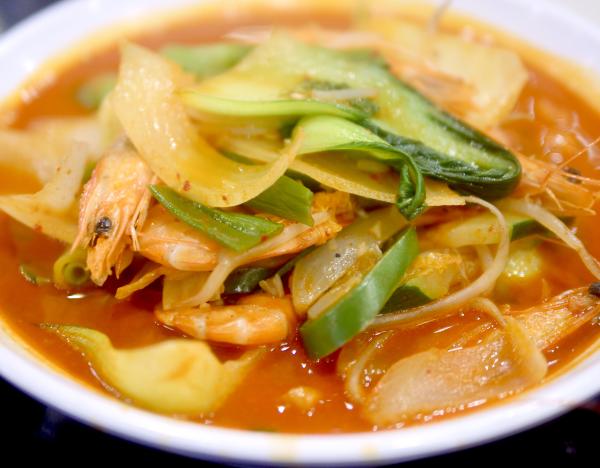 Tian Express Shrimp Champpong
Another restaurant you can't miss in the Lotte Plaza Market Shopping Center is Tian Express, a Chinese-Korean fusion restaurant. One of its specialties is its seafood. In a bowl of Champpong soup, you can choose shrimp, mussels, oysters, or squid. Zucchini, cabbage, and other vegetables pack the soup with nutrients. Underneath, you find long noodles that can be cut with scissors.
Since portion sizes are generous, sharing a few dishes with friends or family makes sense. The dining style is communal with the food coming on a large plate to put in the middle of the table.
Another fun part of visiting is the robots that deliver the food! After you place your order, a cute robot rolls up to bring it to your table. 
Cakes and Cookies: La Boulangerie Bakery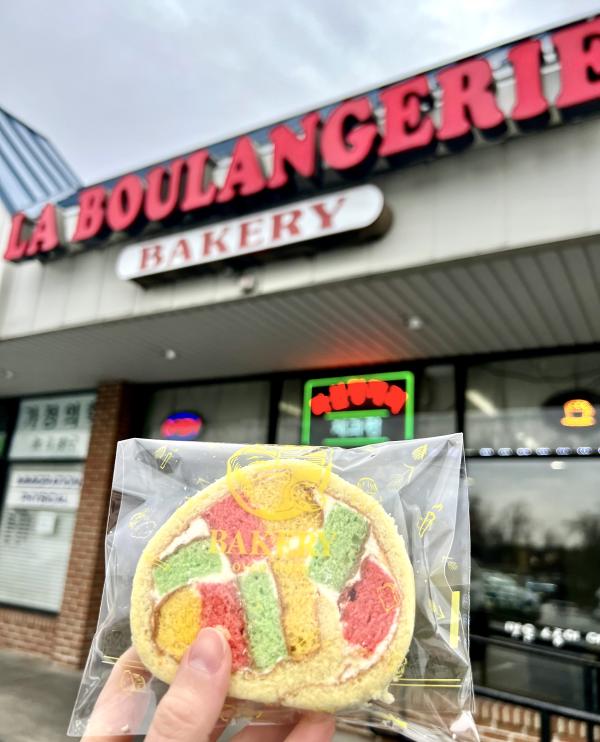 La Boulangerie Bakery Rainbow Rice Cake
Across the street is La Boulangerie Bakery, a small shop that specializes in making freshly-prepared sweet baked goods, and it serves coffee. You will find delicious almond cookies, American-style cinnamon rolls, and cakes. Sliced fresh upon request, their beautiful rainbow rice cake is both pretty and delicious with a sweet icing in between the layers of bright, colorful cake.
Midday Appetizers and Banchan: WooRi Jib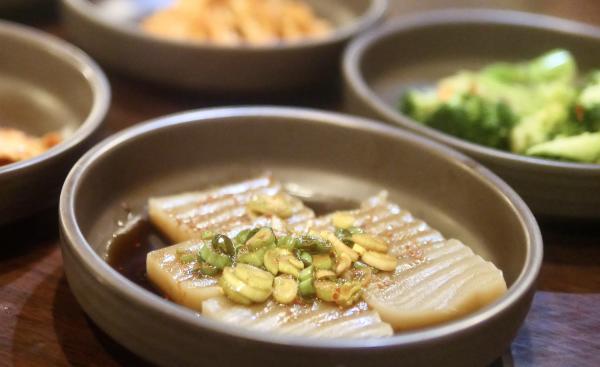 WooRi Jib - Banchan, one of the many small dishes that are traditionally served prior to a meal in Korean cuisine.
In the Forest Green Shopping Center, you can stop in WooRi Jib to begin dining with a generous selection of banchan, the many small dishes traditionally served before a meal. In many Korean home meals, banchan is prepared in large quantities and set on the table before meals for up to 30 days, but in all the Koreatown Maryland restaurants, the banchan is freshly prepared daily. 
One more dish to sample is the Crispy Fried Dumplings, a hearty dish filled with meat. Perhaps try a second dish too if you can fit it in during your visit, but you will have plenty more dining to do!
Afterwards, the Forest Green Shopping Center is a nice place to walk around and explore the different dining options. Towards the front of the building, you would find a coffee shop, Cafe June, that sells Korean baked goods and a large menu of coffee drinks. There is also a dessert shop, Over Rice, which sells mochi donuts and Hawaiian poke.
Elegant Korean Barbecue: ChoSun Hwaro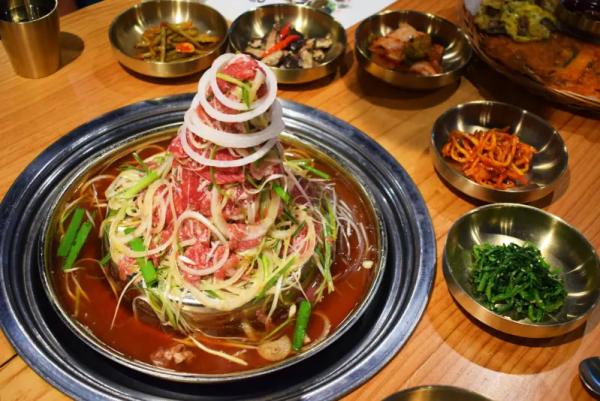 ChoSun Hwaro Korean BBQ
At the upscale restaurant ChoSun Hwaro, one must-try, impressive dish to order is the bulgogi tower. This family-owned restaurant has an elegant ambiance, and it is where well-known Korean celebrities have dined. The bulgogi tower is as ideal for a romantic date as it is for a night out with family. The experience of people coming together to watch the food being prepared at the table is special and memorable.
As you dine on a bulgogi tower, thin pieces of ribeye are arranged in a beautiful tower. Slowly over time, the ribeye is lifted down to cook in simmering soup stock. This hearty and elaborate meal is light, full of flavor, and slightly sweet. It is served with white rice and a nice selection of banchan on the side.
ChoSun Hwaro often participates in Howard County Summer Restaurant Weeks, which is an ideal time to try new dishes and sample special menus the chef prepares.
Late Night Meal: Rainpia
Rainpia
Finish your culinary journey with the fun, late-night ambiance at Rainpia, located in the Bethany 40 shopping center. Long open tables line the center of the room. The setup is perfect for large gatherings of friends or family sharing appetizers and main dishes. On the side of the room, individual privacy walls separate the tables, which makes dining here perfect for an intimate date-night or small group outing. With twinkling lights lining the walls, you will find a pleasant place to kick back and relax with a round of appetizers, Korean fried chicken, rice cake, and a glass of soju. 
If you enjoyed reading this, you should also check out 5 Must-Try Chain Eateries in Koreatown Maryland, and learn more about the Koreatown Maryland restaurant listings.
Since dining in Koreatown Maryland is a vacation in and of itself, why not stay for a while? You can find several hotels and resorts near Route 40, including Sonesta ES Suites!