Located near Washington D.C. and Baltimore, Howard County offers an escape from city life that is perfect for a quiet getaway with the kids. Looking for ideas on how to entertain your kids during your visit? You're in luck because we have 50 places to take your kids this summer in Howard County! 
Summer Fun in Howard County
Venture out in Howard County to these 50 places designed to entertain, thrill, and engage kids! Whether you are looking for activities outdoors or indoors, you can find plenty to do.
Outdoor Adventures
A state-of-the-art, Play-for-All playground! It offers an "action" area with fitness-focused equipment, climbable animal friends, and an outdoor music space.
A beloved feature of Howard County! It offers the wonders of the Enchanted Forest, the Fairy Forest, Petting Zoo, and Hay Rides.
Visit Color Burst Park for kid-friendly events like Books in Bloom, and discover a Splash Pad in the summer. Nearby ice cream shop and many dining options.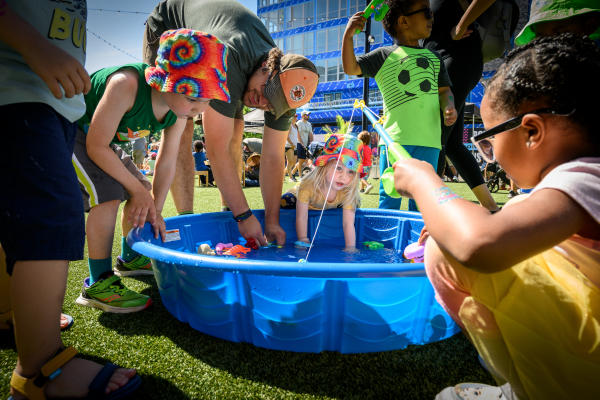 Color Burst Park in the Merriweather District
Pay as you visit, no membership is required. Outdoor splash pad and indoor pool. Offers swim lessons through Howard County Parks and Rec.
Pick strawberries from late May to early June. The apple harvest ends in early November.
Dive in at these state-of-the-art pools offering beach entries, water slides, hot tubs, heated pools, play structures, and more! 
Regional park with 101 acres. Features several athletic fields, a playground, and trails.
Offers kid-friendly outdoor programming throughout the summer
Summer music series with entertainment for all ages.
Nature center located on 5 miles of trails with goats, chickens, owls, and turtles.
Events take place at the Fairgrounds every weekend, with livestock showings, arts and crafts fairs, and more, including the Howard County Fair in August.
Outdoor aerial adventure course with ropes courses, giant swing, and zip lines.
530-acre working farm offering activities for children of all ages. No admission fee, no parking, no tickets needed. Dogs are welcome on a leash.
Park that features artificial turf, playground, tennis courts, baseball diamonds, and pavilions.
Extends along 32 miles of the Patapsco River. Offers hiking, fishing, camping, canoeing, horseback, and mountain bike trails, as well as picnicking for individuals or large groups in the park's many popular pavilions.
Walking trail offering outdoor exercise stations. Located along the Columbia Lakefront, where many summer festivals take place, include the Fourth of July Fireworks.
Offers an outdoor, family-friendly Summer Concert Series with nearby dining options. Happens every third Thursday of the month from June 15, 2023 to September 21, 2023! 
Walk along the 2.4-mile paved loop along the lake, or rent a boat at the Adventure Shack to enjoy the view and go fishing.
Features 15,000 square feet of ramps. Offers camps, and is available for parties.
Outdoor facility offering a BMX skills track for biking and much more.
Bring the family to play a round of mini-golf in this outdoor setting centrally located in Columbia. Also offers batting cages.
Indoor Attractions
Live theater show with an all-you-can-eat buffet and carving station. This summer, Grease will be playing. You can view the trailer for the show below.
Escape from the heat into the cool indoors! Enjoy the play area and new experiences, from bowling and laser tag at Main Event to bounce houses at Bouncetastic and creation stations at Playseum.
Unique indoor shopping center. It offers live music on the weekends and kid-friendly workshops that include cupcake decorating and candle making. Dogs are welcome on a leash. Next to the 1-mile Savage Trail, which overlooks the mill ruins, and the Historic Bollman Truss Railroad Bridge.
Spend the day indoors at one of the many libraries around the county. Shop at the Farmer's Market at the Miller Branch throughout the summer. Visit the makerspace in the Glenwood Branch where you can find a recording booth and more. Take fun, free classes, or try something new in the DIY Education Center at the Elkridge Branch.
Breakout Games
Grab a group of your kid's friends to escape the heat in this fun escape room experience.
Get ready to race! This indoor facility offers high-speed go-cart racing exceeding 50 miles per hour.
Take classes in pottery, mosaic, and fused glass from the creative hub of historic Ellicott City.
Go on a kid-friendly culinary road trip for Korean baked goods, bingsu (shaved ice), bubble tea, and more.
Open from August to June, this ice skating center has daily public skating sessions and educational programs.
Board & Brush Creative Studio
Craft a one-of-a-kind item, and make a special memory this summer.
Visit one of the performing arts series, or join a children's program.
Summertime brings the perfect season for enjoying Maryland blue crabs. Share in the tradition with your kids.
Watch a summer performance, or join one of several summer camps. 
HoCo Pirate Adventures
Dress in pirate gear, and go on an adventure looking for clues around the county.
Sunflowers of Lisbon
Take beautiful summertime photos surrounded by the sunflowers in Western Howard County.
Historic Sites and Museums
Watch the Chesapeake Shakespeare Company perform in the outdoor summer series.
Learn about agriculture through hands-on programs and displays
Showcases over 65 vintage and classic BMW Motorcycles with factory original BMWs from as far back as 1925.
One of only three museums of its kind in the USA. Features African art exhibits and short talks about African artifacts. 
Free museum in historical Ellicott City sharing the history of Howard County.
Interactive, hands-on education center focusing on the history and culture of those who lived in the 19th-century mill town. Offers themed First Saturday classes. Free admission. Open Saturdays and Sundays from 1 p.m. to 5 p.m.
Family Fun Centers
Nature education center located on 18 miles of park land to explore with approximately 1 mile of trails. Offers outdoor summer camps.
An interactive art installation and museum that offers fun workshops and classes in a magical setting.
Black light mini golf course surrounded by animated monsters with an arcade and laser maze. Learn more in this short video.
Features performances and art galleries with a mix of in-person and virtual experiences.
Shadowland Laser Adventures
Vest up and enter the arena for a unique sensory experience with fog, specialty music, colored lights, and darting laser beams.
Make It A Kid-Friendly Summer Vacation To Howard County
Before you visit, make sure to confirm details with the organizations. Times and dates are subject to change.
Are you looking for even more kid-friendly activities? Make sure to check out Things To Do. 
With so many places to visit, you'll want to make it an overnight stay at the Hilton Garden Inn, or one of our many Places to Stay.