Are you looking for a getaway that explores American history and offers small-town charm? Visit Howard County for endless fun for all ages! Stay, eat and play in the hip, historic cities and downtown locales of Savage, Ellicott City, and Elkridge. There's no shortage of galleries filled with local artists, live performances and events, diverse shops and boutiques, and a dining and beverage scene that's sure to impress your tastebuds.
History of Howard County, Maryland
As one of the original 13 colonies, Maryland has connections to early American history, and Howard County has its fair share of historical stories to tell.
Located in central Maryland, Howard County welcomed some of the earliest European settlers. In 1608, the first European-documented exploration took place when Captain John Smith of Jamestown sailed up the Patapsco River, reaching Howard County for the first time.
Later, settlement and farming began. In 1687, Lord Baltimore granted the first colonial settler, Adam Shipley, a home on the Patapsco River. To this day, some of Howard County's expansive farming land continues to be preserved, especially in Western Howard County. The Patapsco River, which played an important role in the history of industry and trade in the area, offers scenic views for today's travelers.
With a close proximity to Washington D.C., Howard County had a role in the American Revolution. In the 1700s, Howard County was home to the family of Charles Carroll, one of the original signers of the Declaration of Independence, whose descendants still live on what remains of the original property today.
When you plan your historic getaway, three small towns that you'll want to include in your itinerary include Savage, Ellicott City, and Elkridge. Check out the historic destinations that each town offers.
Located near Baltimore and Fort Meade, Savage is known for its industrial past. One of the town's most well-known historical destinations, Historic Savage Mill, is now a popular spot for shopping and dining.
Since the surrounding area of Savage was an old factory town, your itinerary should extend beyond a visit to the old mill. For a leisurely historic drive, you'll want to cruise through this charming area to see The Baldwin House Mansion, Carroll Baldwin Memorial Hall, Commodore Joshua Barney House, Free Mason's Solomon Lodge #121, Millworkers' Houses, Savage Mill Company Store, and Savage Mill Manor House.
Originally, Historic Savage Mill was a textile mill, and over time, it has been used for some fascinating purposes. In 1948, Harry H. Heim, a manufacturer of Christmas ornaments, attempted to turn the area into a year-round Christmas Village called Santa Heim (Santa's Home), featuring live reindeer and a one-ring circus.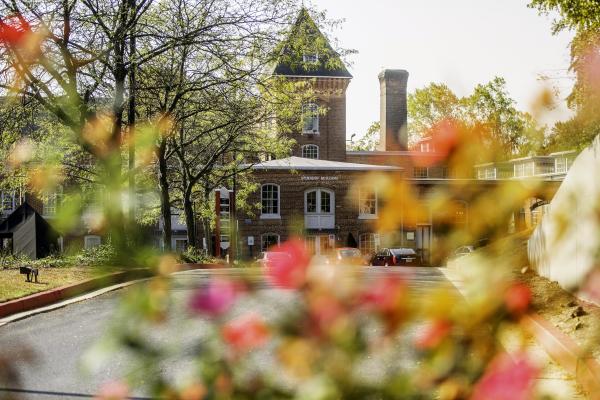 Historic Savage Mill
Today, Historic Savage Mill offers the beauty of a historical landmark, while also featuring a unique shopping experience. In recent years, the area has attracted numerous businesses that offer experiences, from moss art workshops and candle making to cupcake decorating and pottery classes. Before your visit, you can schedule time with on-site photographers, or book a recording session in a full-service recording studio. 
Live music plays inside on the weekends, and you can join Girl's Night Out to shop with a glass of wine in hand. You can leisurely search for a one-of-a-kind antique at The Antique Center, and see the latest art exhibition at HorseSpirit Arts Gallery. 
For a thrilling experience, you'll want to bring a group to Terrapin Adventures, where you can soar on rope courses, zipline, and swing on a giant swing.
In addition to bringing friends and family to make your visit memorable, you can also use your visit to bond with your dog. The entire area is dog-friendly with leashes required.
Unwind & Dine
Once you're ready to take a break from shopping, dine al fresco at Dive Bar & Grille or in the open courtyard outside of Roggenart, which serves baked goods and coffee. Enjoy a craft beer and other refreshing beverages at Jailbreak Brewing Company's Brewery and Taproom.
Historic Bollman Truss Railroad Bridge
Near the Foundry lot of Historic Savage Mill, you would come across the Historic Bollman Truss Railroad Bridge, the first widely adopted cast and wrought iron railroad bridge in the United States. Walking across this bridge offers a captivating view of the Little Patuxent River and the mill ruins.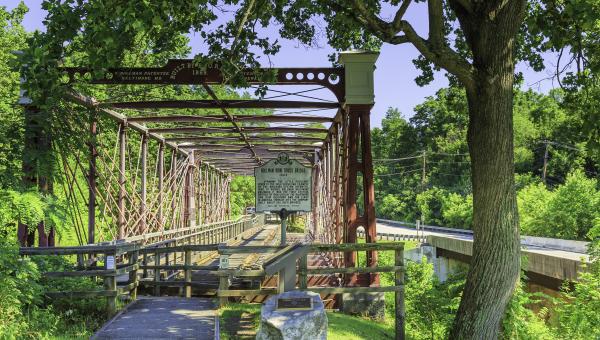 Historic Bollman Truss Railroad Bridge
The architecture of the bridge lends its way to beautiful travel photos. Nearby, you can hike along the Savage Mill Trail, a .8-mile trail that lines the Little Patuxent River. 
Visiting the historic town of Ellicott City is a history buff's dream with plenty of historical sites and museums. Founders John, Andrew, and Joseph Ellicott founded the town originally known as Ellicott's Mills, which became one of the largest milling and manufacturing towns in the East. Today, you can also find numerous boutiques and restaurants to explore in this popular destination.
If you're looking for a ghostly good experience, you'll want to join Maryland History Tours. Learn about those who refuse to leave the 250-year-old town of Ellicott City with a history tour or a pub crawl.
Some tours offered include: the Spirits Pub Crawl, Mt. Misery Ghost Tour, Haunted Main Street History Tour, Haunts and Hounds, Ellicott's Mills During the Civil War, Spirits of the Patapsco River Valley, Literary Pub Crawl, and much, much more.
The Ellicott Mills Children's Museum is an interactive, hands-on educational center focusing on the history and culture of those who lived and worked in the 19th-century mill town of Ellicott City. The museum is divided into four themed rooms and a garden, which include the Quaker School, Great Room, Ellicott General Store, Mill Display, and 1804 Garden. Visiting the museum is a perfect activity for children of all ages and their parents. Admission is free.
The Baltimore & Ohio Ellicott City Station Museum is a kid-friendly museum that showcases and tells stories of the people who built and operated America's first railroad. The museum has two levels, with a set of stairs to the second floor. The first floor includes the freight agent's living quarters, a gift shop, and restrooms. The second floor showcases the Provost Marshall's Office, Telegraph or Ticket Office, Men's Waiting Room, and Car House.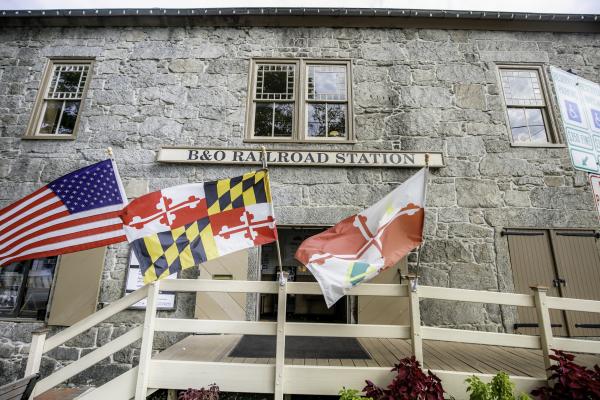 B&O Ellicott City Station Museum
There are two other buildings on the property, accessed from the second floor: the Freight House, which houses a model train village of the first thirteen miles of track from Baltimore to Ellicott's Mills (now Ellicott City), and the 1927 Caboose, which once operated on the B&O Line.
At the Patapsco Female Institute Historic Park, you can explore a slice of the Victorian Era. Perched at the highest point in Ellicott City, the school earned a national reputation for its inclusion of botany, chemistry, languages, literature, math, and music in an effort to mold elegant young ladies into engaged, active citizens from 1837-1891. 
Since the school's closure, the site lived other lives as a summer resort hotel, a private residence, the Hilltop Theatre (Maryland's first summer stock theater), and a nursing home first known as the Brennan Convalescent Home and later Highland Manor. A long period of vacancy with an absentee owner led to the building's gradual deterioration.
The Friends of the Patapsco Female Institute formed in 1965 as a grassroots organization to save the site from further decay. Thanks to their efforts and partnership with Howard County, the ruins of this grand example of Greek-revival architecture were stabilized and restored in 1995.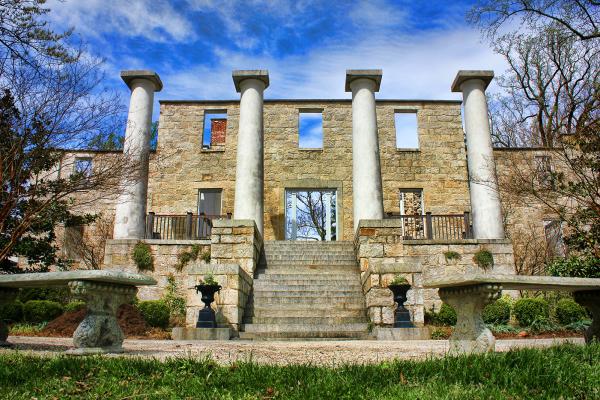 Patapsco Female Institute
You'll want to make sure to plan a visit in the summer when the Chesapeake Shakespeare Company performs outdoors at the property. You can bring a picnic and bottle of wine, and use your visit to wander in the ruins and on the well-landscaped grounds.
The Patapsco Female Institute is open for free history tours on Saturdays and Sundays from 1-4 pm, from May through November 14. Select year-round availability options exist for school groups and private tours.
Located in the heart of downtown, the Ellicott City Firehouse Museum explores the unique challenges of fighting fire in late 19th and early 20th century Ellicott City. The city's topography and architecture with steep, sloping streets tightly lined with adjoined wooden buildings provided prime conditions for the spread of fire while inhibiting the transport of water.
In 1889, a group of volunteers constructed the firehouse at a cost of $500 dollars. Conveniently situated on a small, triangular lot, the original building was simply designed to house the hand-drawn, and later horse-drawn, fire equipment. It operated until 1924, and it served as a municipal office and a meeting hall from 1906-1935.
The Museum of Howard County History is home to hundreds of objects that tell the story of Howard County's history from before European settlement to recent events. Admission is free, and the museum is conveniently located near a large, free parking lot in historic Ellicott City.
Museum of Howard County History
From mills and businesses to homes, Native Americans to today's diverse population, and the railroad to the automotive age, the Museum of Howard County History shares a wealth of history for you to explore.
Constructed around 1780 on nearby Merryman Street, the Thomas Isaac Log Cabin commemorates the early stages of European development in the Patapsco River Valley. The site's namesake, Thomas Isaac, purchased the structure in 1858 to expand his land holdings.
The site served as an important resource for the city's African American community in the 1870s, preceding the still-active St. Luke A.M.E. church as a meeting place. The cabin remained in the Isaac family until 1933. John Henry Stanton acquired the property and later willed it to his widow, Fannie Jackson Stanton, in 1963. By the 1970s, the building was vacant and boarded up. 
The cabin's small size and spare interior reflect the style of most homes from the end of the 18th century, lending visitors a sense of Howard County's colonial past.
Tours are available on Saturdays and Sundays from 1-4 pm May through December 18. School groups and private tours are available year-round, weather permitting.
Stroll the Streets & Shop
Stroll the streets of Historic Ellicott City, which are filled with unique shopping, great dining, and architecture that gives you a glimpse of the city's storied past. After you've walked 'til you're ready to drop, enjoy savory bites and sweet treats up and down Main Street, and browse more than 70 boutiques and shops filled with one-of-a-kind treasures.
Founded on the banks of the Patapsco River in the early 18th Century, Elkridge began as an industrial town where the river's currents were used to power water wheels at numerous mills. Today, you can find plenty to explore in this charming part of Howard County, from the waterways and trails to the diverse cuisine and historical buildings.
Thomas Viaduct
Elkridge is home to the first curved stone-arch bridge in America, the Thomas Viaduct, which carried the B&O rail line over the Patapsco River. Built in 1835, the Thomas Viaduct is a 700-foot long structure of eight elliptical arches that greets visitors to the Patapsco Valley State Park.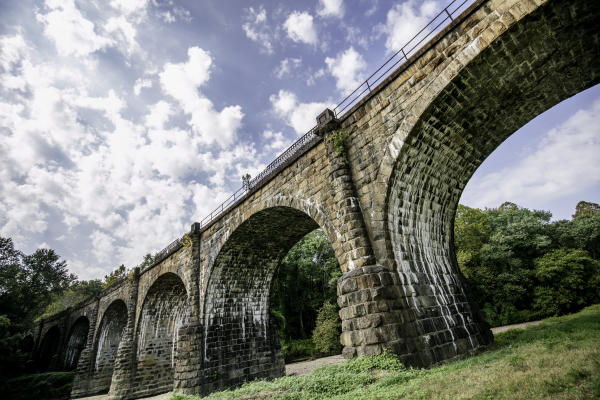 Thomas Viaduct
Founded in 1907, Patapsco Valley State Park is Maryland's oldest state park. It is the site of some of Maryland's earliest mills and factories, America's first common-carrier railroad, and the world's first underwater hydroelectric plant.
The park extends along 32 miles of the Patapsco River, encompassing 16,043 acres and eight developed recreational areas. Recreational opportunities include hiking, fishing, camping, canoeing, horseback, and mountain bike trails, as well as picnicking for individuals or large groups in the park's many popular pavilions.
Nationally, the park is known for its trail opportunities and scenery with over 200 miles of trails, with 70 of those miles identified as maintained trails. There are hiker-only trails and multi-use trails accessible from many areas of Patapsco. Wildlife that you might encounter includes the Barred Owl, Pileated Woodpecker, Wood Thrush, Red-shouldered Hawk, Scarlet Tanager, and more.
For some excitement, you'll want to visit the Swinging Bridge, a suspension bridge supported by large cables high above the Patapsco River. Walk across for the thrill of slightly swinging in the air. Only a short hike away is Cascade Falls, where a waterfall gently descends.
For a fusion of New American and French-inspired cuisine, visit the Elkridge Furnace Inn. Owned by Chef Dan and his wife Donna Wecker, the organic farm-to-table restaurant and historic venue offers special events from literary theater teas to hands-on cooking experiences.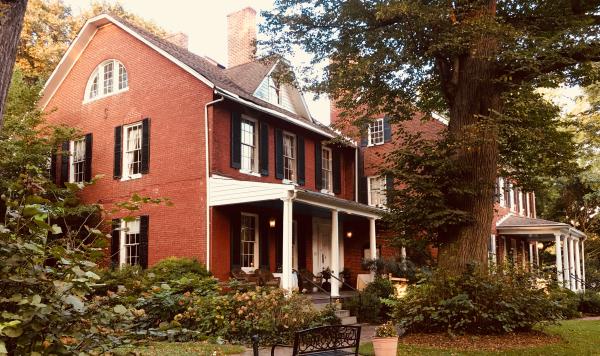 Elkridge Furnace Inn
This beautiful wedding location also has historical markers sharing its significance and location on the Washington-Rochambeau Revolutionary Route National Historic Trail, Civil War Trails and the National Underground Railroad Network to Freedom.
Another beautiful location to reserve for special events and weddings is the 68-acre Belmont Manor and Historic Park. Preserved land surrounds the manor, which was built in 1738.
Stay and Play
Relax and unwind in the salt caves of Salt Sanctuary of Maryland, or bring the whole family out to Monster Mini Golf for some friendly competition with their mini bowling lanes, laser tag arena, or their eighteen-hole course. 
With so much history to explore in Howard County, you'll want to book an overnight stay! Check out our Places to Stay, including The Wayside Inn.