Are you looking to fill your event calendar? Check out our guide of things to do this May in Howard County, Maryland! Warmer weather brings a bevy of fun activities, from wine and book festivals to live music and the opening of the Color Burst Splash Pad! 
Signature Annual Events:
May 6-7, 2023 Maryland Sheep & Wool Festival (Glenwood) Discover the beauty of sheep, the warmth of wool and the delicious taste of lamb during a fun-filled weekend celebrating all things sheep, from hoof to handwoven. Featuring over 800 sheep, sheep shows, sheep breeds display, parade of breeds, all kinds of demonstrations (including working sheepdogs, sheep shearing, spinning, and weaving), sheep to shawl contest, fleece show and sale, workshops and seminars, special activities for kids, cooking demonstrations, food booths, musical entertainment, over 275 vendors, and much, much more! 
May 13 Books in Bloom (Columbia) Books in Bloom, the region's largest progressive book and literary festival, returns to Downtown Columbia for its seventh year. Presented by The Downtown Columbia Partnership along with The Howard Hughes Corporation (HHC), the festival celebrates the joy of books and meaningful dialogue all rooted in the spirit of Downtown Columbia's diverse and forward-thinking community. This year's festival will focus on building community through empathy and understanding by highlighting activism through literature, open dialogue, freedom of speech and banned books.
Books in Bloom will take place on May 13, 2023
The festival will build upon the 'banned books' theme while exploring themes of race, gender, diversity and freedom of expression and showcasing the important roles libraries play in our communities as educational centers and civic institutions. In addition to an incredible lineup of authors and speakers, attendees will enjoy a wide range of interactive family-friendly fun including a pop-up bookstore, a kid's corner with crafts and activities, local food and drink specials, and more. Free admission. Taking place from 11 a.m. to 5 p.m.
May 13, 2023 Chrysalis Kids (Columbia) The Inner Arbor Trust, in partnership with the Baltimore Symphony Orchestra,  is excited to present Celebrate Springtime, the first in the free 2023 Chrysalis Kids series! Celebrate Springtime is part of the BSO's Tiny Tots Music Box concerts, designed to develop musicality, creativity, coordination, and literacy for children ages 6 months - 3 years. We hope you can join us for this musical celebration of the season! On Mother's Day Weekend, celebrate springtime with the Inner Arbor Trust and the Baltimore Symphony Orchestra! Free admission. Registration required. Taking place from 10 a.m. to 11 a.m.
May 13, 2023 Merriweather Teen Night (Columbia) You're invited to MACC's first-ever Teen Night! Join us for a fun-filled night hanging out with friends, watching cool music and improv performances, and playing games under the stars at Merriweather! We're opening up the grounds for our first-ever MPP Teen Night, featuring a FREE pinball arcade, lawn games, and discounted concessions.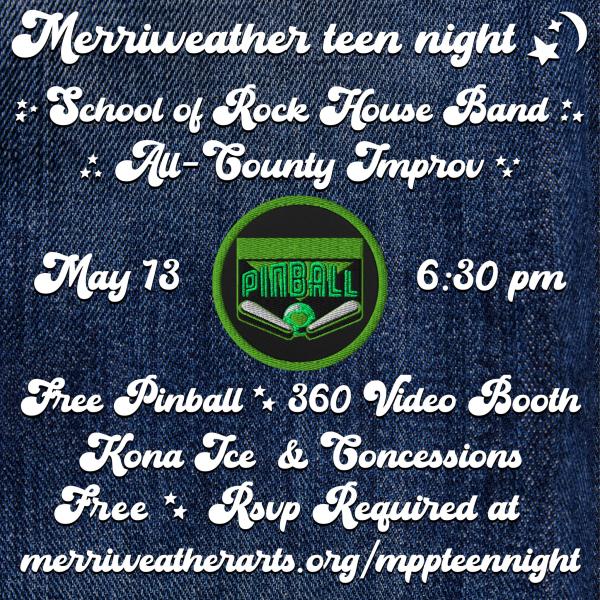 Win prizes in our Instagram Contest! See @merriweatherarts for more information. 
Plus performances from All-County Improv and the School of Rock House Band! We've also got the Kona Ice truck for the evening! Taking place from 6:30 p.m. to 10:00 p.m. Price: is FREE with RSVP!
May 1 - May 14, 2023 Blossoms of Hope's Springtime Scavenger Hunt (all around Howard County) Sign up now for the chance to search for hidden treasures in cherry blossom groves across Howard County! All participants will be entered for a chance to win prizes. $25 + $1.50 convenience fee
May 20 - 21, 2023 Wine in the Woods (Columbia) Join us for the 29th year and celebrate the charm and character of an event that has aged to perfection! Wine in the Woods is now the largest wine festival in Maryland and was voted Best Festival in Howard County. Beer drinkers can enjoy this festival, too. We now have local breweries selling beers for purchase.
Sample a variety of Maryland's finest wineries from a souvenir glass; purchase food from high-quality, distinctive restaurants and caterers; sharpen your palate by attending wine education seminars; purchase exceptional works of art and specialty crafts; and revel in continuous live entertainment. Occurs from 11:00 a.m. to 6:00 p.m. Ticket prices vary from $30 - $80. Rain or shine.
May 21 Guster with the Howard County Youth Orchestra plus Special Guest Kyshona (Columbia) Alternative-rock troubadours Guster will take the stage with the Howard County Youth Orchestra for a one-of-a-kind performance at Merriweather Post Pavilion on May 21. Guster has been entertaining fans with enduring pop-rock hits like Overexcited, Amsterdam, Satellite, and Do You Love Me for over three decades, building a dedicated fanbase around the world along the way.
For this special collaboration, they will be performing with an exceptional youth orchestra made up of 110 skilled and dedicated Howard County student-musicians. Opening the concert will be Nashville-based artist Kyshona. This one-night-only engagement is not to be missed! Doors at 6:30 PM.
Calendar of Events:
May 1, 2023 Color Burst Splash Pad Opens (Columbia) At the Merriweather District, get ready to make a splash! The Color Burst Splash Pad is opening for the season, and it will be open daily from 9 a.m. to 9 p.m. Weather permitting. Free! From 9 a.m. to 9 p.m. Nearby family-friendly dining at new restaurants!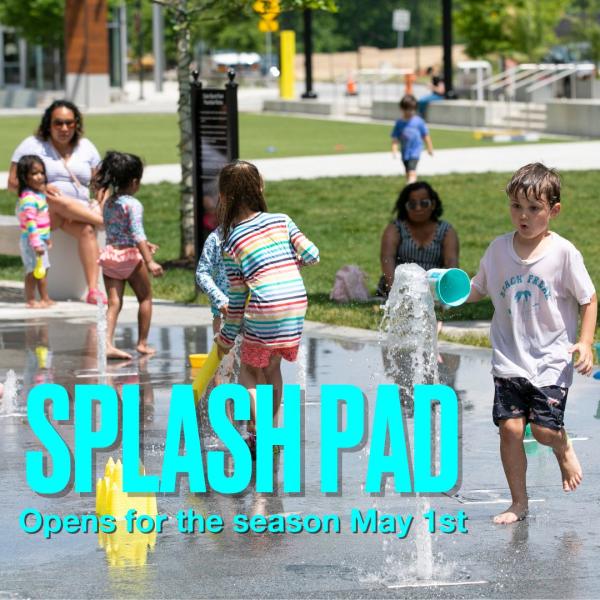 Color Burst Splash Pad opens May 1st
May 1 - June 11, 2023 Grease (Columbia) At Toby's Dinner Theater, one of the world's favorite musicals hits the stage in a high-octane production featuring all the hit songs you love, including: "Summer Nights," "Greased Lightning," "You're the One That I Want," and "Hopelessly Devoted To You."
Danny, Sandy and the coolest gang of students from Rydell High take you back to the 1950s when drive-in movies, sock-hops and tough-talkin' Pink Ladies defined a generation. GREASE and Toby's go together like a wop bam boom! Enjoy this fun live show while dining on the endless buffet that features a carving station of ham, turkey, and roast beef. Check out this trailer from Toby's, and book your ticket today!
Grease at Toby's Dinner Theater
May 1 - May 27, 2023 Trilogy: Glass, Paper, Stoneware (Ellicott City) A multi-media exhibit from the Howard County Arts Council explores the use of color, texture and form, featuring glass objects by Michele Rubin of Washington, DC; abstract watercolors by Shanti Conlan of Houston, TX; and stoneware by Vidya Vijayasekharan.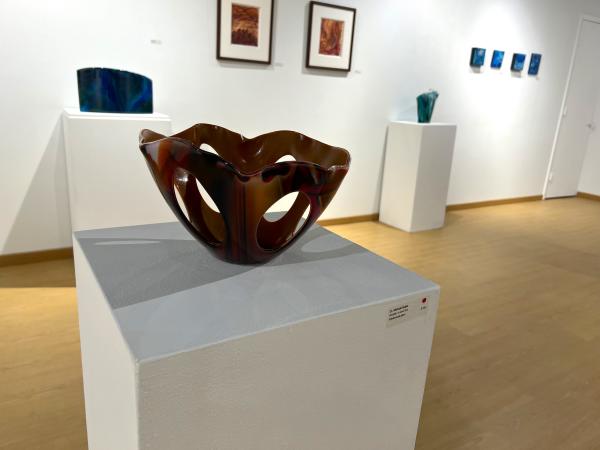 Trilogy: Glass, Paper, Stoneware
Gallery hours are Mon - Fri 10 a.m. - 8 p.m., Sat 10 a.m. - 4 p.m., Sun 12 - 4 p.m. Free admission.
May 1 - May 14, 2023 Rep Stage: Falsettos (Columbia) At the Horowitz Visual and Performing Arts Center, come watch William Finn and James Lapine's groundbreaking, Tony Award-winning musical FALSETTOS that revolves around the life of a charming, intelligent, neurotic gay man named Marvin, his wife, lover, about-to-be-Bar-Mitzvahed son, their psychiatrist, and the lesbians next door. It's a hilarious, achingly poignant and utterly unique look at the infinite possibilities that make up a modern family… and a beautiful reminder that love can tell a million stories, and how we all learn to grow up and face the future with love and dignity.
"A Perfect Musical, an Imperfect Family…there's hardly a moment in the exhilarating, devastating revival of "Falsettos" that doesn't approach, or even achieve perfection." -The New York Times
Music & Lyrics by William Finn. Book by William Finn & James Lapine. Directed & Choreographed by Joseph W. Ritsch. Musical Direction by Tiffany Underwood Holmes.
Prices are $15 - $40 for adults, $15-$35 for seniors (60+ and military), $5-$35 for HCC Employees w/ID, and $15 for Non-HCC Students w/ID.
May 3 - May 6, 2023 As You Like It (Columbia) At the Horowitz Visual and Performing Arts Center, the Forest of Arden is an exciting place where "all the world's a stage, and the men and women, merely players."  Escape to the woods with some of Shakespeare's most beloved characters and witness the mischief, wit, and romance of this delightful comedy filled with music from the 1960s.
This production is recommended for ages 14+. As a content advisory, this production will include simulated smoking of marijuana, crude gestures, and sexual humor. Takes place at 7:30 p.m. Admission ranges from $10 - $15.
May 3 - May 28, 2023 Explorations by Terry Pellmar (historic Ellicott City) Artists Gallery's featured show in May is entitled, Explorations by Terry Pellmar. Pellmar's digital art explores alternative worlds that she creates with fractal equations.
The reception will take place on May 7 from 2 - 4 p.m., and a rain date of May 20 from 2 - 4 p.m.
Artist's statement: The stresses of the past few of years were taking their toll; I needed an escape from the woes of our world. And so I began to explore alternative realms through my artwork. This show features the places, beings, and things I found in the worlds I created with fractals.
Artists' Gallery in Old Ellicott City is a member-owned gallery. Hours are Wednesday 11 to 3 p.m., Thursday, Friday, Saturday 11 to 6 p.m. and Sunday from 11 to 5 p.m. Free admission.
May 4 - May 6, 2023 Main Street Strikes Back (historic Ellicott City) This weekend is all about "a long time ago in a galaxy far far away ." It's Old Ellicott City's Star Wars celebration – MAIN STREET STRIKES BACK!
Luke or Han? Leia or Rey? Obi-Wan or Yoda? Dress as your favorite character and kick off the weekend Thursday night at 6 pm with the May the Fourth Family Fun Parade brought to you by our friends at Howard County Rec & Parks.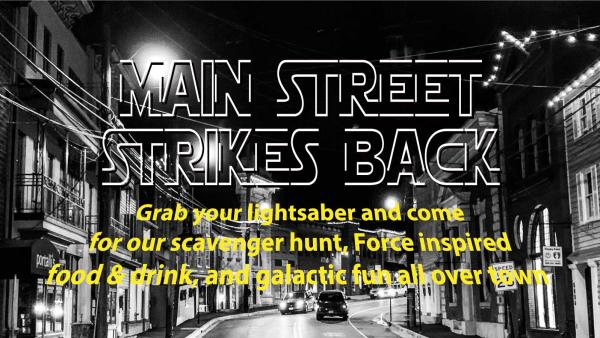 Main Street Strikes Back
Channel the force, or the dark side if you must, and meet at the Thomas Isaac Log Cabin (Main Street & Ellicott Mills Drive). Paraders then stroll down our sidewalks visiting participating shops to collect raffle tickets.  End the evening at the B&O Railroad Museum to find the Admiral Akbar Snack Bar, the Yoda best costume contest and the raffle results!
On Saturday night, fly your X-Wing or ride your At-At Walker to the Wine Bin for a special showing of Rogue One that starts at 8:30 pm.  Bring your chairs or a blanket, pick up snacks and drinks at the Bin and settle in for an evening that's out of this world! Galactic fun continues all weekend with Star Wars-themed menus at OEC eateries and a weekend scavenger hunt.  There's an excellent chance you'll spot Storm Troopers or Darth you-know-who.
May 6, 2023 American Tapestry (Columbia) At the Jim Rouse Theater for the Performing Arts, the Columbia Pro Cantare chorus will celebrate the rich tapestry of American music in a concert at 8 p.m. Artistic Co-Director Laura Lee Fischer will direct the chorus and orchestra in a program that encompasses the diversity of American music, from traditional to classical, gospel to popular tunes. Tickets are $23 (adults), $20 (students and senior citizens); $2 more at the door. Children 15 and under $10. 
May 7, 2023 Tin Lizzie's Wineworks wine tasting (Clarksville) Join us at Tin Lizzies Wineworks in Clarksville for a 6-glass wine tasting and tour of the winery. The purpose of this visit is to taste a variety of grapes that we can then make our own wine in the fall. We will get hands-on training and learn to crush, ferment and press grapes and bottle and custom label our own premium wines, just like the pros! Non-Wine Club Members are $25 per ticket, and Wine Club Members are $15 per ticket. 
May 11, 2023 Girl's Night Out (Savage) Kick back and relax while shopping with the girls and enjoying a glass of wine! Savage Mill's retail tenants will be open with special offerings and sales. Pick up a Girl's Night Out bag for your swag and participate in our fun game for a chance to win a prize! 4 - 8 p.m.
May 20, 2023 Candlelight Concert Society's Empire Wild (Columbia) Empire Wild is a genre-bending, crossover trio featuring Ken Kubota, Holly Bean, and Mitch Lyon. Ken and Mitch bring all the cello has to offer — bowed, plucked, chopped and more. Holly can be found singing and pushing the piano into any style the group sets their mind on.
Empire Wild
Selected as an Ambassador Prize winner in the 2020 Concert Artists Guild (CAG) Competition, Empire Wild is an exciting ensemble that will present a program fusing pop, folk, jazz, Broadway, and more into a rollicking and rousingly entertaining experience for music lovers of all kinds!
May 20, 2023 Columbia Orchestra: Rhapsody in Blue (Columbia) Valerie Coleman originally wrote a simple melody called "Umoja" the Swahili word for Unity as a song for women's voices, inspired by the call and response of African drum circles. That beautiful tune is quoted in her recent work for orchestra, of the same name. Aaron Copland also quotes his own melody in his inspiring Third Symphony. Written to celebrate the end of World War II, echoes of his "Fanfare for the Common Man" weave through his third symphony. Also, pianist Carlos César Rodriguez, whose jaw-dropping classical virtuosity will bring Gershwin's famous Rhapsody to life!
May 20 - 21, 2023 Skating Through Broadway (Columbia) Are you ready for Skating through Broadway? Come enjoy the best of Broadway musicals on ice alongside our incredible skaters who will delight you with their performances as characters from Frozen, Shrek, the Blue Man Group, Phantom of the Opera, The Chorus Line, Wicked, High School Musical, West Side Story, Matilda, Aladdin, The Gazillion Bubbles Show, The Lion King, and 9 to 5. Do not miss this family event which will be a fun display of beautiful choreography filled with jumps and spins, colorful costumes, and great music! Shows on May 20 at 5:15/7:15 pm (Saturday) and May 21 (Sunday) at 4:30/6:30 pm. 
May 21, 2023 The Music Institute Recital (Columbia)  At the Horowitz Visual and Performing Arts Center, the event will take place from 3:00 p.m. to 4:30 p.m.  All tickets are free.
Plus More Things To Do in Howard County!
For a more comprehensive list of happenings in the area, make sure to visit Events. All events are subject to change. Please confirm dates and times with the event organizers.
With the outdoor festival season beginning, it's the perfect time to plan an overnight trip to Howard County, Maryland. Make sure to visit our Places to Stay.