Cherry blossoms are starting to bloom all over Howard County! Whether you are visiting Elkridge, Columbia, Ellicott City, Savage, or Western Howard County, you can explore the cherry blossom groves planted all around the county. Here are some of the best spots to view and celebrate the cherry blossoms and welcome the spring season. 
Planning a Cherry Blossom Getaway to Howard County, Maryland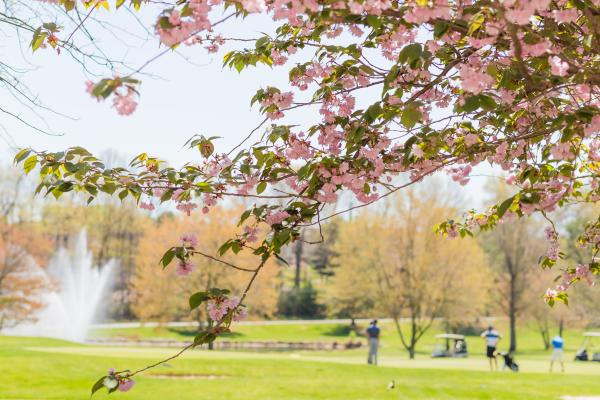 When you visit the cherry blossom groves in Howard County, it would be ideal to have a vehicle to see the many groves interspersed around the area's historical sites, wide open spaces, shopping centers and restaurants. It is recommended to use the Howard County Cherry Tree Map to plan your visit. An itinerary could include seeing several groves in one day, while leaving some time to enjoy the amenities in the area.
Howard County is a cosmopolitan community where neighborhoods, which include rural, suburban, town, and city areas, all offer a unique cherry grove getaway experience. One popular place to begin would be Ellicott City. Centennial Park is home to Founder's Grove, the original 20 cherry blossom trees. Clark's Elioak Farm has cherry blossoms that you can see when you walk around the Enchanted Forest and visit the petting zoo.
If you are coming in from out of town looking for avoid the DC crowds, spend a night or two at the Turf Valley Hotel & Spa, which has over 50 Blossoms of Hope trees on the grounds, as well as all the amenities (and then some) found at hotels in The Capital!
As you continue planning your Cherry Blossom getaway, you would want to visit the charming town of historic Ellicott City. Walk around the Welcome Center and the Thomas Isaac Log Cabin. Enjoy the view of the Patapsco River, and visit the boutiques.
In Columbia, you can spot cherry blossoms around Lake Kittamaqundi, Symphony Woods, and The Mall in Columbia. Since Columbia was designed as a city that is ideal for walkers, you can explore the area on foot or bike.
For wide open spaces, drive to Western Howard County to be around the beautiful, serene farmland near Western Regional Park.
Another neighborhood to visit to view cherry blossoms is Savage. Trees are located all around Historic Savage Mill, by the Bollman Truss Bridge and at Terrapin Adventures where you can go shopping, zip-lining and walking.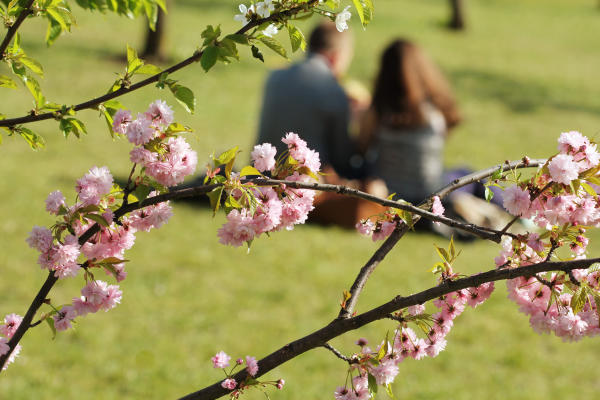 Blossoms of Hope Cherry Blossoms Scavenger Hunt
Blossoms of Hope is a philanthropy that has planted over 2,700 trees to beautify the region. The organization hosts an annual Scavenger Hunt that is an outdoor, family-friendly event highlighting some of our groves during the spring when the cherry blossom trees are at their most beautiful. This year, the third Annual Cherry Blossom Scavenger Hunt will take place from April 16, 2023 through May 14, 2023, when adventurists will be able to explore the Blossoms of Hope tree groves, solve the clues, and hunt for the hidden treasures. Watch this video that explains more about the Blossoms of Hope organization.
During the Scavenger Hunt, families, couples, roommates, and solo adventurists will be able to explore the Blossoms of Hope tree groves throughout Howard County. An added twist will be hidden treasures in trees in the groves. Clues will be provided to help find each item in the groves, and prizes are plentiful.
Don't miss the opportunity to visit Blossoms of Hope's beautiful groves throughout Howard County, where you can hunt for various items scattered among the trees. Signing up for the scavenger hunt will provide you with the map, the clues, and some hunting tools. You would pack some snacks, drinks, sunscreen and get ready to explore some of the Blossoms of Hope groves.
Where will you get the supplies necessary for the hunt?
Once you register, you will be able to pick up your tote, which contains the Scavenger Hunt card that you can mail in when complete for a chance to win prizes.
You can pick up your tote at the Howard County Welcome Center any time between 10 a.m. and 3:30 p.m. on Saturday, April 15, or between 10:30 a.m. and 3 p.m. on Sunday, April 16. Saturday, April 15 is Spring Fest, so be sure to arrive in the morning, or plan to stay and enjoy the day!
To arrange tote pickup, please email info@blossomsofhope.org. If for any reason you are unable to pick up your tote at the times above, you can visit the Howard County Welcome Center during their normal business hours of 10:00 a.m.-5:00 p.m. Wed-Sun.
Are there any prizes?
ALL participants will be entered for a chance to win Blossoms of Hope prizes. Participants who send in their hunt cards will be entered to win one of many prizes, including restaurant gift cards, family venue gift cards and much more.
Register here.
How to sponsor a tree:
Blossoms of Hope has a Howard County Cherry Tree Project. Guests can purchase a tree, including an individual Kwanzan Cherry or Native Dogwood tree throughout the year. Also, sponsorships are available for the trees already planted, starting at $195 each, which comes with a personalized tree hugger and certificate. Those who sponsor will receive a certificate for framing recognizing their contribution to Blossoms of Hope.
Whether you view the cherry blossoms with friends, family or solo, it's bound to be a fantastic time! Make sure to share How You HoCo with us using #HowIHoCo for the chance to be featured on our social media accounts.
Ready to make plans? Turn your cherry tree adventure into a getaway! Find your perfect home away from home at a local resort, bed and breakfast, or hotel.