May the luck be with you! Bars, breweries, and restaurants across Howard County are getting into the St. Patty's spirit with special events, menus, and craft brews. 
OEC's Irish Celebration in Historic Ellicott City
Saturday, March 18th from 11 a.m. to 6 p.m.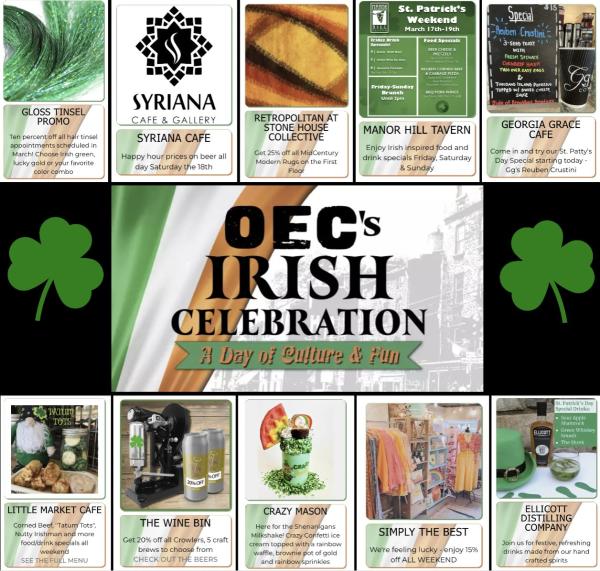 OEC's Irish Celebration: A Day of Culture and Fun
Tons o' fun and shenanigans all around! It's Irish Day in historic Ellicott City. Free to attend.
🍀 Irish inspired food
🍀 Drink & shopping specials!
🍀 Irish Pop-Up Shop!
🍀 Potomac Valley Irish Wolfhound Club!
🍀 Town-wide Scavenger Hunt!
🍀 Music, Games & More!
Friday, March 17th at 7 p.m.
Step back in time this St. Patrick's Day for a night of classic Pop, Rock, New Wave, and Metal songs from the '80s. The doors open at 7 p.m. and music starts at 8. Tickets are $25 and overnight packages are available to turn it into a St. Paddy's Day getaway. The dress is casual and '80s attire is highly recommended so grab your neon shirts and acid-wash denim to get into the groove!
Overnight packages include:
🍀 Two tickets to the show
🍀 Overnight accommodations
🍀 Breakfast for 2 at Alexandra's Restaurant
Thursday, March 16th at 6:30 p.m. - 9:30 p.m.
🍀Chef Dan Wecker has done it again! Raise a glass to celebrate St. Patrick with a 5-course dinner and Irish whisky pairings. The luck of the Irish is catching, and they are ready to share some cheer!
Friday, March 17th from 11 - 12 a.m.
🍀Special races throughout the day will give each racer who can pass the Leprechaun a chance to win a prize by drawing from the "Magic Pot of Gold!" With a wee bit of luck you could win one of the prizes, including T-shirts, free races, and 3 race packages.
* Winners get to pose with the losing Leprechaun and share their victory on social media!
St. Paddy's Weekend at Manor Hill Brewing
Friday, March 17th 4-9 p.m., Saturday, March 18th 12-7 p.m., Sunday 12-7 p.m.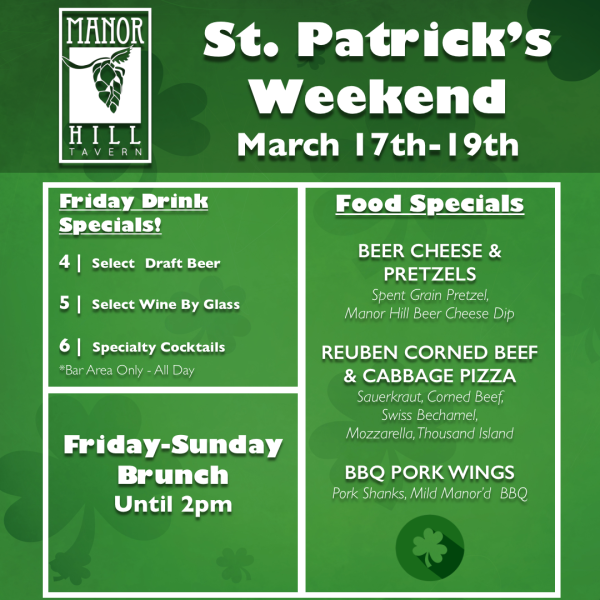 Manor Hill Brewing
🍀 Tasting room open for St Paddy's Weekend with 13 farm-brewed beers & hard seltzer
🍀 New release of Taylor's Row IPA
🍀 Food trucks
Luck of the Irish at Bolder
Friday, March 17th
🍀 $5 Crush night
🍀 Happy hour all day
Friday, March 17th
🍀Bruce Casteel strumming Irish tunes on guitar starting at 4 p.m.
🍀Special Irish-inspired menu
Friday, March 17th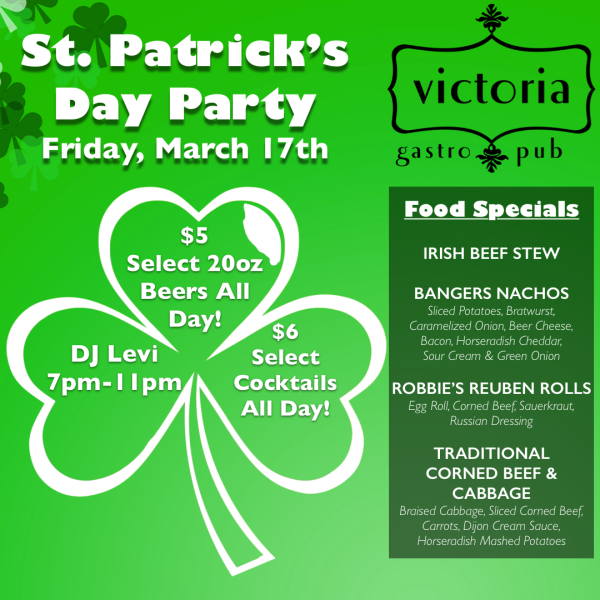 Victoria Gastro Pub
🍀 Food specials
🍀 Drink specials
🍀 DJ Levi 7- 11 p.m.
🍀 Traditional corned beef & cabbage dinner
Friday, March 17th at 10 a.m.
🍀 Kegs n' eggs in the morning
🍀 Bagpiper Duncan Moore from 2-3 pm on the patio
🍀 The Hooligans on the Reckless Shepherd Stage from 6 p.m. to 10 p.m. (no tickets required)
🍀 Special Irish menu 
Friday, March 17th at 10 a.m.
🍀 Live music all day! 
🍀 10 a.m. - 1 p.m. Garrett Mabe, 1 - 5 p.m. Dave Gates, 5 - 9 p.m. Jacob Panic
🍀 Drink specials
🍀 Special menu
Friday, March 17th and Saturday, March 18th
🍀 Live music Friday and Saturday
🍀 Bag pipers will travel through to play
🍀 Tent outside with beer specials 
Check out a full list of HoCo restaurants here and HowardonTap craft brew trail here