Join the 40+ Days of Wellness Challenge!
Explore organic, farm-to-table cuisine, participate in wellness events, and discover the best places to get fit, all in Howard County!
Social wellness 🖤
Refers to the relationships we have and how we interact with others. Social wellness involves building healthy, nurturing and supportive relationships as well as fostering a genuine connection with those around you.
Physical wellness ❤
Promotes proper care of our bodies for optimal health and functioning. There are many elements of physical wellness that all must be cared for together. Overall physical wellness encourages the balance of physical activity, nutrition, and mental well-being to keep your body in top condition.
Emotional wellness 💙
Inspires self-care, relaxation, stress reduction and the development of inner strength. It is important to be attentive to both positive and negative feelings and be able to understand how to handle these emotions.
Intellectual wellness 💚
Refers to active participation in scholastic, cultural, and community activities. It is important to gain and maintain intellectual wellness because it expands knowledge and skills in order to live a stimulating, successful life.
Spiritual wellness 💜
Hope, positive outlook, acceptance of death, forgiveness, self-acceptance, commitment, meaning, and purpose. It also includes clear values, a sense of worth, peace, worship, prayer, and meditation. Benefits of Spiritual Wellness. There are various physical, mental benefits of spiritual wellness.
Environmental wellness 💛
Inspires us to live a lifestyle that is respectful of our surroundings. This realm encourages us to live in harmony with the Earth by taking action to protect it. Environmental well-being promotes interaction with nature and your personal environment.
Occupational wellness 🧡
The potential to attain equilibrium between work and leisure time, handling workplace stress and fostering good relationships with coworkers through team building activities.
---
🖤- Social ❤ - Physical 💙 - Emotional 💚 - Intellectual 💜 - Spiritual 💛 - Environmental 🧡 - Occupational
Day 1: Reserve your spot at Mayweather Boxing + Fitness, an inclusive, high-intensity fitness experience coming soon to the Merriweather District 🖤❤
Day 2: Book a relaxing overnight stay at Turf Valley Resort, where you can listen to live music on some weekends, visit the pool and hot tub, play tennis, pickleball and volleyball, play a round on one of Turf Valley's 2 18 hole golf courses, and enjoy a relaxing service at the on-site spa 🖤❤💙
Day 3: Paint something special with friends at Pinot's Palette at Turf Valley Towne Square
Day 4: It's not too early for a farmer's market! Visit the March Spring Preview Farmers Market at Clarksville Commons for fresh local produce, meats, eggs, sweet and savory treats, locally grown flowers, adult beverages, and handmade crafts on March 4, 2023 from 10 am - 2 pm❤💙💛
Day 5: Experience theater, dance, music, film and visual arts by attending an event at the Horowitz Visual and Performing Arts Center💚💜💙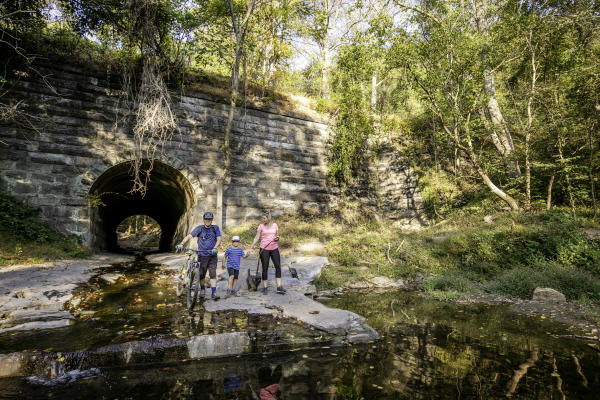 Explore Howard County's biking paths and trails during your 40+ Days of Wellness.
Day 6: Go hiking, fishing, camping, canoeing, exploring horseback and mountain bike trails, as well as picnicking at Patapsco Valley State Park, where you should be sure to visit Cascade Falls, the Swinging Bridge and Thomas Viaduct, and stop by Elkridge Furnace Inn after for a farm-to-table meal ❤💛
Day 7: Explore the treetops with zip lining, ropes courses and more at Terrapin Adventures, and dine on the patio at Dive Bar overlooking the beautiful Little Patuxent River and ruins along the nearby Savage Trail 🖤❤💛🧡
Day 8: Take a soothing candle-making workshop at Candles by Candy in Savage Mill, where the candles are soy-based and eco-friendly
Day 9: Learn about the natural world and preservation of the land at Howard County Conservancy, where you can hike five miles of nature trails, sit peacefully in the beautiful landscaped garden, enjoy the calming presence of the resident barred owl and goats, and walk through the community garden ❤💚💛
Day 10: Try something new with a hot yoga or power yoga class at YogaSix in the Merriweather District❤💜
Day 11: Spend a day visiting our local art galleries, from HorseSpirit Arts Gallery to Artists' Gallery💚💜💙
Day 12: Find the perfect match with a game of tennis at the Columbia Athletic Club's indoor tennis facility and the renovated Long Reach Tennis Club 🖤❤
Day 13: Discover your favorite trail along Columbia's 100 miles of paved pathways that will lead you to explore nature and lakes❤💛
Day 14: Feel incredible after supporting one of our many locally-owned businesses, and know that you are making a difference in the community 💙
Day 15: Relax as you spend the night away at the Merriweather Lakehouse, where you can enjoy the lakeside views, and get in your steps around Lake Kittamaqundi❤💙💜
Day 16: Try something new with an aerial flow or aqua flow class, and enjoy the retreat of the healing waters or a spa treatment at THE pearl wellness spa + boutique🖤❤💙💜
Day 17: Enjoy laughter and entertainment with a visit to an award-winning live theater show at Toby's Dinner Theater💚💙
Day 18: See the local wildlife, plants and the Middle Patuxent River on the preserved land surrounding the Robinson Nature Center, which is dedicated to environmental education ❤💛💚
Day 19: Take your pup to one of our dog parks and pet friendly businesses❤💙💛
Day 20: Capture the moment of being half-way through your 40 Days of Wellness journey with a portrait by Pam Long Photography.
Day 21: Educate yourself about the Civil War Trails located throughout the county 💚
Day 22: Give yourself a break from planning that event you have in mind, and hire an expert to help with Moments Made Simple or Perfectly Wrapped 🖤🧡
Day 23: Spend a weekend at the Inn at Mary's Land Farm, where you can enjoy eating a farm fresh breakfast, watching regenerative farm work and farmyard animals and farm-to-table cooking classes💙💛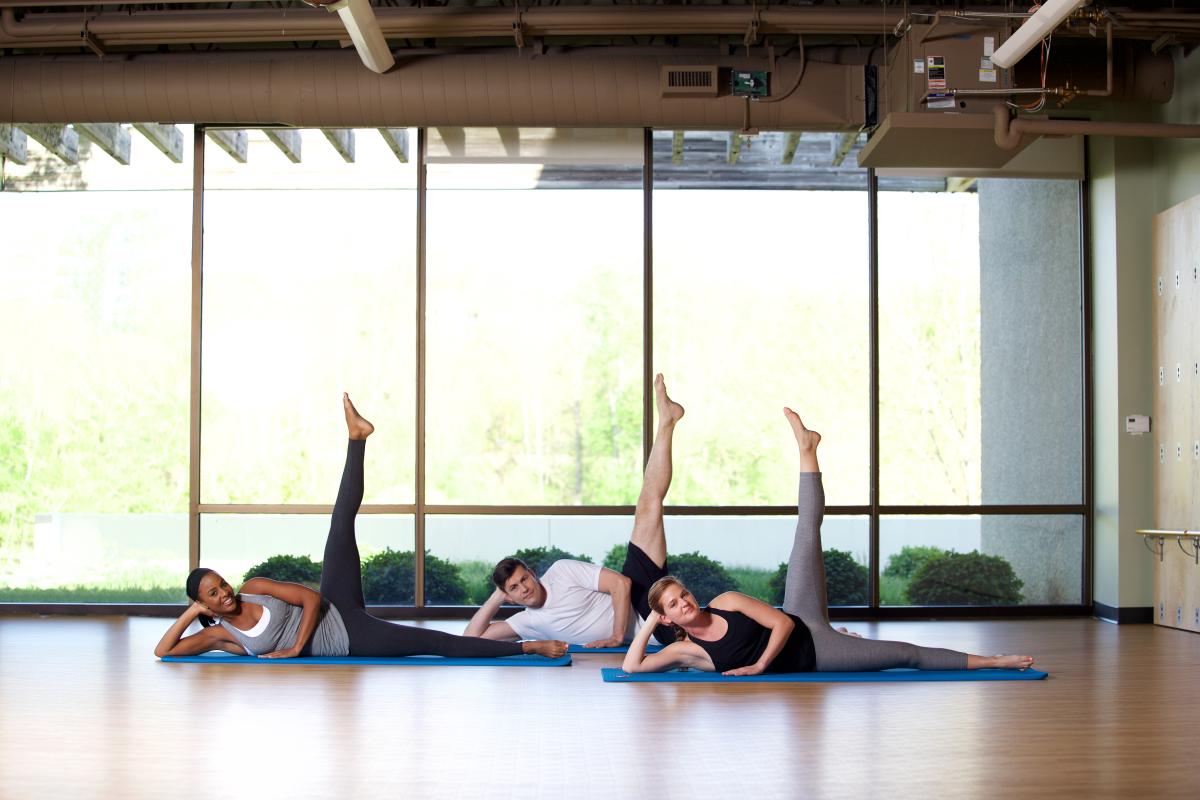 Howard County's gyms and fitness centers offer a variety of classes.
Day 24: Attend a class at Board & Brush Creative Studio to learn to make a wood project from scratch, and walk away with a home decor item you're sure to be proud to display 🖤💙🧡
Day 25: Grab a good book to read at the newly opened bookstore in historic Ellicott City, Backwater Books 💚💙
Day 26: Work as a team to escape Breakout Games, or take in a round of mini golf at Monster Mini Golf together 🖤💚🧡💙
Day 27: Take advantage of the all-natural therapy and spa treatments at the Salt Sanctuary of Maryland❤💙💜
Day 28: Visit Western Regional Park, where you can walk paths and play tennis, or bring your sporting gear to play on the artificial turf fields or baseball diamonds ❤
Day 29: Nourish your creative side with a visit to the Makerspace at the Glenwood Branch of the Howard County Library System, where you can record a song or podcast in their recording studio💚💙
Day 30: Order something fresh and local at Sunset Raw Juice Bar, from wellness shots to raw juice❤
Day 31: Pamper yourself with a trip to one of our local salons, from Envy Salon to Gloss Hair Studio and Ooh La Lal Hair Salon💙
Day 32: Have a plant-based lunch made with organic and sustainable ingredients at Great Sage Vegan Restaurant 🖤
Day 33: Climb the stairs to Courthouse Hill in historic Ellicott City, where you can schedule an appointment for acupuncture or massage therapy with Erin E. Devlin & Co❤
Day 34: Take a meditation, yoga or pilates class at The Yoga Center of Columbia.❤💙
Day 35: Bring a partner or go solo to a ballroom dance class at That's Dancing Ballroom & Dancesport Center❤
Day 36: Begin a beautiful backyard garden with a visit to Sun Nurseries in Woodbine, where you can find over 2500 varieties of locally-grown plants 💙💛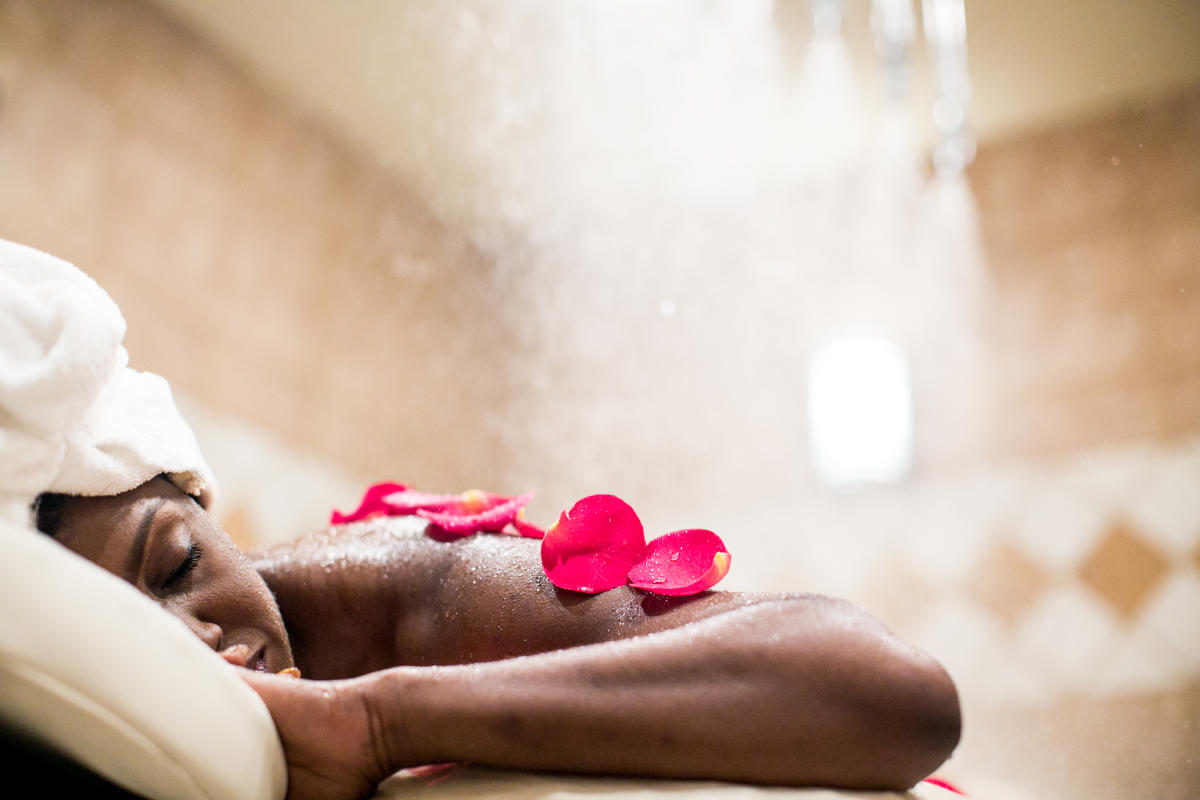 Visiting spas will help you relax and recharge during your visit to Howard County.
Day 37: Sit on the patio at Heron's Meadow Farm and enjoy tea grown on-site in Woodbine, participate in a plant swap, and add their summer outdoor yoga sessions to your calendar to keep up your motivation for wellness 💙💛💜
Day 38: Stroll the labyrinth, peace garden or around the reflecting pond at Bon Secours Retreat and Conference Center💙💜
Day 39: Try a jump off one of the ramps at the Columbia Skate Park❤
Day 40: Strap on a high-tech suit and blast your friends at ShadowLand Laser Adventure🖤❤🧡
---
Turn your Wellness adventure into a weekend getaway! Book a stay at one of our hotels here
Check out more things to do around Howard County here