Welcome, travelers and locals alike, to our vibrant community of Howard County, Maryland! As the Fourth of July approaches, we are thrilled to share with you the exciting lineup of festivities happening in Columbia, the heart of our county. Brace yourself for a dazzling spectacle that will ignite your patriotic spirit and create lasting memories. Get ready to be captivated by the magical bursts of color and light as the fireworks illuminate the night sky. It's time to gather with friends, family, and fellow patriots to celebrate Independence Day in true Howard County style.
4th of July Events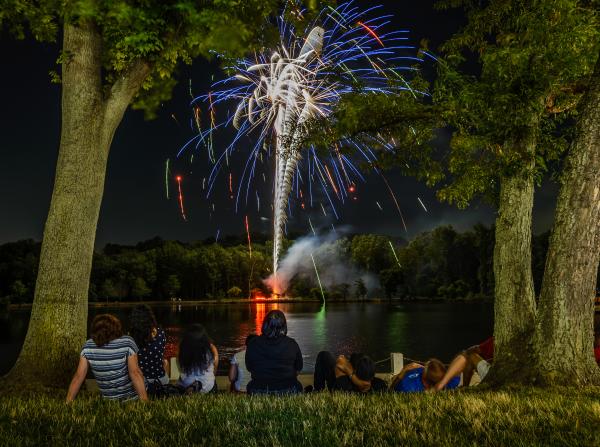 4th of July in Howard County
FREE 4th of July Concert at the Chrysalis!
Enjoy a free concert at the Chrysalis and food trucks with friends and family before walking over to the Lakefront for fireworks and other festivities.
Music from Nelly's Echo, Sherwin Thwaites, and Damon Foreman & the Blue Funk. The concert starts at 11:30 a.m. Food trucks from Blowfish Poke, Mochi Mochi, and Bullhead Pit Beef. Presented by the Inner Arbor Trust.
THE Pearl Adult Swim: Sparkle Edition
Celebrate + sparkle with a magical Lakefront celebration! Includes admission to THE healing waters from 5 pm to 8 pm with private, prime seating to the Lakefront fireworks display.
4th of July Fireworks at the Columbia Lakefront
Howard County and the Columbia Association are joining forces to co-host the annual July 4th fireworks at the Lakefront at Columbia. The fireworks show will begin around 9:20 p.m. and promises to light up the night sky with a stunning display of colors and pyrotechnics. Prepare to be amazed as the fireworks burst over the picturesque Lake Kittamaqundi, creating a truly magical atmosphere. 
Dinner Specials
All day, you can find dinner specials at restaurants around the county! lāk Columbia will be serving Compressed Watermelon Gazpacho. Shrimp Ceviche, Pan Seared Mahi Mahi, Maryland Crab Cake, and more. The Collective Offshore will be offering in-person dining from 11:30 am - 10 pm with patio dining reservations from 4-6:30 pm and 7-9:30 pm along with pre-orders and takeout with a limited menu.
Parking and Road Closures
For your convenience, free public parking will be available at The Mall in Columbia, ensuring easy access to the festivities at the Lakefront. Please note that on the evening of July 4th, the Howard County Police Department will close both directions of Little Patuxent Parkway between Symphony Woods Road and Governor Warfield Parkway from 6:30 p.m. to 11:00 p.m. Additionally, eastbound Little Patuxent Parkway between Broken Land Parkway and Symphony Woods Road will be closed from approximately 8:00 p.m. to 11:00 p.m. Expect traffic delays due to these closures and increased vehicular and pedestrian traffic for the fireworks celebration.
Live Music and Entertainment
Music will be provided by Columbia Festival of the Arts! The Lakefront stage will come alive with the energy of two incredible live music bands. Starting at 6:00 p.m., Holly Montgomery will captivate the audience with her soulful voice and engaging performances. Holly's remarkable career spans decades, and her heartfelt songs are sure to resonate with the crowd.
Holly Montgomery will perform from 6 - 7:15 p.m. at the Columbia Lakefront
Following Holly Montgomery, Sugaray Rayford will take the stage at 7:30 p.m., delivering an unforgettable performance filled with soul, blues, and powerful vocals. Sugaray's infectious energy will have you on your feet, dancing and singing along to his soulful tunes.
Sugaray Rayford will perform from 7:30 - 9 p.m. at the Columbia Lakefront
Food Trucks and Vendors
Indulge your taste buds with a wide selection of delicious food from various food trucks. From Tasty Treats offering ice cream and hot dogs to Pacha Mama's mouthwatering Latin cuisine, there's something to satisfy every craving. Other delightful options include Blowfish Poke, Kona Ice, Malik's Ice Cream, Althea's Almost Famous, and more. Treat yourself to a culinary adventure and enjoy a feast for your senses.
Bike HoCo Bike Corral
If you prefer an eco-friendly mode of transportation, Bike HoCo has got you covered! They will be running a free bike corral starting at 3 p.m. with space for more than 50 bikes, providing a safe and secure parking space. You can leave your bikes in the lower parking lot of Whole Foods, and a team of volunteers will watch over them while you enjoy the festivities, food, music, and fireworks.
Mark your calendars for an incredible Fourth of July celebration at the Columbia Lakefront in Howard County, Maryland. Be prepared for a night of awe-inspiring fireworks, live music, delicious food, and a vibrant community atmosphere. Whether you choose to dance to the rhythm of the bands, savor the flavors from the food trucks, or simply relax and enjoy the fireworks, this event promises to create lasting memories. Come together with friends, family, and neighbors as we celebrate the nation's independence in true Howard County style!
Places to Stay
While you indulge in the exciting Fourth of July festivities in Howard County, Maryland, why not make it a memorable weekend getaway? Discover the array of wonderful places to stay in the county, offering comfort, convenience, and proximity to the festivities. Consider booking a stay at the Merriweather Lakehouse Hotel, located next to the Columbia Lakefront. This charming hotel not only provides easy access to the Independence Day celebrations but also offers stunning views of Lake Kittamaqundi. Immerse yourself in the vibrant atmosphere of the event and then retreat to the comfort of your hotel room for a peaceful night's sleep.
With a variety of accommodations available throughout Howard County, you're sure to find the perfect place to rest and rejuvenate during your Fourth of July adventure.