This season, there's no shortage of fun events, from live music and festivals to springtime art shows and Earth Day activities! Spring ushers in the start of outdoor event season in Howard County. Head out of the house to discover the great outdoors — or at least a local craft brew.
Signature Annual Events:
April 15, 2023 OEC Springfest 2023 (historic Ellicott City) SpringFest 2023 brings the promise of spring, live music, great family fun and a day you don't want to miss. Expect great local craft brews from Manor Hill and Jailbreak Brewing plus pours from boutique wineries. Mocktails available from Sobar. Plenty of food trucks and historic Ellicott City restaurants for dining options. Free admission. 12 p.m. - 8 p.m.
April 16 - May 14, 2023 Blossoms of Hope's Springtime Scavenger Hunt (all around Howard County) Sign up now for the chance to search for hidden treasures in cherry blossom groves across Howard County! All participants will be entered for a chance to win prizes. $25 + $1.50 convenience fee.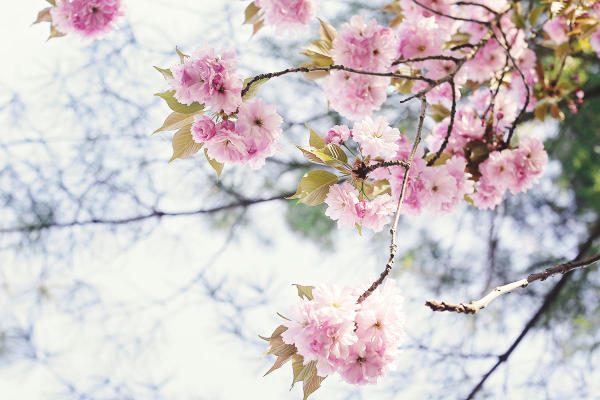 Blossoms of Hope's Springtime Scavenger Hunt
Calendar of Events:
​April 1 - April 9, 2023 Egg Hunts Galore (Ellicott City) Clark's Elioak Farm reopens with a spring celebration! Children of different ages (ages 1 to 3 and 4 to 6) will have a chance to hunt for eggs all day on both Saturday and Sunday April 1-2 and 8-9.
April 1 - June 11, 2023 Grease (Columbia) At Toby's Dinner Theater, one of the world's favorite musicals hits the stage in a high-octane production featuring all the hit songs you love, including: "Summer Nights," "Greased Lightning," "You're the One That I Want," and "Hopelessly Devoted To You."
Grease at Toby's Dinner Theater
Danny, Sandy and the coolest gang of students from Rydell High take you back to the 1950's when drive-in movies, sock-hops and tough talkin' Pink Ladies defined a generation. GREASE and Toby's go together like a wop bam boom! Enjoy this fun live show while dining on the endless buffet that features a carving station of ham, turkey, and roast beef. Check out this trailer from Toby's, and book your ticket today!
Grease video trailer
April 1 - April 21, 2023 Call to Artists: Savage Paint Out 2023 (Savage) Artists of all ages & experience are invited to paint an outdoor scene within the historic mill town of Savage, MD. Whether you are an experienced artist or have never even picked up a paintbrush before, anyone can participate!
April 1 - April 26, 2023 "Eastern Tradition-Western Perception" (Historic Ellicott City) Visit Artists' Gallery for a free art show that crosses the boundaries of style and convention to celebrate the simplicity, complexity, and universality of the natural world. Featuring Maryland artists Chris Rapa and Jing-Jy Chen.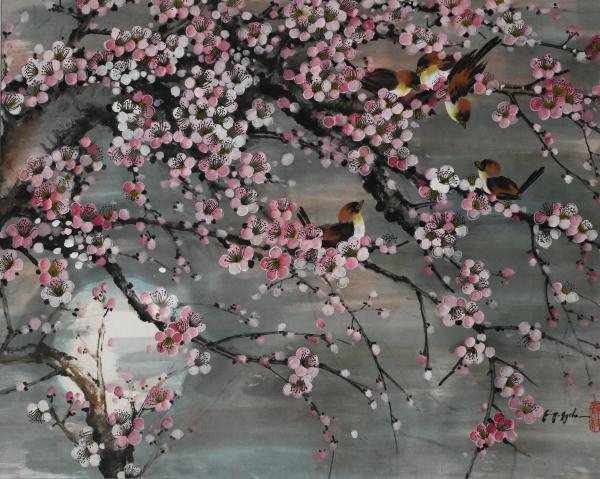 "Chattering" by Jing-Jy Chen
"Chattering" is one  of the cherry blossom paintings that  Jing-Jy has included in this exhibit. Explore historic Ellicott City's art scene during your cherry blossom getaway.
April 2 - April 30, 2023 "A Taste of Spring" Art Show (Savage) At HorseSpirit Art Gallery, you can visit the new art show inspired by the changes we begin to see in spring — the first yellow-headed daffodil, a certain sweetness to the air, and rediscovering colors hidden too long by winter. Featuring artists Rana Geralis, Jennifer Kahn Barlow, Sarah Pick. 
April 8, 2023 Annual Daffodil Day Celebration (Ellicott City) Visitors will be serenaded by the Camerata Musica Madrigal Singers and the Glenelg Country School Madrigals. Theatrical re-enactments of cemetery "residents" will take place in the Woodland Theatre along with children's activities, raffles and a composting demonstration. Explore history among the daffodils, native plants and specialty gardens. Shop for potted plants. Free admission. From 10 a.m. to 2 p.m.
April 15, 2023 Pretty in Pink (Ellicott City) Each model who walks down the runway has a courageous story to tell about her fight against cancer and this is her opportunity to showcase her power during the Pretty in Pink Fashion Show.
April 15, 2023 Columbia Orchestra: Peter and the Wolf (Columbia) The Young People's Concert is back! Narrator Greg Jukes and Dance Connections join the Orchestra for Prokofiev's immortal Peter and the Wolf, Tchaikovsky's Sleeping Beauty, and music from Encanto! Children of all ages will enjoy this fun-filled introduction to the orchestra. $10-$15. 10:30 a.m. to 12 p.m.
April 15, 2023 Slow Art Walk (Columbia) In collaboration with Howard County Greenfest and International Slow Art Day on Saturday, April 15, The Horowitz Center is presenting a Slow Art Walk! On average, many people look at a work of art for no more than 15-30 seconds, but slowing down can create deeper understanding of the works and more meaningful, richer, personal experiences. Free admission. 11 a.m. to 12 p.m.
April 19 - June 9, 2023 Growing Towards the Light (Columbia) A new exhibit at the Bernice Kish Gallery, presented by Mary Jo Messenger, Katherine Farrell, and Lynda Mitic - highlighting the Humanim organization through portraits and other paintings focused on growth and light. In honor of Humanim's 50th anniversary, several pieces of this exhibit and 20% of proceeds will be donated to Humanim to continue their work serving Maryland residents.
April 22, 2023 Earth Day Activities Featuring a Youth Climate Institute Showcase (Woodstock) At the Howard County Conservancy, the Youth Climate Institute students will be the highlight of the day, presenting a showcase of student action projects and hosting a clothing swap and light bulb exchange. The day also includes a tree planting with County Executive Calvin Ball, a guided bird hike, tadpole release, history programs and more. Free admission. 8 a.m. to 2 p.m.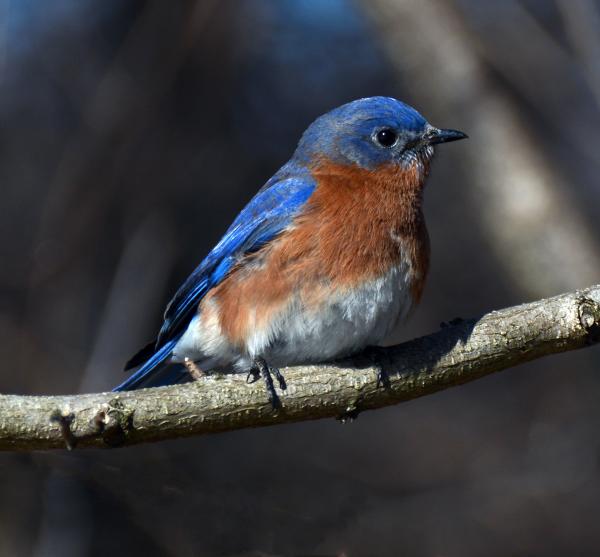 Earth Day Guided Bird Hike
April 22, 2023 Maryland Winds: A Salute to John Phillip Sousa (Columbia) Join us for this outdoor concert in Downtown Columbia's beautiful Symphony Woods and celebrate one of America's greatest composers! Kicking off the 2023 season, Maryland Winds will pay tribute to John Philip Sousa, the American March King, and composer best known for "Stars and Stripes Forever." This free, family-friendly concert includes a variety of interactive pre-concert activities for all.
April 23, 2023 Candlelight Concert Society's Jerusalem Quartet (Columbia) Known for their passion, precision, and tireless quest for perfection, the Jerusalem Quartet is a regular and beloved guest on the world's great concert stages. In their program for Candlelight, Music Under Tyranny, this world-class ensemble will perform works by Prokofiev, Bartók, and Shostakovich, while exploring the power of music to shine hope and heart into the darkest corners of the human experience. This program will also be narrated by WBJC-FM Program Director, Jonathan Palevsky. Tickets $10 - $45. 4 p.m. to 6 p.m.
April 23, 2023 Downtown Columbia Maker Faire (Columbia) Join the Inner Arbor Trust at Merriweather Park at Symphony Woods in the heart of Downtown Columbia for this free, family-friendly event. Watch demonstrations, participate in workshops, shop local artisans and more!Free admission, but registration is required. 12 p.m. to 5 p.m.
April 27, 2023 Blackbird Poetry Festival - Nightbird of Reading: Poetries of Belonging (Columbia) Noah Arhm Choi headlines the Blackbird Poetry Festival. The evening features an introduction by Regie Cabico, a reading by Noah Arhm Choi, a reception and book signing. $17 admission, free for HCC students. 7:30 p.m. to 9 p.m.
April 29, 2023 Jazz in the Woods (Columbia) Gifted student jazz musicians perform on the Chrysalis Stage at Merriweather Park at Symphony Woods. One of the biggest events of their season, with a closing performance by The Navy Commodores! Free admission. 11 a.m. to 6 p.m.
April 30, 2023 Holi Celebration & Color Fun Run / Walk (Columbia) Celebrate the Festival of Colors by dancing through clouds of bright powder that ensure you walk away a visible representation of community, spring, and joy! Featuring music, dance, and other performances in Downtown Columbia's beloved Symphony Woods to participate in this beautiful, free, and family-friendly celebration!
April 30, 2023 Strings in Spring (Columbia) At the Horowitz Visual and Performing Arts Center, this spring concert features Yoon Young Bae on violin, Andréa Picard Boecker on violin, Rebecca Henry on viola, and Yoon Nah Cho on cello.
Find more events throughout Howard County by scrolling through the events page. Events are subject to change. Please contact event organizers to confirm the details of the event. 
With so much to do this spring in Howard County, you'll want to stay overnight at the Homewood Suites by Hilton Columbia or one of our many other places to stay.