Things To Do This Fall in Howard County
Fall into Autumn in Howard County. Local farms transform into family playgrounds with pumpkin patches and hayrides, while fall festivals celebrate the season with craft beverages, arts and crafts, live music, and much more!
Pumpkin Patches & Hayrides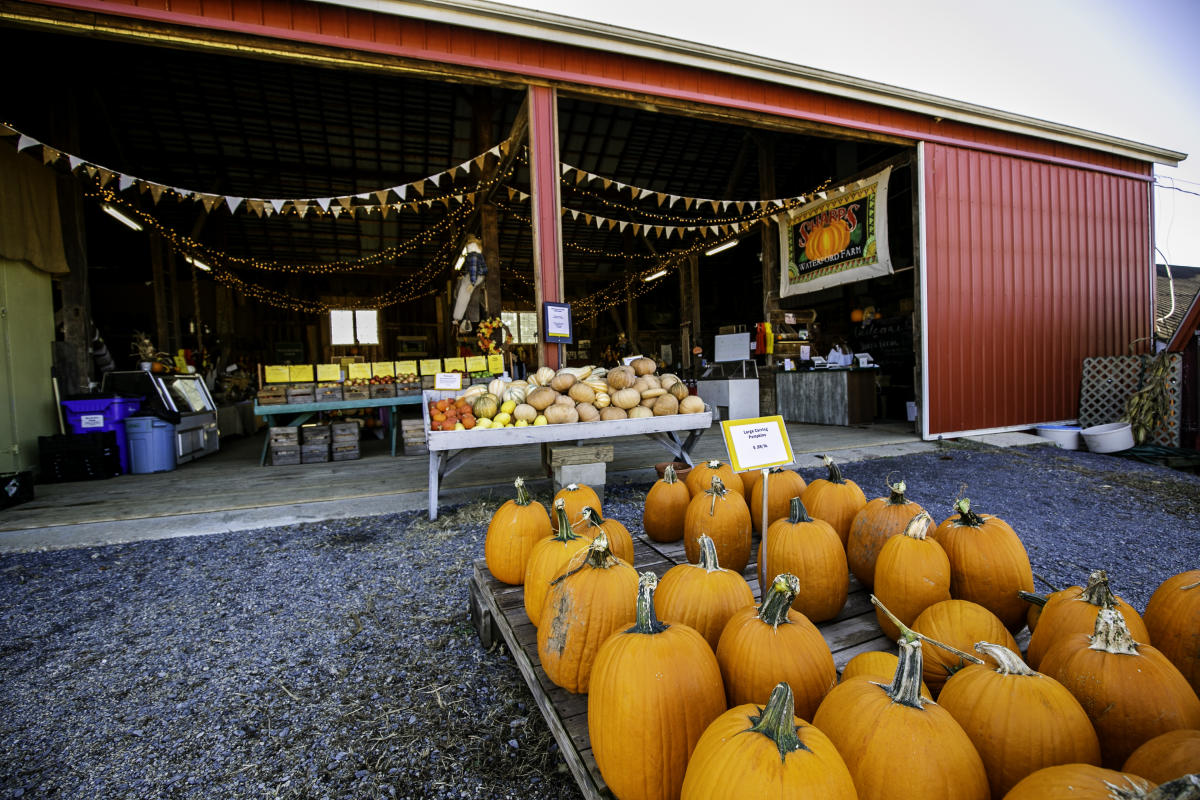 Sharp's at Waterford Farm
Get your flannel shirts out of the closet because the fall season begins September 25th, including hayrides, pumpkin picking, and fall open house events. 
Clark's Elioak Farm
Come pick a child-sized pumpkin from our patch. You can also purchase larger or mini pumpkins and gourds at our farm, too. Enjoy a beautiful Fall day at the farm. Lots of animals to visit, rides to take and fresh air and open spaces.
Larriland Farm
Come and visit Larriland Farm in the fall of the year. Enjoy the fall color display each year that Mother Nature puts on as the leaves change color. Gaze across the fields dotted with thousands of orange pumpkins, each one waiting to become a jack-o-lantern for your porch. The farm is decorated for Halloween with ghosts and goblins to delight and scare you. 
Fall Events
Hops and Harvest Festival - Oct 2nd @ Merriweather Park at Symphony Woods
Celebrate Maryland craft beer at the annual fall Hops and Harvest Festival in Columbia, Maryland on Saturday, October 2nd, 2021. Get your ticket and get ready to enjoy Over 30 local Craft Breweries, Distilleries, and Wineries, Vendors, and Artisans
Wizarding Weekend - Oct. 1 -3 @ Historic Ellicott City
Calling all witches, wizards and muggles alike! Hop on your broom and grab your wand—Wizarding Weekend on Magical Main, is back!
The Zaching Running Festival - Oct 2nd  @ Colorburst Park
The Zaching Running Festival benefits the mission of the Zaching Against Cancer Foundation! Run a 10K, 5K or 1 Mile Walk and attend the best finish line party around featuring oysters, bloody Mary's, beer garden and the Dixon Ulmer Band!!
Books In Bloom Festival - Oct 9 @ Colorburst Park
The Downtown Columbia Partnership and The Howard Hughes Corporation  proudly announces that Dr. Nikole Hannah-Jones will headline the Books in Bloom Festival back for its fifth year.
HoCo Pride - Oct 9 @ Merriweather Park at Symphony Woods
HoCo Pride 2021 will be held in an all-new location! This year's pride festival will be held at Merriweather Park at Symphony Woods!  The HoCo Library will be bringing books and lawn games for family fun. Crafts and pumpkin related activities, food trucks, an entertainment lineup unmatched in the county & a variety of LGBTQ+ themed arts, educational programs, and a treasure hunt.
Ellicott Silly Comedy Festival - Oct 12 - 16 @ Historic Ellicott City
The Ellicott Silly Comedy Festival returns this year with a week-long celebration of live comedy with various events taking place throughout the old mill town. 
Long Reach 50th Anniversary Festival - Oct 16 @ Long Reach Village Center
Blues and Brews Festival - Oct 23 @ Historic Savage Mill
There will be food, brews, and more! Bring your own chairs and blankets and relax right on our lawn and tarmac. Food and brews will be provided by Dive Bar and Grille!
Halloween Hullabaloo - Oct 30 @ Merriweather Park at Symphony Woods
Join Wicked Sycamore, Dirty Grass Players, The Wharf Rats, Live!, and The Ron Holloway Band for a Halloween party geared towards grownups! Costumes are highly encouraged. Halloween Hullabaloo is produced by the Inner Arbor Trust in partnership with New Deal Cafe.
Nov. 4th - Pilgrim History Open House @ Sharp's at Waterford Farm
Our guides are dressed in costume and included in the program you will learn about Pilgrim history.
Nov. 5th - Poetry Potluck: Verse in Good Taste @ HoCoPoLitSo
HoCoPoLitSo opens its literary season with a special program to celebrate its 30th year of providing a writer-in-residence to the Howard County public schools. 
Nov. 7th - Columbia Jazz Band Veterans Day Concert @ Slayton House
The Columbia Jazz Band is back! This multimedia event will feature the Columbia Jazz Band along with photos, news footage, and audio/video clips from the USO.
Nov. 11th - Spirits Pub Tour @ Historic Ellicott City
Enjoy a special drink or special pricing on selected drinks as we take you inside for a taste at some of Ellicott City's favorite haunts.
Nov. 13th-14th - Holiday Craft Show @ Historic Oakland Manor
Join us for a 2-day Holiday Craft Show event on November 13th & 14th!! Tickets are free so register today!!
Nov. 13th - Murder Mystery Dinner @ Turf Valley Resort
Come Enjoy An Evening With "Whodunnit" As They Play Out The Mystery Behind Turf Valley Resort!
Nov. 18th - Cocktails & Candy Canes Launch @ Lib's Grill
Join us at either Lib's Grill location to see the festivities come to life! Enjoy the holiday decor, updated food menu, and last but not least - our NEW cocktails & candy canes concoctions!
Monster Mini Golf
18 holes of indoor glow-in-the-dark mini golf, DJ with music, contests, and prizes. Great arcade, two party rooms for birthdays, corporate events, or team building.  Awesome virtual reality booths for an amazing experience!
To view a listing of all upcoming events click here
Ghost Tours
Did you know Howard County is home to some of the most haunted places in America? Ghost tours run throughout fall at both Historic Ellicott City and Historic Savage Mill. 
The Mt. Misery and Haunted History of Ellicott City tours will take you in around the town where you will learn the history of the haunted hills of the 250 year old town. 
Discover the Savage Mill's haunted history where restless spirits continue to roam the halls to this very day. Learn about the working conditions during 19th century Savage Mill and how they tie to the ghostly encounters today and the cheeky little girl who loves tripping the living.