Experience the magic of autumn in Howard County as the leaves change and the air turns crisp. This vibrant season offers a plethora of activities and events that promise fun for the whole family. Here are some must-do activities this fall in Howard County.
Visit local farms that come alive with vibrant orange hues as pumpkins ripen for the season. From Clark's Elioak Farm and Larriland Farm to Sharp's at Waterford Farm and Mary's Land Farm, you won't want to miss exploring pumpkin patches with your loved ones and finding the perfect one to carve for Halloween. Take a relaxing hayride through the picturesque countryside, or challenge yourself in a thrilling corn maze. It's a delightful way to enjoy the great outdoors and embrace the spirit of fall.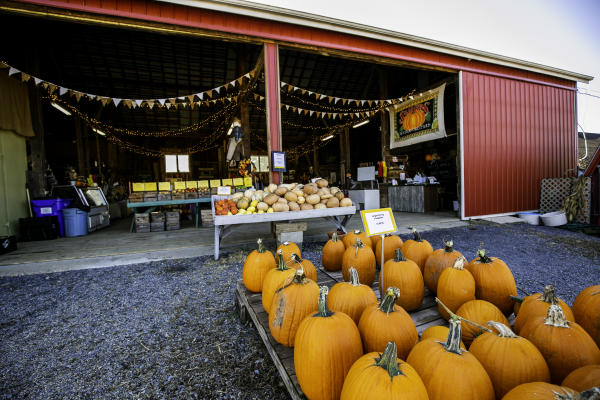 Farms in Howard County
Go on a scenic drive or hike through Howard County's serene parks and nature trails, from the Howard County Conservancy and Robinson Nature Center to Patapsco Valley State Park and Centennial Park. Bring your camera because the vibrant fall foliage creates a breathtaking backdrop for peaceful outdoor adventures and memorable photo opportunities. 
Take leisurely walks in Howard County's parks and nature reserves. The cooler weather makes it an ideal time to observe wildlife and soak in the serenity of nature.
Enjoy the flavors of fall by dining at warm and cozy local restaurants that embrace seasonal ingredients, including Elkridge Furnace Inn and White Oak Tavern. Indulge in hearty squash soups, apple desserts, pumpkin-spiced treats, and fall-inspired beverages and cocktails for happy hour.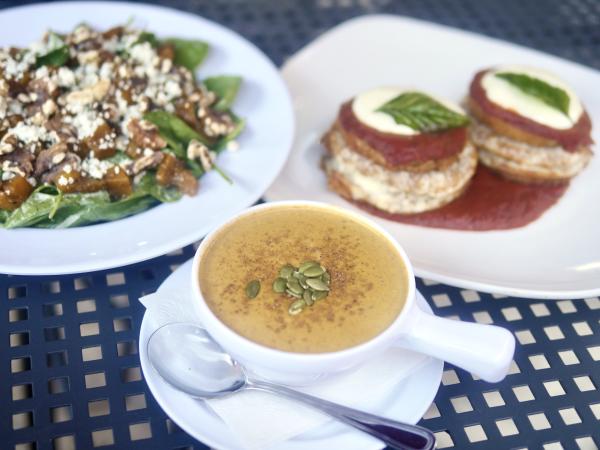 Fall menu at White Oak Tavern
Fall Workshops 
Many local organizations and community centers offer workshops on topics like gardening, home decoration, and cooking with autumn ingredients. It's an excellent opportunity to learn something new. You can also learn to get creative with fall-inspired crafts. Whether it's making your own wreath, decorating pumpkins, or crafting homemade candles, there are endless possibilities for DIY projects. Check out the Howard County Library System and crafting studios for workshops to join.

Hops & Harvest Festival
Throughout October 2023 - The Mt. Misery and Haunted History Tour (historic Ellicott City): These tours will take you around the town where you will learn the history of the haunted hills of the 250-year-old town. 
October 1, 2023 - It's Pumpkin Time at Clark's Elioak Farm (Ellicott City): The pumpkin patch offers a delightful array of activities, perfect for a family tradition. Get lost in our hay bale maze, enjoy a scenic hay wagon ride, embark on an Enchanted Express Train adventure, or let your kids experience "pony pampering." From Monday to Friday, you can visit between 10 AM and 5 PM, except for Monday, September 18th. On Saturdays and Sundays, hours are extended just a bit, so you can come and explore from 10 AM to 5:30 PM.
October 5, 2023 - Merriweather Movie Nights presents Ferris Bueller's Day Off (Columbia): Merriweather Arts and Culture Center brings you a FREE night out at one of the East Coast's best outdoor venues, Merriweather Post Pavilion. Doors open at 6:30 p.m., and the movie starts at 8 p.m.
October 6, 2023 - Haunted Savage Mill Ghost Tour (Savage): Maryland History Tours presents haunted ghost tours of Savage Mill. Cost is $20, from 8 p.m. to 9:30 p.m.
October 7, 2023 - Fall Festival (Laurel): Come enjoy an afternoon full of music, games, entertainment, food trucks, and more with Howard County Recreation & Parks. This outdoor family-friendly event has something for everyone. Online preregistration id encouraged, but not required, at www.HowardCountymd.gov/fall-festival. Onsite registration is available. Noon to 4 p.m. $5/person
October 7, 2023 - Corn Fest at Manor Hill Brewing (Ellicott City): Celebrate a favorite fall crop, CORN! This full day of fun includes live music, beer stations, corn hole, and ice cream from Good Karma Creamery.
October 7, 2023 - Fall Barnyard Adventures at Mary's Land Farm (Clarksville): The farm opens on September 9th, and Fall Festival Weekends happen throughout late September and October. Children under the age of 2 are free with an adult. Price ranges from $13-$50.
October 7, 2023 - Hops & Harvest Festival at Merriweather Park at Symphony Woods (Columbia): Celebrate Maryland craft beer at the annual fall Hops and Harvest Festival in Columbia, Maryland. Get your ticket and get ready to enjoy local Craft Breweries, Distilleries, and Wineries, Vendors, and Artisans.
October 8, 2023 - Kupcake Decorating & Milkshakes... Wizarding Weekend! (historic Ellicott City): Kupcake & Co and The Crazy Mason are partnering in support of OEC's Wizarding Weekend! Learn new cupcake decorating techniques while enjoying a milkshake. Takes place at 2 p.m. Price is $55. 
October 12, 2023 - Beer, Bourbon, and Bags (Laurel): Look for the same Beer and Bourbon tastings from local breweries and distilleries, purse (or should we say Bags) shopping (new and used at great prices), Dixon and Lorenzo from Misspent Youth, an amazing silent auction, raffles, games and more!
October 13, 2023 - Black Cats and White Rabbits: Friday the 13th Edition (Ellicott City): Join us for a dive into the lore of these ancient topics. Event at the Museum of Howard County History, 8328 Court Avenue, Ellicott City, MD 21043. This program previously sold out, thus reservations are required and no walk-ups will be allowed. This program is appropriate for guests ages 13 and up. Costumes are welcome for the spooky season.
October 13-15, 2023 - Countryside Artisans Fall Studio Tour at Breezy Willow Alpaca Farm (Woodbine): Celebrate local artists, see demonstrations, and get a head start on holiday shopping. Takes place from 10 a.m. to 5 p.m. FREE.
October 13, 2023 - Forest Bathing at the Howard County Conservancy (Woodstock): You won't want to miss the serenity of the natural world during the beautiful fall season. Learn forest bathing in a FREE session from 10 a.m. to 11:30 a.m. Advanced registration is required.
October 18, 2023 - Brooms & Brews - History of Witches Pub Crawl (Ellicott City): The tour begins at The Wine Bin, 8390 Main Street. If you would like a wine sample or to take advantage of a 10% discount on purchases that night only then arrive no later than 6:30 p.m.
October 21 - Floating Pumpkin Patch (Ellicott City): Have a thrilling time with your family and friends at Roger Carter Community Center from 2 to 3:30 p.m. Jump into our heated pool to find your floating pumpkin. Enjoy games, crafts, and refreshments. Children can come dressed in their favorite costume, but don't forget their bathing suits! Preregistration is required. Children must be accompanied by an adult. To register, visit www.HowardCountyMD.gov/rap, or call 410-313-PARK (410-313-7275). The registration number is RP5400.501 for members and RP5400.502 for nonmembers. $12-$15 / person.
October 22, 2023 - Haunts & Hounds (Ellicott City): Bring your 4-legged best friend for a spooky outdoor walking tour of Old Ellicott City. Learn new ghost stories from the area, and fascinating legends, and discover sweet woofs/meows from the other side. Join us with our partners at The Wine Bin. Includes a wine tasting for people.
October 26, 2023 - Girls Night Out (Savage): Bring your fellow witches and enjoy a goblet full of wine while shopping! Savage Mill's retail tenants will be open with special offerings and sales. Pick up a Girls Night Out bag for your swag and participate in our fun game for a chance to win a prize. FREE!
October 28, 2023 - Kids Pinata Making Workshop at G+H Custom Workshop (Savage): This hands-on workshop is for kids ages 5-10. October design choices include a Jack O' Lantern or Day of the Dead Skull. Price $44.
November 4, 2023 - Pumpkin Chucking Weekend at Clark's Elioak Farm (Ellicott City): Launch your old pumpkin across the farm, or use one of theirs! Price $8 per person.
Details are subject to change. Make sure to check dates, times, prices, and locations with the host organization before attending. To view a listing of all upcoming events click here.
Embrace the beauty and charm of fall in Howard County by partaking in these delightful activities. Whether you're seeking outdoor adventures, family-friendly fun, or simply a taste of autumn's flavors, there's something for everyone to enjoy in this picturesque Maryland destination.