Let's celebrate Mom with the perfect Mother's Day weekend in Howard County, Maryland! Located between Washington D.C. and Baltimore, Howard County's balanced blend of rural farms, historic towns, suburban neighborhoods, and urban amenities make it the perfect place for a special family celebration.
Whether Mom would enjoy a quiet weekend at a Bed & Breakfast overlooking the wide open spaces of Ellicott CIty or being in the heart of city life in Downtown Columbia with lively music, you can find all your travel inspiration right here. Show Mom how much she means to you with unique events throughout the weekend, and make sure it's unforgettable!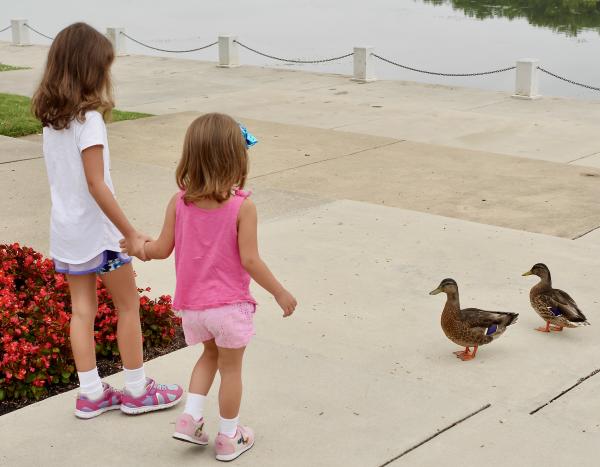 Children watching the ducks at Lake Kittamaqundi
Make memories at special Mother's Day events around the county. If this is one of her first Mother's Days to celebrate, you'll want to begin with a visit to the fun and memorable event, Chrysalis Kids: Celebrate Springtime with the Baltimore Symphony Orchestra. This is the first in the free 2023 Chrysalis Kids series! As part of the BSO's Tiny Tots Music Box concerts, the event is designed to develop musicality, creativity, coordination, and literacy for children ages 6 months to 3 years.
Looking for a place to stay nearby? Consider the Merriweather Lakehouse located in Columbia, which offers an upscale dining experience at the new LĀK restaurant.
Celebrate Springtime takes place in the morning from 10 a.m. to 11 a.m., leaving plenty of time for a special Mother's Day brunch or meal later in the day. You'll need to make sure to register in advance.
Afterward, stroll through one of our Farmer's Markets, many of which open for the season on Mother's Day weekend. Treat Mom to local lavender and soaps, and buy fresh produce and flowers. You'll enjoy shopping for special items together and indulging in homemade baked goods, pizza, and gelato.
Howard County also has many farms to explore for a relaxing change of pace. Venture out in the beauty of our farmland to see new baby animals, take a hayride, and enjoy the peaceful views. Pick up a special item at the farm store. Some local farms to explore include Larriland Farm, Clark's Elioak, Breezy Hill Alpaca Farm, and Mary's Land Farm.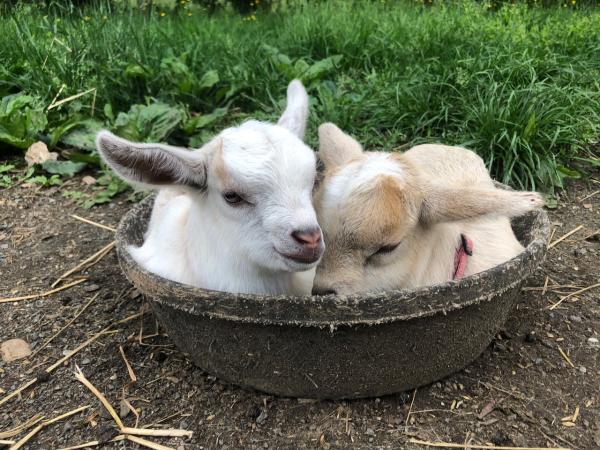 Goat Snuggles at Clark's Elioak Farm by Nora Christ
Another memorable way to spend Mother's day weekend is to take part in the Blossoms of Hope Springtime Scavenger Hunt. Go on a springtime stroll through the cherry blossom groves all across Howard County, locating special items in the trees and entering to win prizes. One beautiful spot to enjoy the cherry blossoms would be Centennial Park, which is a wonderful spot to walk, fly a kite, and picnic.
End your evening in Howard County with a visit to Toby's Dinner Theater, where the beloved musical Grease will be playing. Each ticket to the lively show comes with an all-you-can-eat buffet with a carving station. Discover the fun and entertaining show Grease with this short trailer.
Grease at Toby's Dinner Theater
At the Howard County Center for the Arts on April 27th, you can take part in a Mother's Day Printmaking Party. This event is perfect for teens & older who are looking for that one-of-a-kind gift. Instead of a store-bought card, gift wrap, or tags, you can create spring-themed crafts with flowers or sunshine, or hearts to show Mom how much you love her.
When you're picking out a gift, try shopping small this Mother's Day. Select a special item from a local shop or boutique. You can find something cute and rustic at Breezy Willow Farm Country Market, or shop for the latest trends and accessories at Sweet Elizabeth Jane in historic Ellicott City.
Maple Lawn also has shops and boutiques to explore, like Bra-La-La, where you can pick out a comfortable robe and pajamas to remind Mom that she deserves to relax. Looking for a one-of-a-kind vintage piece? You'll want to check out the shops in Savage Mill, including The Antique Center.
Howard County offers a phenomenal restaurant scene with culinary hot spots and photo-worthy dishes. All around the county, Howard County's restaurants will be serving up food made with love for Mom's special day. 
Are you looking to include a meal with your overnight stay? Consider Wayside Inn Bed & Breakfast, where some special recipes include Grand Marnier French Toast, Blueberry-Cinnamon Baked French Toast, and Cranberry/Orange Croissant Souffle.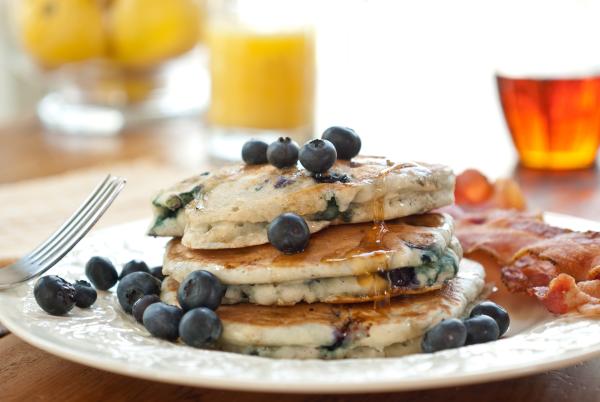 Pancakes with a side of bacon served at Wayside Inn Bed and Breakfast
Turf Valley Resort will be offering Mother's Day brunch in the Grand Ballroom with breakfast options of made-to-order waffles and crepes. Lunch has carving stations of Beef Striploin and Iberico Ham. Treat yourself to the mason jar dessert display. Call ahead for your reservation.
Alexandra's American Fusion will be serving up a special Mother's Day brunch. Enjoy Belgian waffles made with chocolate chips and topped with whipped cream, or order a savory lunch option of carved Rosemary-crusted prime rib and Carolina BBQ pulled pork. You'll want to make a thoughtful toast with mimosas and sparkling wine. Indulge in red velvet bread pudding and triple-layer chocolate cake. Children under three will eat free! Reservations are required.
In addition to overnight stays that offer a special meal, you can find Mother's Day brunch menus being served all around the county.
If you spend the day exploring the historical town of Elkridge, you can begin your visit with the Mother's Day Buffet at The Elkridge Furnace Inn & Garden House. The Grand Buffet menu features crab cassoulet and thick-cut french toast and a carving station. After brunch, be sure to spend some time exploring the garden and historic grounds. 
Jam Eateries is a new brunch spot in town that offers breakfast and lunch, craft cocktails, homemade bloody marys, and inventive mimosas. Wake up for your fun Mother's group outing with a Mimosa Flight made with four different seasonal drinks.
Prefer to spend Mother's Day somewhere special that you already have in mind? You can simplify your Mother's Day meal preparations with a curbside Mother's Day Package from Libs Grill in Maple Lawn. Choose from a multi-course Italian or steak package served warm for up to four people. Complete your order when you add on crushes, mimosas, or a floral bouquet.
With so much to do in Howard County, you'll want to reserve a room in one of our luxe hotels in advance.