Welcome to Howard County, the vibrant and culturally diverse region nestled in the heart of Maryland, between Washington D.C. and Baltimore! As the summer breeze sweeps across the picturesque landscapes, June brings along a plethora of exciting events and festivities for locals and visitors alike. Whether you're a music enthusiast, a proud supporter of the LGBTQ+ community, or someone who appreciates art and entertainment, there's something for everyone in Howard County this month.
Signature Annual Events
June 2-4, 2023 30th Annual Capital Jazz Fest (Columbia) - Kicking off the list of signature annual events is the highly anticipated 30th Annual Capital Jazz Fest. Brace yourself for a weekend filled with soulful melodies, electrifying performances, and an atmosphere that resonates with the true essence of jazz. From legendary artists to rising stars, this festival promises an unforgettable experience that will leave you tapping your feet and swaying to the rhythm.
June 3-4, 2023 OEC Pride - (Historic Ellicott City) In celebration of diversity and inclusion, OEC Pride takes center stage, shining a spotlight on the LGBTQ+ community. With a range of activities, parades, and empowering events, this festival offers a safe and welcoming space for individuals to express their true selves and foster a sense of belonging. Join the Mascara Run, watch outdoor movies Priscilla and Queen of the Desert, find live music and more!
June 11, 2023 Asian American and Pacific Islander Festival (Columbia) - If you're interested in immersing yourself in the rich tapestry of Asian American and Pacific Islander culture, this festival is a must-attend event. Experience the vibrant colors, tantalizing flavors, and captivating performances that showcase the unique heritage of these communities.
June 16 - 18, 2023 LakeFest FREE Weekend (Columbia) - For those seeking a family-friendly outing, LakeFest FREE Weekend is the perfect choice. Dive into a world of arts and crafts, live music, and delicious food by the scenic lakeside. This event promises a day of pure enjoyment and relaxation for all ages! Since the event takes place over Father's Day weekend, it's the perfect way to spend your time as a family! Afterward, LakeFront Live happens all summer long with free dancing classes, movie nights, and concerts brought to the area by the Columbia Association.
LakeFest FREE Weekend
Additional Events
In addition to these signature events, Howard County offers a variety of activities throughout June.
Every other Thursday Amped in the Park (Columbia's Merriweather District) - Enjoy free concerts brought to Color Burst Park by the Merriweather Arts and Culture Center and Columbia Festival of the Arts. Warm nights are perfect for music and maybe even a little dancing. See the full line up - from Go-Go to Jazz. There's something everyone will love! On 6/8 Las Cafeterias Alternative Latino, on 6/22 Rare Essence R&B. Go-Go, on 7/6 Bassel & the Supernaturals Soul, on 7/20 The Kentucky Gentlemen / The Honey Larks Country/Roots, on 8/3 Emily Wolfe Rock/Blues, on 8/17 Emmet Cohen Jazz, on 8/31 Better Off Dead Jam Rock. Make sure to RSVP!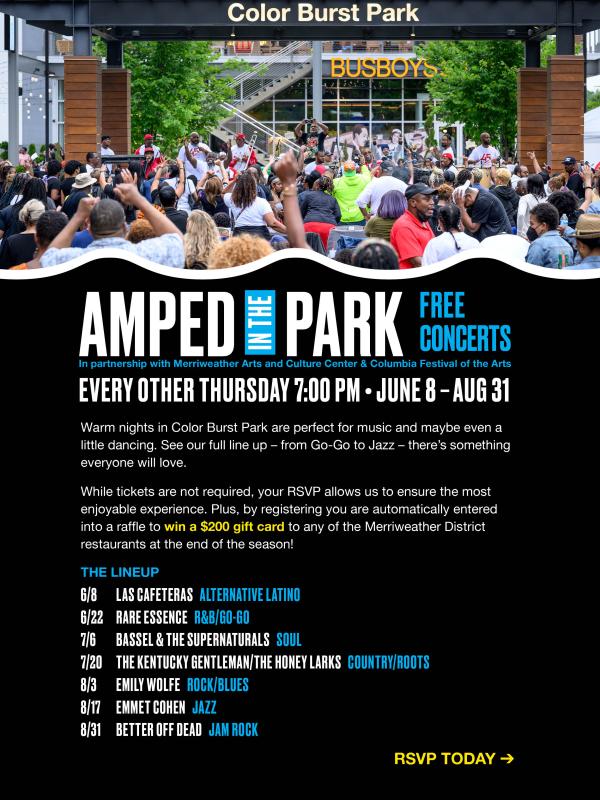 Watch this video introduction to the Summer Series & other free events in the Merriweather District, from free exercise classes with the Summer Fit Series to free kids' events with Good Kidizen! Plus the Splash Pad is open all summer long, and you can find a variety of culinary delights in the nearby restaurants.
New Merriweather District Summer Series
May 26 - September 30, 2023 The Wine Bin Summer Movie Series (Historic Ellicott City) - If you're a movie buff, the Wine Bin Summer Movie Series is the place to be, where you can enjoy a glass of wine while watching classic films under the stars in this historic town, near small shops and boutiques.
May 31 - July 2, 2023 Mi Casa, Your Casa (Columbia) - Experience the fusion of art and culture at "Mi Casa, Your Casa," an exhibition that highlights the beauty of warmth and community through interactive installations. Created by Esrawe + Cadena, this installation is inspired by the mercados of Latin America, lively street markets where human connections are made every day
June 8 - June 11, 2023 Paint It! Ellicott City's 2023 Plein Air Paint-Out (Historic Ellicott City) - Art enthusiasts can witness the magic unfold at the Paint It! Ellicott City's 2023 Plein Air Paint-Out, where talented artists will capture the charm of the town with their outdoor paintings.
June 10, 2023 Maryland Half Marathon & 5K (Maple Lawn) - Give back while traveling to Howard County. This 15th annual race unites runners, walkers, and supporters to improve the lives and outcomes of cancer patients.
Through June 11, 2023 Grease (Columbia) - Grab your leather jackets and get ready to hand jive at the electrifying production of Grease at Toby's Dinner Theater. 
Grease at Toby's Dinner Theater
June 16 - June 18, 2023 AEG Presents Re:SET Concert Series (Columbia) - Music lovers won't want to miss the AEG Presents Re:SET Concert Series, featuring an exciting lineup of renowned artists that will leave you mesmerized. Keep an eye on our Instagram account for a ticket giveaway!
June 16, 2023 Comedy in the Courtyard (Historic Ellicott City) - For those in need of a good laugh, Comedy in the Courtyard at Little Market Cafe will have you chuckling all evening with its side-splitting performances.
June 17, 2023 Savage Mill Bluegrass Festival (Savage) - Mark your calendars for the Savage Mill Bluegrass Festival, a celebration of toe-tapping tunes and traditional bluegrass music.
June 30, 2023 An Evening with Nashville Songwriters (Ellicott City) - If you appreciate the craft of songwriting, don't miss An Evening with Nashville Songwriters at Turf Valley Resort where talented musicians will share the stories behind their beloved hits. Overnight packages available.
If you are looking for more ideas of things to do, you'll want to read Destination Downtown Columbia and 50 Places To Take Your Kids This Summer in Howard County.
June in Howard County is a time of cultural vibrancy, artistic expression, and unforgettable experiences. So come and join us as we revel in the magic of music, art, and community. Pack your bags, bring your loved ones, and embark on a journey of discovery and celebration to the Residence Inn or another one of our comfortable Places to Stay in Howard County.
Event details may change. Please check time, dates, and locations with the event host prior to attending.