Welcome to summertime in Howard County, Maryland! Our charming county has a fantastic lineup of events planned for July. Every week, you can find vibrant festivals, art exhibits, and cultural events. Many activities are completely FREE for summer! Plus, engaging summer camps and lively workshops help cure boredom. 
Stay a while to explore the hub of summertime excitement in Downtown Columbia, and take the time to discover art and architecture in the historical cities of Savage, Elkridge, and Ellicott City. Don't forget to book your hotel for an overnight stay to make the most of your visit!
(Above photo credit Imiivo Photo Studios)
Signature Events
Throughout July Lakefront Live (Columbia) Enjoy live music performances, dance instruction, and movie nights throughout the summer at the picturesque Columbia Lakefront.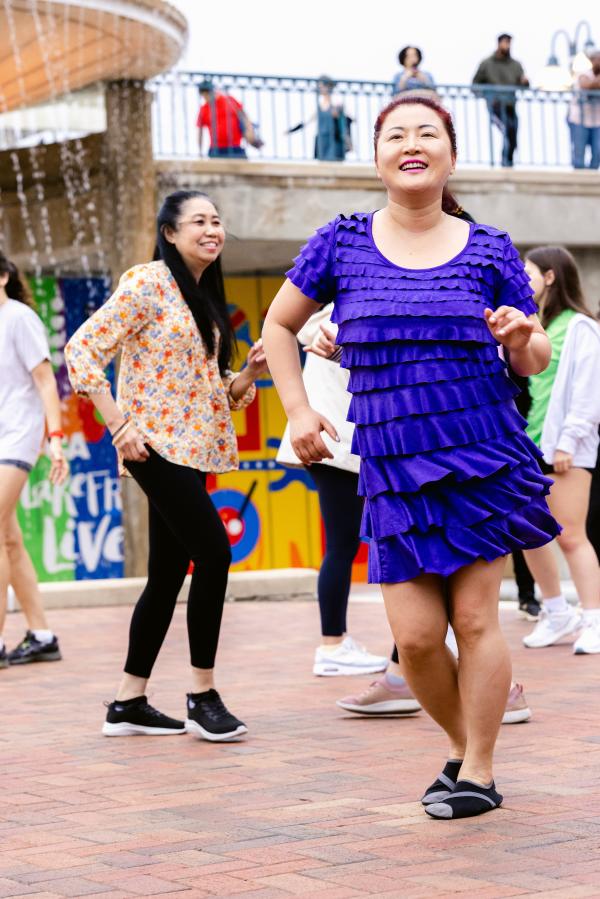 Lakefront Live presented by Columbia Association - Credit Imiivo Photo Studios 
Every other Thursday in July AMPED in the Park (Columbia) Experience high-energy concerts featuring talented musicians and bands in Color Burst Park at Merriweather District.
July 1 - July 19, 2023 Made from Scratch Exhibit - (Historic Ellicott City) Explore the rich history and heritage of the Howard County Jewish Community through this engaging exhibit located at the Howard County Welcome Center, where you can also view the Paint It! Ellicott City Open Paint Exhibit through August 20.
July 4, 2023 4th of July @ Lakefront (Columbia) Celebrate Independence Day with a spectacular fireworks display at the scenic Lakefront. Festive events will take place all day long around the county, including in Columbia where live music begins at 11:30 a.m. at the Chrysalis at Merriweather Park.
July 15, 2023 Whispering Winds Pow-Wow (West Friendship) Immerse yourself in Native American culture with traditional dancing, music, crafts, and delicious food at this captivating event taking place at the Howard County Fairgrounds.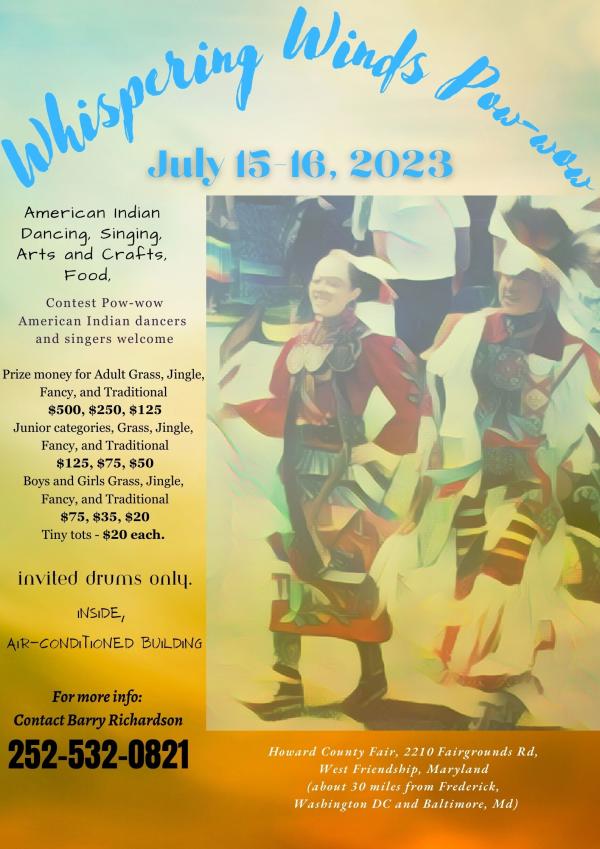 Whispering Winds Pow Wow
July 17 - 30, 2023 Howard County Restaurant Weeks - Celebrate the diverse restaurants that call Howard County home! From Asian fusion and Italian trattorias to Maryland seafood and farm-to-table eateries, there's something for everyone. Discover special menus curated by our local chefs, and support the success of the restaurant industry.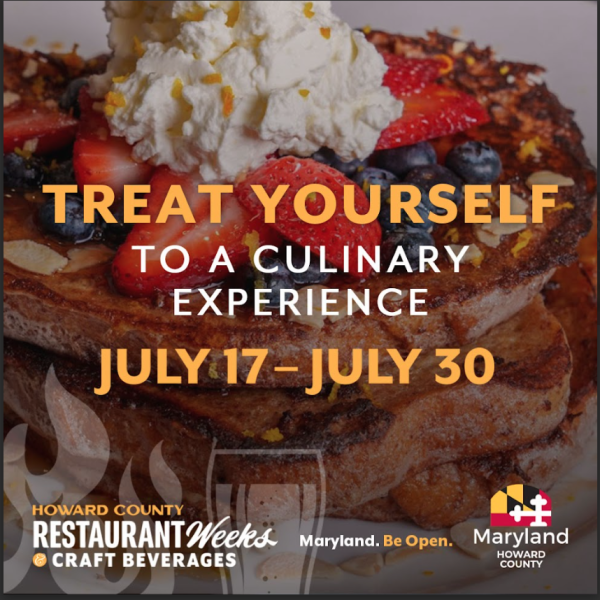 Howard County Restaurant Weeks July 17 -30, 2023
Additional Events
Throughout the Summer Merriweather Post Pavilion (Columbia) - Dance to tunes in this lively and iconic venue throughout the summer. See who's coming to perform for Howard County in Events.
July 1 - August 20, 2023 Escape to Margaritaville at Toby's Dinner Theater (Columbia) Get ready to sing along to Jimmy Buffett's iconic songs, and enjoy a delectable dinner theater experience. Watch the trailer below!
July 1 - 23, 2023 Macbeth @ Patapsco Female Institute (Ellicott City) Witness a captivating outdoor performance of Shakespeare's tragic play in the historic setting of Patapsco Female Institute. Adult tickets start at $50. With each adult ticket, up to two children under the age of 18 get in for free.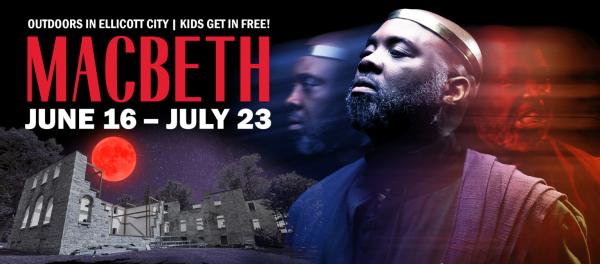 Macbeth at the Patapsco Female Institute
July 4, 2023 Race4theWorld 5K (Columbia) Lace up your running shoes and join the patriotic fun at this exciting 5K race on the 4th of July.
July 5, 2023 Try It Out Comedy: Eat! Drink! Laugh! (Columbia) Laugh your heart out at this hilarious, clean comedy show featuring talented local comedians. This monthly, recurring event takes place at Busboys and Poets in the Merriweather District.
July 5, 2023 Savage Summer Concert Series (Savage) Groove to free live music at the Carroll Baldwin Hall, while enjoying a beautiful summer evening.
July 13, 2023 Fiddlers & Fireflies (Woodstock) Delight in an enchanting evening of live fiddle music and mesmerizing fireflies in the charming preserved land at the Howard County Conservancy. Bring supper and a picnic blanket and lawn chairs. $10 per car.
July 18, 2023 Merriweather Movie Nights (Columbia) Bring family and friends to watch the blockbuster movie Black Panther under the stars at the Merriweather Post Pavilion.
July 22, 2023 The Klassix @ Turf Valley (Ellicott City) Dance the night away to the energetic tunes of The Klassix at Turf Valley Resort, where you can stay longer to enjoy the outdoor pool and two newly-renovated 18-hole golf courses.
July 29, 2023 Date Night at The Mall in Columbia (Columbia) Make it the perfect date night out with a visit to The Mall in Columbia. Enjoy free mocktails, tastings and date night activities on a perfect summer evening! 4–7 p.m.
Camps & Activities
July 2, 2023 Block Printing Workshop with G + H Printing Workshop (Savage) Unleash your creativity and learn the art of block printing in a fun workshop in Savage Mill.
Beginning July 17, 2023 Summer Theater Camps at Slayton House (Columbia) Budding performers can enhance their acting skills and enjoy theater workshops at the Summer Theater Camps.
July 2, 2023 Summer Junior Karting League (Jessup) Race against friends in an exhilarating junior karting league for an action-packed day of fun.
July 8, 2023 Paint Your Own Summer Tote with G + H Printing Workshop (Savage) Design and personalize your own stylish summer tote bag in this hands-on workshop.
July 31, 2023 Youth Quadball Summer Camp (Elkridge) Engage kids in a thrilling adventure with off-road quad biking at this exciting summer camp.
Howard County is brimming with captivating events and activities in July. Find free summer fun, and stay longer to enjoy our wonderful community. From lively concerts and cultural celebrations to creative workshops and outdoor adventures, there's no shortage of things to do.
Don't miss out on the fun. Book your hotel for an overnight stay and make the most of your visit to Howard County!